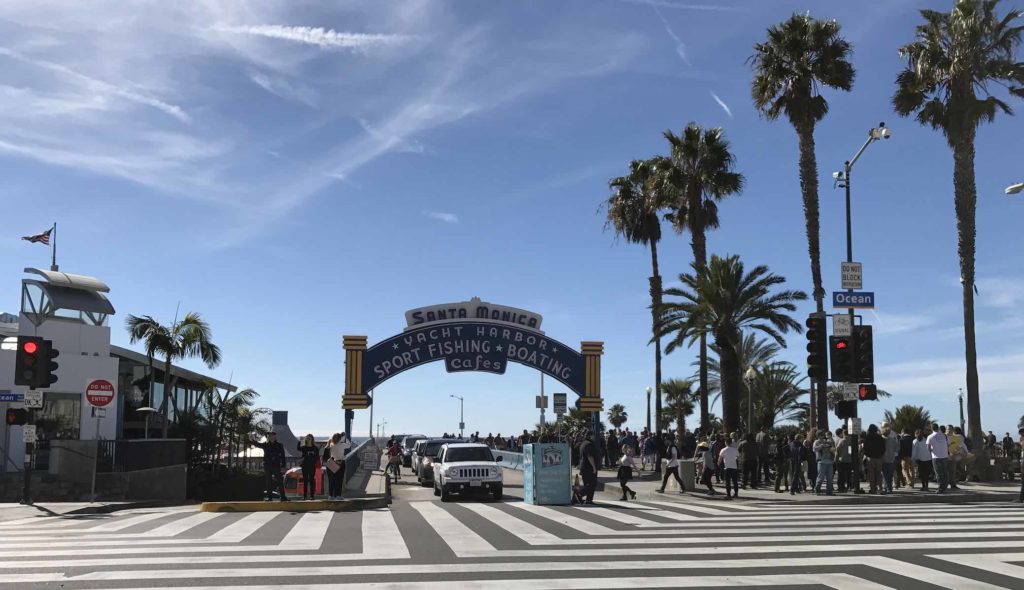 As Los Angeles finds its way out of the pandemic and restrictions gradually ease, we're continuing our bi-weekly round-ups of fun to-dos, mixing in the occasional online/virtual event with an ever-growing list of in-person experiences.
This holiday-shortened week, from June 1 to June 4, features the Rainbow Road Art Walk in Santa Monica, outdoor stand-up at the Violet Cactus, online talks at The Hammer and CAAM, a new pop-up at Summer Social Club, virtual First Fridays at Natural History Museum, and more!
All Week
1. The Broad is Now Open -> The Broad's latest exhibition is called Invisible Sun, an exhibition that was conceived last summer as a response to the issues of gender and race-based violence, capitalism, and colonialism. The exhibition features 59 works from artists including El Anatsui, Alexander Calder,Keith Haring, Jenny Holzer, Julie Mehretu, Nathaniel Mary Quinn, and Cindy Sherman, and many of the works will be on view for the first time. Advance reservations to visit can be made here.
2. Love Note -> Rogue Ensemble has a new interactive audio expedition that invites guests to Plummer Park in WeHo, now through June 30. Per a release, Love Note is an "in-real-life audio experience that guides audiences through a twisted collection of love stories, meditative romance and lost connections." The experience is free, but a smartphone and headphones are required. Plummer Park is open from 6 a.m. to 10 p.m. daily. More info and instructions for attendees can be found here.
3. Ai Weiwei sculpture at LACMA -> Ai Weiwei's Circle of Animals/Zodiac Heads is on view outdoors at LACMA's Smidt Welcome Plaza now through June 13. The installment of the sculpture is a precursor to Legacies of Exchange: Chinese Contemporary Art from the Yuz Foundation, a new exhibition opening later this summer at the museum.
4. WE RISE x CicLAvia -> Starting May 30, download CicLAvia's Experience Central Ave Bike Map for a self-guided music bike ride through one of the oldest historic communities in Los Angeles. The playlist provided by Subsuelo Music Collective speaks to the cultures and experiences that help make each neighborhood what it is today.
5. California African American Museum -> CAAM is open for in person visits Tuesdays through Sundays. The museum currently has three exhibitions on view including Men of Change: Power. Triumph. Truth. which profiles revolutionary men—including Muhammad Ali, James Baldwin, Ta-Nehisi Coates, W.E.B. Du Bois, and Kendrick Lamar. All visitors are required to reserve in advance. Admission is free.  
6. SoFi Stadium Tours – > SoFi Stadium has a new behind-the-scenes tour program that kicked off this past weekend. Guests can visit the team store, peep the locker rooms, run through the tunnel, and test their skills on the field. Standard tour packages start at $30 per person. Get more info or book a tour here.
7. Dan McCleary: OAXACA -> Previously a virtual-only exhibition, visitors are now welcome to the USC Fischer Museum to check out more than two decades of Oaxacan prints created by artist Dan McCleary. Entry is free, but advance reservations are required. More info and timed slots available here.
8. The GRAMMY Museum is Now Open -> The GRAMMY Museum welcomed the public back on May 21 with three brand new special exhibits, including retrospectives on Motown Records, Dave Matthews Band, and the life and career of Marco Antonio Solís. Adult admission starts at $15 per person, and can be booked in advance here.
9. South Coast Botanic Garden's butterfly experience SOAR is now open to the public featuring a new pavilion with live tropical butterflies. Advance reservations are required and can be made online now.
10. The Skirball -> The museum is now reopened with Ai Weiwei's Trace, an exhibition of portraits made entirely from LEGO® blocks that reflects the artist's experience of being arrested and interrogated by the Chinese government for 81 days in 2011. Visit info can be found here.
11. Made in L.A. 2020-> The ongoing exhibition takes place at the Hammer and The Huntington and features commissioned works by 30 Los Angeles-based artists. Advance reservations (free) are required.
Tuesday
12. Chirp N Turf -> Live standup comedy comes to the Violet Cactus in Burbank on Tuesday with a lineup featuring Jesus Trejo, Justin Martindale, Brent Gill, Hannah Einbeinder, Tyler Meznarich, and Handren Seavey. Tickets are $10, available here.
13. Tulsa on Screen at The Hammer-> Damon Lindelof, creator of HBO's Watchmen, joins show writer Cord Jefferson to discuss how the series portrayed the Tulsa Race Massacre, and how the trauma of the event reverberated through the alternate history presented in the story. RSVP for the free Zoom link to the talk here.
14. Adult Skating Class-> Moonlight Rollerway in Glendale will teach adults the basic fundamentals of roller skating including balance, good posture, starting and stopping, and how to get up safely. $20 get you in the door (skate rental not included). More info and tickets here.
15. The Grove -> Enjoy a Paint & Sip complete with a glass of wine or cocktail right in the heart of The Grove every Tuesday 6-9 p.m. Tickets cost $50 and includes all supplies and drink.
16. Rooftop Cinema Club -> The drive-in at the Santa Monica Airport is holding screenings this Tuesday, Thursday and Saturday. Movies this week include Stand By Me, Ghostbusters (1984) Crazy, Stupid, Love and much more. A ticket for one vehicle with two passengers starts at $32. See full details here.
Wednesday
17. Dances in the Open -> L.A. Dance Project returns with in-person performances featuring two works: New Taylor, choreographed by former NYCB Principal dancer Janie Taylor, and Solo at Dusk, choreographed by Bobbi Jene Smith, in collaboration with Or Schraiber. Tickets start at $50 per person, $25 for students, and $175 for benching seating that accommodates 4-5. Happening Wednesdays to Sundays through June 25. More info and tickets here.
18. Don't Call Me Ugly! -> This Wednesday the L.A. Conservancy hosts a virtual tour of some of the less-loved (but we won't call them ugly) buildings of downtown Los Angeles. The tours run about an hour, tickets are $12 for the general public. More info here.
Thursday
19. Tagalog Takeover x Flip Sigi -> Summer Social Club's June 3 pop-up is a collaboration between Chef Stacy Bareng from Tagalog Takeover and Chef Jordan Andino of New York's Flip Sigi. On the menu is a Kamayan pre-fixe menu influenced by Los Angeles street food. Reservations are available from 5 p.m. to close via Resy; tickets are $60 per person.
20. History of Black Women's Clubs in California -> This Thursday the California African American Museum presents an online panel discussion that will explore the history and civic impact of Black women's clubs starting in the 19th century and continuing today. The panel is presented in conjunction with the latest exhibition at CAAM, Rights and Rituals: The Making of African American Debutante Culture. RSVP for the panel for free here.
21. Urban Death Trail of Torment -> Zombie Joe's Underground Theatre has a new walk-thru attraction kicks off this Thursday. Per a release, the 20-minute experience takes visitors on a journey through "dimly-lit labyrinth straight into our phantasmagoria." A $35 ticket is good for entry for two. Runs Thursdays, Fridays, and Saturdays starting at 7:20 p.m. Get tickets here.
22. Elsewhere At the Madcap Motel  -> The retro space features over a dozen rooms full of interactive and photo-friendly moments interwoven with a sci-fi narrative. Runs Thursday through Friday through the end of June. Read We Like L.A.'s full right up on the experience here.
23. The Original Farmers Market -> Live music is back at The Original Farmers Market this year. The Summer Sounds on the Plaza series happens every Thursday and Friday with an eclectic mix of artists from 5-7 p.m.
Friday
24. The OutFronts -> Outfest's five-day digital event The OutFronts (June 4-8) will connect fans with the best in LGBTQIA television and streaming through free-to-view panel discussions and exclusive
members-only premieres via the Outfest Now streaming app. View the full programing here.
25. Rainbow Road Art Walk -> To celebrate Pride month, Santa Monica place is hosting a self-guided art experience of 13 colorful installations created by LGBTQIA+ artists. Runs June 4-30. More info here.
26. First Fridays Connected -> First Fridays are back at LACMA via new virtual programming that kicks off on June 4. This season's theme focuses on Los Angeles at the Intersections, a celebration of the city's science and culture. The first edition (this Friday) offers a panel discussion on the murals of L.A. followed by a special musical performance by Sasami. Free on YouTube/Zoom. RSVP here.
27. Live Opera at Heritage Square -> Pacific Opera Project (POP) announces its next installment of revolutionary, pandemic-safe productions, the west coast premiere of Georges Bizet's rarely performed comedic opera Don Procopio, performed live outdoors at the Heritage Square Museum in Los Angeles. Tickets for section 2 start at $15, but as of Tuesday morning the weekend slate had sold out. You can inquire about the waitlist here.
28. Drive In At The Park -> Cruise into the Kenneth Hahn Disc Golf Course in Culver City for a drive-in movie night every Friday and Saturday now until August 28. This weekend, they'll screen Inside Out, Spider-man Into The Spider-verse, Tom & Jerry and Fast & Furious 7. Tickets car $33 a car.
29. Japanese American National Museum – JANM in Little Tokyo is now open for in-person visits on Fridays, Saturdays and Sundays. The current exhibit, Transcendients: Heroes at Borders, by Taiji Terasaki, in collaboration with JANM, honors individuals who advocate against discrimination, prejudice, and inequality at borders. The museum also presents Transcendients: 100 Days of COVID-19 and Memorial to Healthcare Workers, a work created during the pandemic that tells a wide range of stories on topics including race and class, food sustainability, art, scientific innovations, and climate adaptation. Advance reservations (free) are required.
Dining
30. Jungli -> Starting June 2, the modern South Asian takeout and delivery restaurant will launch a vegan-friendly thali lunch plate that includes a choice of base plus three vegetarian dishes, served with pickled cabbage and both tamarind and coconut chutney for $14. 10% of sales of the thali will go towards supporting COVID-relief efforts throughout India and the South Asian region.
31. Verve Coffee Roasters -> To celebrate Pride Month in June, Verve Coffee Roasters is offering a new seasonal beverage in partnership with the It Gets Better Project, a global nonprofit dedicated to empowering LGBTQ+ youth. Available for a limited time, Verve cafes in California will feature the Cascara Spritz made of Jamaica cascara, citrus kombucha and mint with a portion of proceeds going to the It Gets Better Project. Verve will also have "Love is Love" bandanas and Pride stickers to give away to customers.
---
Any notes or corrections? Want to suggest an event we should add to an upcoming list? Hit us up at [email protected].