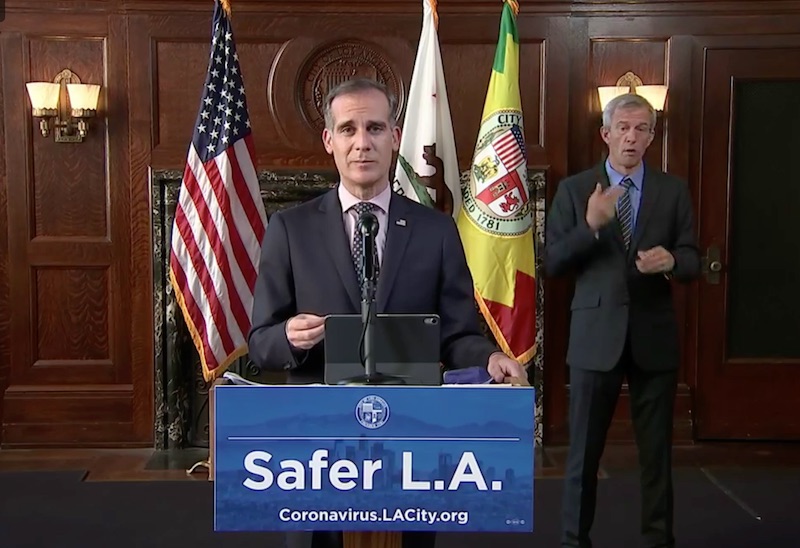 Today, L.A. Mayor Eric Garcetti announced that all Los Angeles retailers may now reopen for in-store shopping, not just delivery or curbside pickup. You'll still have to follow the same guidelines regarding physical distancing and facial coverings that you follow everywhere else, but starting tomorrow, you are free to support your local small businesses.
Garcetti noted that grocery stores, pharmacies, and stores like Target and Costco have always been open for in-store shopping.
"That status quo has put our small retail businesses at a disadvantage, pushing customers to shop online or at large warehouse chains," he said. "Now it's time to even that playing field and do it safely to allow all retail businesses to let customers inside the shops so that we can protect lives and safeguard livelihoods."
According to a release L.A. County issued this afternoon, all L.A. County retailers should cut their capacity in half when they reopen. Stores can see and download other county reopening protocols here. And though stores are allowed to reopen, they're not required to do so. Garcetti urged store owners to take the time to make sure they're ready. As we've been told many times before by officials statewide, a surge in infections or hospitalizations would mean shutting things back down.
That same Los Angeles County release noted that faith-based organizations may also resume services, but they must reduce their capacity to 25% or 100 people, whichever is lower. Additionally, flea markets, swap meets, and drive-in movie theaters may also reopen.
Garcetti said that at this time, L.A. is not ready to reopen barbershops, salons, or other personal grooming businesses, though the state did release guidelines for salons and barbershops earlier today. The state would need to approve Los Angeles County for a regional variance first. The county is in the process of applying for a variance now.
And finally, for all you hikers out there, Runyon Canyon, which didn't reopen when the rest of the city trails did, is open now.