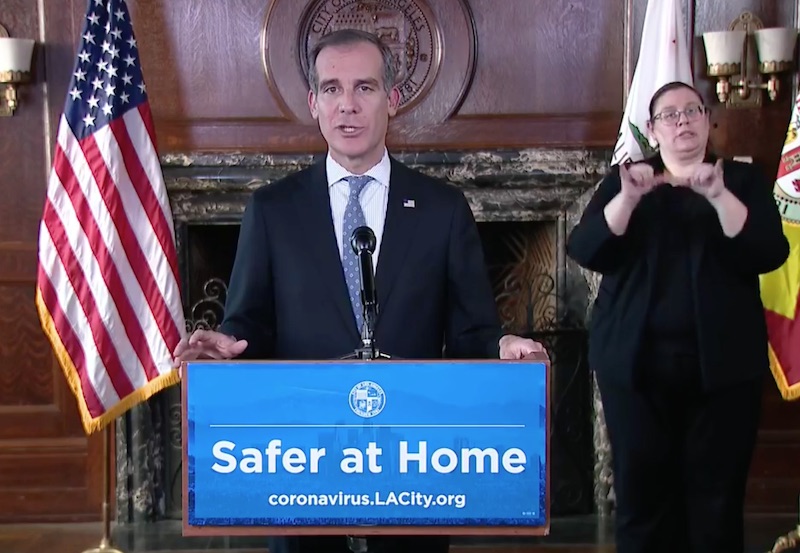 Los Angeles County now has 30 testing sites and the capacity to test up to 12,000 people for COVID-19 per day, nearly double its capacity just a week prior. In today's briefing, Garcetti noted that's compared to the 145,000 tests completed per day across the U.S.
"In a county that has just 3% of the population, that's something to be proud of," he said.

But pride in our capacity only goes so far if people aren't taking advantage of it. While earlier tests were only available to those most at-risk—including seniors and those with certain underlying conditions—now anyone of any age in L.A. County can register for a free test online.

Garcetti urged Angelenos to get tested even if the symptoms they're experiencing are mild. If you think you just have a cough, minor cold, or a mild fever, you can still get a test.
"If you don't know, you might not be isolated from people you love or when you go out because you think you're okay," Garcetti said. "And that kills people. That kills people you love, that kills your neighbors, that kills your housemates, that kills your family."

As a reminder, symptoms include a fever, cough, and shortness of breath. See a complete list of symptoms here. Register for a free COVID-19 test here.

Garcetti also made several announcements regarding the city's efforts to care for the homeless. Medical teams will be deployed to fight COVID-19 and conduct rapid result field testing on the streets. The city is also launching a trailer program tonight. These first 10 trailers, given to the city by the state, will sit on the campus of Woodland Hills Rec Center and house asymptomatic people defined as "Tier 1," or the most at-risk for the virus. That means they're over 65, have chronic medical conditions, or both.
Additionally, the state, county, and city have secured 24 hotels and motels—accounting for 2,400 rooms in L.A. County—for Tier 1 homeless individuals who do not currently have any COVID-19 symptoms. Officials are currently negotiating with over two-dozen additional hotels and motels, but Garcetti encouraged still more to contact the city and become a part of Project Room Key. Through this initiative, the county is purchasing blocks of 100 rooms at a time (or fewer, depending on what's available) to house the homeless.

"Get your employees paid, help us solve this problem of COVID-19, and find a permanent solution to homelessness in Los Angeles County," Garcetti urged.

Interested hotel and motel operators can find more information here.