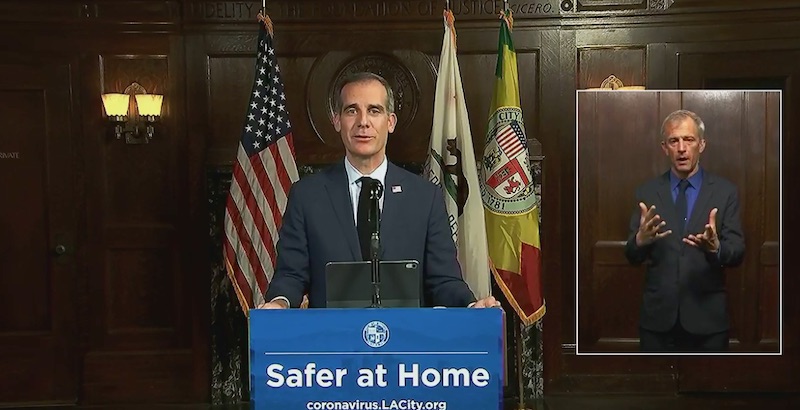 Earlier today, Gov. Gavin Newsom said that some retailers across the state might be able to reopen, with modifications, by Friday. In this evening's briefing, L.A. Mayor Eric Garcetti said he does not expect retailers in L.A. to reopen this week.
"But…it is my expectation that by [May 15], we'll be able to take those steps forward," he said. "I hope that that will be in places like retail and recreation, and we may be able to do that in some small areas even before next Friday."
He hopes to provide more information regarding what will reopen and how it will do so in the next few days. 
"We will continue to be guided by first, the medical advice we get from public health professionals," he said. "Second, by making sure that we're not just saving lives, but thinking about people's livelihoods as well. And that third, we will always share all of our decision-making and data with you."
(If you'd like to look at each day's data, you may do so here.)

Garcetti also said that "with new freedom will come new responsibilities." We will likely still practice social distancing and wear facial coverings, even as orders begin to loosen. We may have to return to stricter regulations if we see a surge in infections.
"We won't be rushing back to something we once knew for some time," he said.
Garcetti's comments aren't particularly surprising. Earlier today, Newsom stressed that counties wouldn't necessarily reopen at the same time, but would be free to make the decisions that worked best for their situations. For some, that may mean a slower reopening. Some counties may move faster if they self-certify that they meet the state's readiness criteria. All counties must submit a readiness plan that includes how they'll reimplement restrictions if necessary. Those plans will be available to the public.