Dia de los Muertos might be the definitive Los Angeles holiday. Our noir history and film industry spectacle make L.A. a major Halloween town and Dia de los Muertos helps us get in touch with the city's rich Mexican cultural history. You can find Dia de los Muertos festivities throughout the southland during the first weekend of November, but this year Grand Park is marking the occasion with an entire week of events.
From Oct. 26 to Nov. 3, 35 ofrendes (the traditional Day of the Dead altar for departed ancestors) will be displayed around the park and the Music Center's recently renovated plaza, free for the public to view.
The altars, created by East L.A.'s Self-Help Graphics will honor local history and communities, and includes one by ARza Orzo Community that honors late L.A. Dodgers players and fans. Dia de Los Muertos themed artwork from LORE Media and Arts will also be installed around the park.
To coincide with the reveal of the altars Grand Park's seventh annual Noche de Ofrenda takes place on Oct. 26. On this evening, the dead will be honored through a communal circle and a blessing led by members of indigenous communities.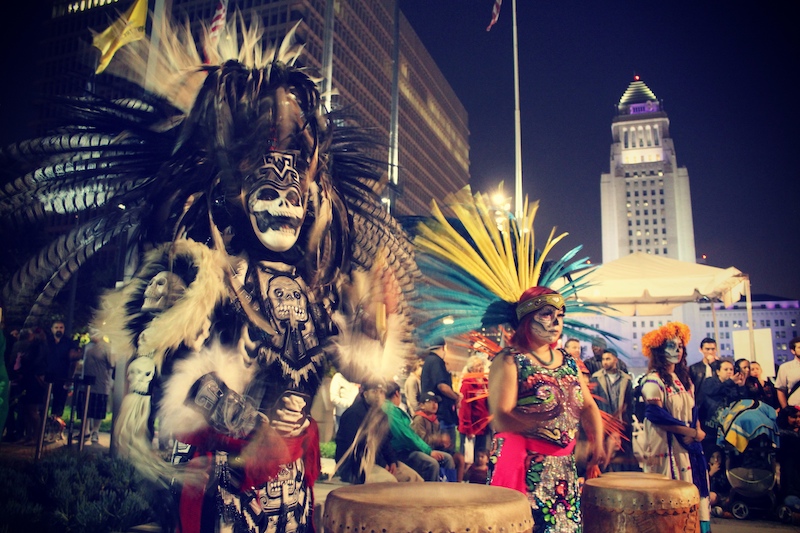 Aztecan, Oaxacan and Michoacán dancers will also take part in the evening's ceremonies, as will East L.A. Latin music artist CAVA. The event will also feature the unveiling of a grand community altar designed by Ofelia Esparza. Angelenos are welcome to contribute offerings to the community altar.
Also held in conjunction with the Dia de Los Muertos observance will be Selena for Sanctuary on Nov. 1. This free concert with an all- female, all-Latinx line-up features local artists like Empress Of, San Cha, Ceci Bastida. Organized by L.A. non-profit Solidarity for Sanctuary, the concert is part of the organization's mission to raise awareness about issues in the immigrant communities and to offer resources to help through the immigration process.
Finally, on Nov. 2 Grand Park will offer free-art-making workshops open to adults and children using Día de los Muertos themes as part of the larger Grand Ave Arts: All Access, an annual free event celebrating the cultural vibrancy of Grand Ave. The workshops will take place in Grand Park's Olive Court and Performance Lawn, as well as on The Music Center Plaza.
For more information on what's happening at Grand Park for Dia de los Muertos, you can visit their calendar page.