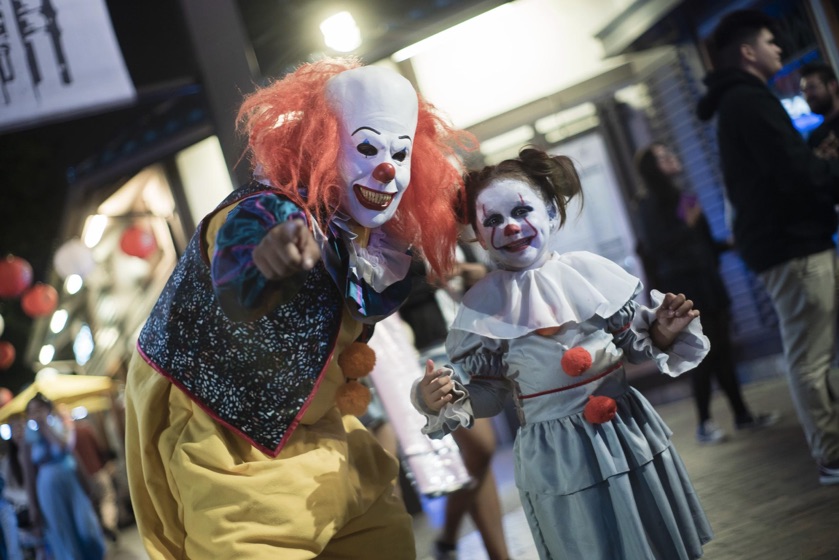 Now in its third year, Haunted Little Tokyo is filling one of Los Angeles' most historic and exciting neighborhoods with tricks and treats. Activities will span the whole month of October and include film screenings, a pumpkin patch, a block party and a trick or treat night.
Festivities start Friday, September 27 with a screening of horror master John Carpenter's 1987 film Prince Of Darkness at East West Players' David Henry Hwang Theater. This screening will be extra special because not only will star Dennis Dunn be in attendance, but a large percentage of the movie was filmed at the Hwang. Is there anything more L.A. then seeing a movie where it was filmed? Tickets start at $20.
In addition to the Prince Of Darkness screening, there will also be three free movie screenings. On Oct. 4, it's the 1977 Japanese horror classic Hausu, in which a schoolgirl and six of her classmates head to her aunt's house for a fun weekend. Unfortunately, the house doesn't want them there. On Oct. 11, bring the whole family for the 2018 kid-friendly anime Okko's Inn about an orphan girl who moves to her grandmother's country home and discovers spirits only she can see. Finally, on Oct. 18, Samuel Fuller's 1959 film noir The Crimson Kimono, which was filmed on location in Little Tokyo.
But that's not all. There will also be a free pumpkin patch the weekend of Oct. 18 where you can decorate the perfect jack-o-lantern for your home. If you're interested in the supernatural side of L.A., you won't want to miss the ghost tour just around twilight time on Oct. 19. A Little Tokyo Historical Society volunteer will take you on a guided tour of the many hauntings and paranormal experiences of this hundred-year old neighborhood. Tickets for the ghost tour are $15.
Haunted Little Tokyo concludes with two free events on Oct. 28. First, you can take your kids trick or treating a few days early as local business owners hand out candy from 5 to 8 p.m.. Then from 6 p.m. to Midnight, it's the Haunted Little Tokyo Block Party. Enjoy food from local restaurants, get down to music spun by DJs and a beer garden. There will also be kids activities and a costume contest with cash prizes.
---
The Best Things to do in L.A., straight to your inbox! Sign Up For Our Email List And You Receive...
- Two emails a week, Monday AM and Thursday AM.
- Monday: The best of the week ahead. 30+ ideas.
- Thursday: What to do this weekend. 30+ ideas.
- Occasional emails with special offers and messages from promotional parters.
- Optional emails for daily to-dos, travel tips, food recommendations, and deals.
Basically, just think of us as your friend making some fun suggestions for what you might like to check out this day or week or month in L.A. Sign-up in the form below to join over 66,000 Angelenos who already subscribe!
NOTE:
If you already receive our weekly newsletter and want to update which additional emails you receive, simply click 'update subscription preferences' in any email we've sent you to change your subscription settings. Remember, per our 
privacy policy
, we respect the fact that you're trusting us with your personal info and will never share your email information.
---