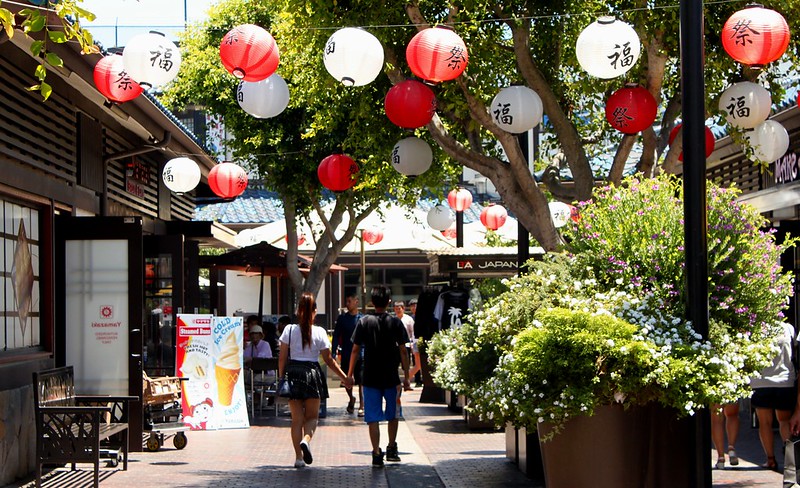 The 4th Annual Haunted Little Tokyo will take place both IRL and online this year from Oct. 23-31. It's a whole week of socially distant Halloween events from the second oldest neighborhood in Los Angeles. 
Here's the schedule:
Quest for Candy, A Haunted Little Tokyo Virtual Mystery Adventure (Oct. 23, 4-6 p.m.):

Children can join Kizuna for a virtual mystery adventure. Players will work together to gather clues, talk to characters, and unravel a mystery to save Haunted Little Tokyo. Tickets are $13 and include Japanese candy, a Kizuna magnifying glass, and a Kizuna Halloween sticker. Space is limited and the price includes the cost of shipping. Register online at hauntedlittletokyo.com.
Virtual Ghost Tour of Little Tokyo (Oct. 24, 5-6:30 p.m.):
Little Tokyo Historical Society ghost reporter Bill Watanabe will lead a virtual tour of the neighborhood's haunted past and present, including tours of historical buildings and accounts of ghostly and paranormal experiences. Tickets are $10. Register online at hauntedlittletokyo.com.
BOO-SEUM Presented by Virtual MOCA (Oct. 24-31, daily at 10 a.m.):
Each day, MOCA will present a thematic selection of work from its collection to explore the history and evolution of Halloween. Free on MOCA's Instagram, @MOCA.
Little Tokyo Cocktail Demo (Oct. 30, 7. p.m.): The Little Tokyo Cocktail Demonstration presented by Beam Suntory is a part of the Nisei Week Virtual Series. Tickets are $50 and include a cocktail kit featuring Suntory Toki Whisky that you can use to make cocktails along with the demo. When you purchase your ticket, you will choose when and where to pick up the kit between Oct. 29-30. The demo streams on the Nisei Week YouTube channel on Oct. 30 at 7 p.m.
Haunted Little Tokyo Scavenger Hunt (Oct. 31, 4-7 p.m.)
Start at Café Dulce in the Japanese Village Plaza. Here, you'll get a map that leads to outdoor locations around the neighborhood where you can get a fun treat. Costumes welcome. Free.
Brew Ha Ha: A Walking Take-out Event (Oct. 31, 2-4 p.m.)
Hollywood Buddhist Church presents Brew Ha Ha, a takeout food festival. Participating restaurants include Azay, Café Dulce, Fugetsu-Do, Kouraku, Sake Dojo, and TaNoTa Takoyaki. You can either walk to each spot to get your takeout or pick up your entire order at one location. Tickets are $100 and include food and beverages for two people. Register online at hauntedlittletokyo.com. 
Want to make the most of a visit to Little Tokyo? Read our guide on how to support the neighborhood during the pandemic.