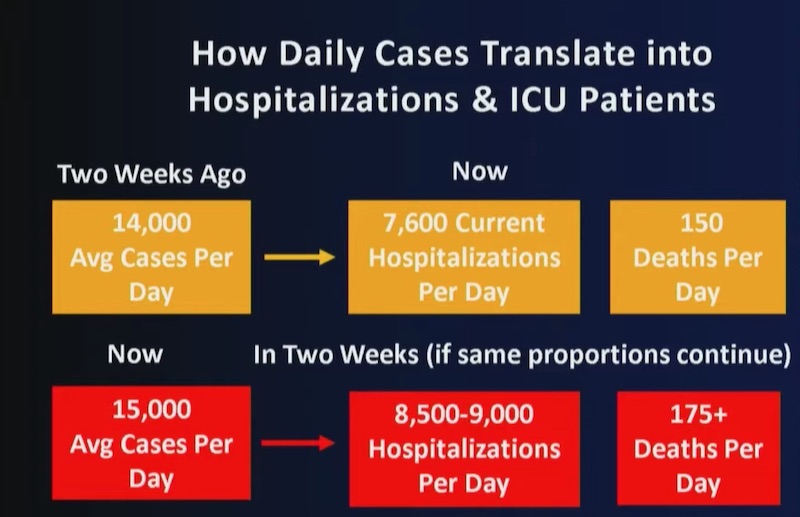 The first Monday of 2021 saw a grim briefing from county officials, who say the worst is likely yet to come as already overwhelmed hospitals brace for yet another surge of COVID-19 infections due to holiday gatherings and travel.
This week, Los Angeles County hit over 800,000 total confirmed cases of COVID-19. To put the current surge in context, half of those occurred over the last month.
Today, the county reported 77 new deaths and 9,142 new cases, numbers that, despite being high, actually reflect a lag in reporting over the holiday weekend. There are currently 7,697 people in the hospital, 21% of whom are in the ICU and 19% of whom are on ventilators. The cumulative positivity rate is now 16%, while the current daily positive rate has increased to an alarming 21%.
According to Public Health director Dr. Barbara Ferrer, that means "one in five residents currently tested is infected." Though the county has already seen a 905% increase in infections since the latest surge began on Nov. 1, cases are likely to continue for the next several weeks due to local holiday and New Year's parties, as well as returning travelers. The latter are required to self-quarantine for at least 10 days upon returning.
"Community transmission rates are so high that you run the risk of exposure whenever you leave your home. Assume that this deadly, invisible virus is everywhere looking for a willing host," she said.
She added that the county "may well be on our way to weekly death tolls of 1,000 people or more."
Again, health officials implored residents to stay home, wear their face coverings, and frequently sanitize their hands if around others. Ferrer also asked employers to require any employees who traveled over the holidays to quarantine for 10 days.
Dr. Christina Ghaly, director of the Los Angeles County Department of Health Services, echoed Ferrer's disturbing predictions about rising case counts. Currently, over half of the beds in the county's four DHS-operated hospitals are filled with COVID-19 patients. Ghaly said staff remains the most constrained resource and anyone who needs medical attention is encouraged to only use the ER if it's truly an emergency. If not, try your primary care doctor, urgent care, or a nurse advice line first, otherwise, you may experience very long wait times.
And, of course, then there are the economic and ongoing financial impacts of lockdowns. L.A. County Supervisor Hilda Solis said that the Board of Supervisors will consider two relevant motions tomorrow. They include an extension of the supplemental paid sick leave ordinance and implementing hero pay for grocery and pharmacy workers.
The Board of Supervisors meeting is scheduled for tomorrow at 9:30 a.m. You can view the complete agenda and find instructions to watch or listen to the meeting here.