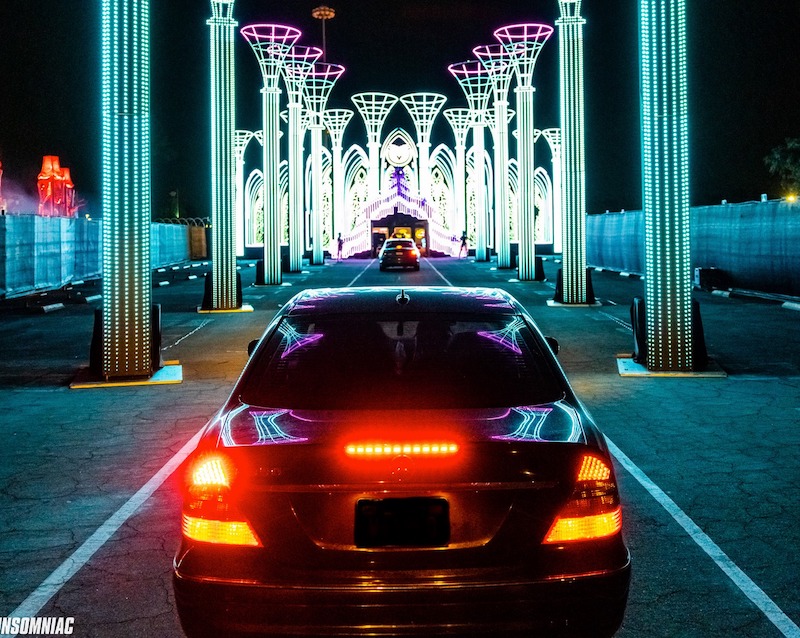 We used to tell you about all the things you could go out and do in Los Angeles on a daily, weekly, and monthly basis. Then, the coronavirus changed life for all of us, in a thousand small and massive ways. Until the pandemic is behind us, we'll post events that adhere to Public Health's current protocols—including plenty of at-home and online events—every Monday and Friday morning. We hope they keep you busy, make you laugh, teach you something, or help you feel less alone.
This week, we've got online breakfast clubs, neon drive-thrus, Sundance's virtual fest, and more. Have something you want to submit for next week? Hit us up: [email protected].
Out-of-the-House Events
Insomniac presents Electric Mile, a drive-thru festival experience inspired by the unique worlds of signature events including EDC, Beyond Wonderland, Nocturnal Wonderland, Escape, and Countdown. The event takes place at Santa Anita Park through Jan. 10 and features music, a warehouse rave, 5 million lights, installations, and more.
South Coast Botanic Garden's GLOW is a night-time light installation set to a custom soundtrack that includes everything from classical music to electro-pop. Open through Jan. 10. Tickets are $34.95 for non-members, $24.95 for members, free for children 4 and under.
Cinelounge Drive-in in Hollywood presents Promising Young Woman, a new thriller from Emerald Fennell (Killing Eve) starring Carey Mulligan. Enjoy the film from the comfort of your vehicle, and maybe with a bag or two of Cinelounge's flavored popcorn. Tickets are $25/person and must be purchased, along with any refreshments, online in advance.
Glendale Arts invites the public to add their wishes for 2021 to the Alex Theatre Wishing Wall, a new installation on the historic Alex Theatre's gates in downtown Glendale. The project is inspired by Yoko Ono's Wishing Tree project and encourages participants to share their hopes for the future. You can grab a wish tag in-person or submit your wish online, where staff will write and hang it for you. The Wishing Wall will be on view at the theater through Jan. 8 before moving around Glendale for the next year.
Grand Park's new public art installation, "Ground Our Present, Dot Our Future," is available to enjoy now through Jan. 25. It consists of 74 quotes, crowdsourced from Angelenos over the past year, that line park walkways. The artwork "reinvents the current floor distancing decal culture by putting the emphasis back on how Angelenos can be socially connected—by gaining knowledge and understanding about the diverse experiences in Los Angeles County from the perspectives of those who live them." It's free to enjoy any time. Just take a walk in the park.
Hikari a Festival of Lights at Tanaka Farms turns the 30-acre Irvine farm into a dazzling spectacle of lights on trees, scarecrows, tractors, and even their sugarcane crop. Open nightly through Jan. 10. Tickets start at $49 per vehicle.
Descano Gardens' Reflections at Descano is open through Jan. 10. The day-time event includes art, a Wishing Tree artist Kaz Yokou Kitajima made from a felled Oak tree, floral arches, deer sculptures, winter plantings, and more. Hours are 9 a.m. to 5 p.m. daily, and all Reflections activities are included with general admission. That's $15 for adults, $11 for seniors and students, $5 for children 5-12, and free for children under 5.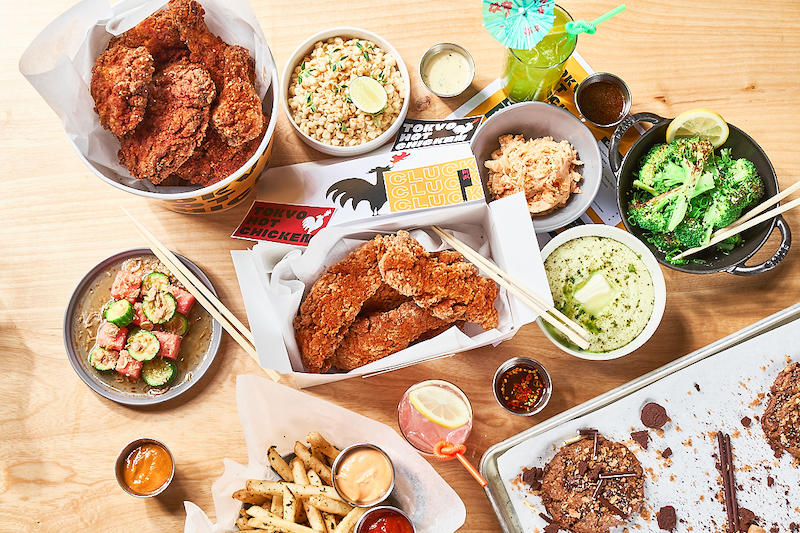 Pickup & Delivery
Micheal Mina's Bourbon Steakhouse is hiding a hot chicken operation in its kitchen. Tokyo Hot Chicken fuses traditional fried chicken and the bold flavors of Japanese cuisine. Chicken is brined and then fried karaage style, while the skin is dashed with togarashi and other hot spices. Sides include fries and rice sprinkled with furikake, wasabi mashed potatoes, dashi braised kale, miso corn, and a variety of dipping sauces. Available for delivery and pickup.
Women-owned and operated Tlayuda L.A. in Hollywood is open for takeout and delivery offering its signature tlayudas and other Oaxacan dishes. They also have family meals, an under $5 menu, and a not-so-secret menu with enchiladas smothered in three sauces, a sweet heart-shaped tlayuda, and more.
Q Sushi, well-known for its high-end omakase experience, is now offering takeout boxes. A premium omakase sushi box for two is $400 and includes 20 pieces of nigiri and sashimi per person. Order on Tock.
Medan Kitchen in Rosemead offers Indonesian food for pickup, plus a mini-market stocked with snacks, ramen, and sauces. Food can run out quickly here, especially the popular Beef Rendang and Nasi Bungkus wrapped in banana leaf. The menu changes every day, so check Instagram for the latest updates. Open Thursday through Sunday.
Bardonna in Santa Monica is offering handcrafted chocolate bombs ($8, or 2 for $15). Each globe is filled with hot cocoa and marshmallows. You drop them into a cup of hot milk and watch them explode into a delectable mug of hot chocolate, perfect for chilly nights at home.
Roguelike Tavern in Burbank hasn't been able to actually open, given the pandemic. However, they are currently soft-open for takeout food, cocktails, beer, wine, and spirits. Starting Dec. 29, they're offering a puzzle box experience that comes with two meals, a flight of quality spirits, and a mystery for you to solve. Order online here.
At-Home & Online Events
The 2021 Sundance Film Festival is held online this year with ticket sales starting Thursday, Jan. 7 at 11 a.m. This year's festival will feature a slate of features, shorts, episodic works, and VR/AR projects. A single ticket is $15 and a full Festival Pass to see anything and everything will set you back $350.
Celebrate the Year of the Ox virtually during the Japanese American National Museum's Oshogatsu Family Festival Jan. 3-8. Activities include a peek inside the museum's collection, storytime, crafts, and a conversation around traditional Oshogatsu foods with local Japanese restaurants.
The Los Angeles Breakfast Club has moved to Zoom meetings during the pandemic. On Wednesday, Jan. 6 at 7 a.m., join them for a presentation from Dr. Paul Koudounaris and his cat, Baba, co-authors of A Cat's Tale. The fascinating book tells the history of cats, complete with costumes of the eras modeled by Baba herself. Tickets are $5.
You can now watch the Los Angeles Fashion Festival's 2020 film selections and submissions online here.
American Cinematheque presents a free online conversation with Palm Springs stars Andy Samberg, Cristin Milioti, and J.K. Simmons on Wednesday, Jan. 6. Advance registration is required to access the Zoom link.
Dance Camera West Film Festival kicks off Jan. 7-9 with International Dance: Los Angeles, a virtual film fest highlighting 19 films, primarily featuring French-language artists with Q&As also in French. The festival concludes on Jan. 30-31 at Dance Camera West Drive-In's "Best of the Festival"
at Santa Monica College.
On Jan. 8, LA Walking Tours will host a virtual Haunted Tales experience that exposes the dark side of Los Angeles: murder, mysteries, and unsolved crimes that still haunt the city today. Tickets are $10.
Celebrated Israeli-American composer Shulamit Ran will continue her free virtual Jewish Music Masterclass series presented by the Lowell Milken Center for Music of American Jewish Experience at the UCLA Herb Alpert School of Music on Jan 5.
The inaugural Black & White Film Festival is a free virtual fest featuring two shorts and a full-length film. Watch on Vimeo.
From [email protected]: "Color in these free, printable artworks, taken from the Kurt J. Wagner, M.D. and C. Kathleen Wagner Collection of art nouveau posters that were generously donated to LACMA's Prints and Drawings department in the 1980s."