You probably already consider the Hollywood Bowl one of most unique venues in all of Los Angeles. You might even be aware that it's the largest natural outdoor amphitheater in the United States.
But did you also know it's a public park with 14 picnic areas? And that makes it a great place to visit and take a morning stroll, which is exactly what Christina and I did last week as we filmed a little intro video into what a day at the Hollywood Bowl might look like (see YouTube vid below).
One of things we never thought about is that the Hollywood Bowl is actually owned by the Los Angeles County Department of Parks and Recreation, while being operated by the Los Angeles Philharmonic. Although the site of the Bowl had already hosted several outdoor productions and concerts by the early 1920s, including the first-ever bowl performance by the Los Angeles Philharmonic, it was in 1924 when the property was officially deeded over to L.A. County. This transfer set the stage for the Hollywood Bowl to be preserved and improved upon for future generations.
Over the years these improvements and renovations have seen everything from new seating to different iterations of the iconic shell above the main stage. One fascinating tidbit I learned in researching the venue before we arrived was at one point there was actually a pyramid shaped shell designed by Lloyd Wright (sone of Frank Lloyd Wright), but that only lasted for about one year until a new design was commissioned.
Something that's remained constant over the years has been the commitment of the venue to preserve the native habitat. There are dozens of animals and plants that reside at or near the Bowl grounds, and efforts to maintain the native wildlife have lead to the Hollywood Bowl being the first amphitheater in California to be certified as an Audubon Society Cooperative Sanctuary.
If you're looking for a game-plan on where to go during your visit, one preferred method for exploring the grounds is through what's called a Bowl Walk,  which offers a playbook on points of interest every visitor should see, including, the Muse of Music, the Cahuenga Pass Treasure, and of course the shell of the amphitheater.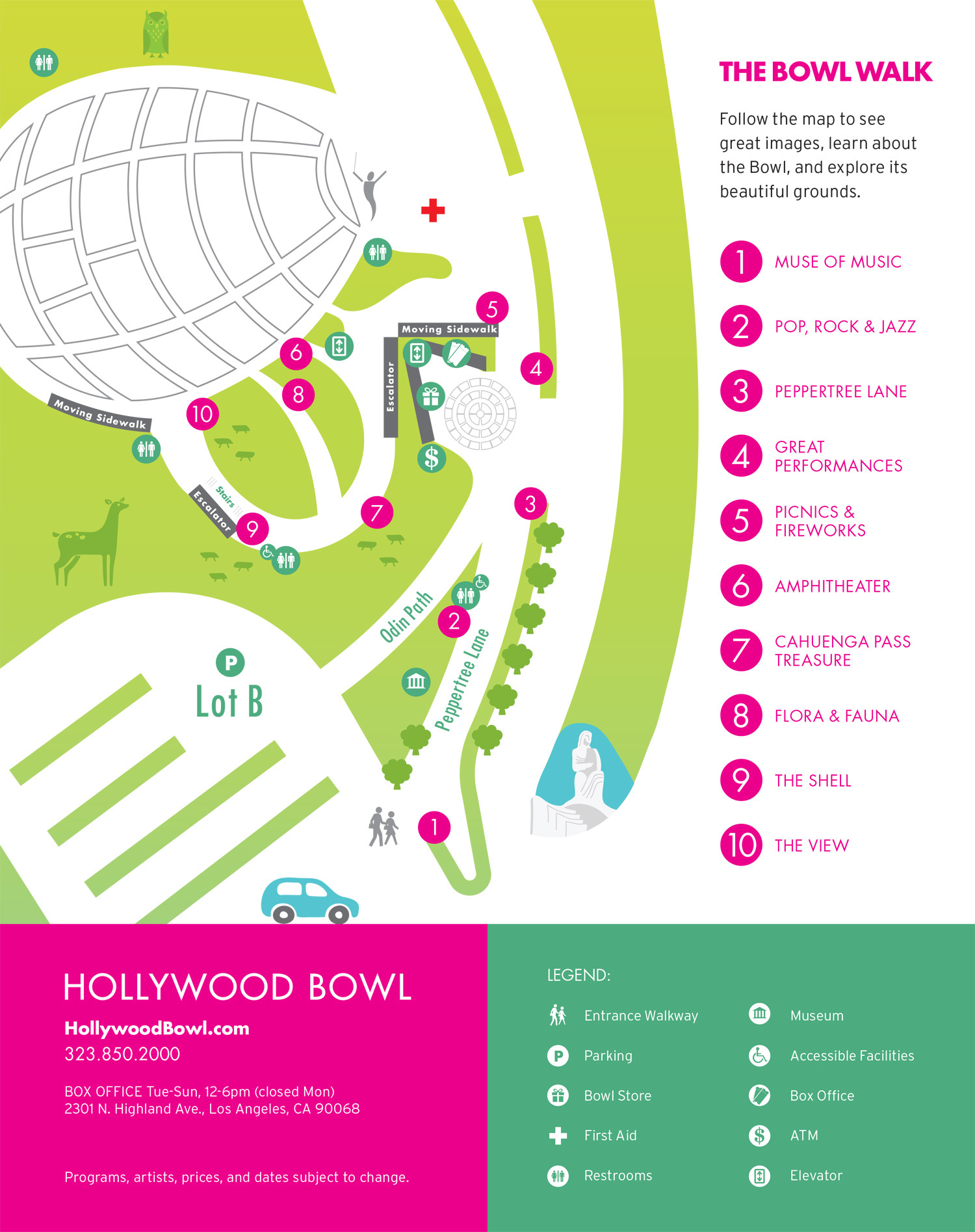 In addition to the walk, you'll definitely want to check out the Hollywood Bowl Museum, located at the site of the Old Tea Room, near the bottom of the hill off Pepper Tree Lane. Here you'll find a collection of old photographs, posters, and exhibits depicting the timeline of the Hollywood Bowl.
You can also head up to the second floor where the museum hosts temporary, featured exhibitions. Most recently on exhibit is Attention Pilots | Hollywood Bowl and the Skies Above the history of how the Bowl has tried to fend off airplane noise from interfering with their performance schedule.
Speaking of concerts, during the summer you can even catch open rehearsals by the LA Phil as they prep for evening performances. This is probably one of the most unique aspects of a day-visit to the bowl, as if you time it just right you could hang out with a little picnic and hear some world class musicians tuning up for a gig… all for free! Just be sure to call Audience Services (323-850-2000) ahead of time if you want to find out about the upcoming rehearsal schedule.
If you're planning a visit keep in mind there is free parking in Lots A and B during the day, but you might want to call ahead to avoid any event or construction-related park closures. The Hollywood Bowl is open daily at around 8 a..m. and is usually closed by sunset (or sometimes earlier if there is an event).
Again you'll want to check beforehand about any events or concerts that may be limiting public visitation hours. One some concert days the museum and/or park may close early as they prep for the show.
Museum hours vary seasonally but breakdown as follows:
Summer Hours:
June 20 – September 27
Monday: CLOSED
Tuesday – Saturday:
10 a.m. – show time
Sunday: 4 p.m. – show time
Off-Season Hours:
September 28 through June 19
Sunday – Monday: CLOSED
Tuesday – Friday:
10 a.m. – 5:00 p.m.
Saturdays: 30+ groups by appointment only
Closed Thanksgiving Day, Christmas, and New Years Day
Before you visit, you should definitely checkout this handy guide for newcomers available on the Hollywood Bowl official website.
The Hollywood Bowl is located at 2301 Highland Ave, Los Angeles, CA 90068.