Hello, horror fans! This year's Halloween lineup is looking particularly frightful, with theme parks, mazes, escape rooms, and immersive encounters in the dark galore.
Below we've amassed a list of our very favorite ways to get creepy this autumn. Help a coven of witches complete a mysterious ritual, find out what makes for a killer selfie, dine with horror's best hedonist, and more. Whatever flavor of spookiness you're looking for, we think you'll find something enticing via the rundown that follows.
THEME PARKS & MAZES
Universal's Halloween Horror Nights
Universal Studios Hollywood has more mazes—both original and fan favorites—than ever before, plus foggy scare zones and performances by hip-hop dance troupe Jabbawockeez. This year's maze lineup includes:
Us: Based on Jordan Peele's recent horror masterpiece in which a family must face its worst enemies—themselves, sort of.
Ghostbusters: Based on the 1984 horror-comedy.
Stranger Things: Netflix's dark horror-fantasy series returns to Universal, this time drawing from seasons 2 and 3.
Killer Klowns from Outer Space: Based on 1988 cult flick in which a group of alien clowns wreaks havoc on the town of Crescent Cove.
Creepshow: This maze will take inspiration from both Stephen King's 1980s anthology film and Shudder's upcoming series.
Rob Zombie's House of 1000 Corpses: Based on Zombie's 2003 film about a deranged family that torments a group of road-tripping teens.
Frankenstein Meets the Wolf Man: Two of Universal's classic monsters in one maze. I ship it.
Holidayz in Hell: This one's an original maze that presents a sinister turn on our biggest holidays.
The Curse of Pandora's Box: Another original maze, this one pays tribute a famous Greek myth and the dangers of curiosity.
The Walking Dead: Though the park's Walking Dead maze is a permanent attraction, you are certainly welcome to give it a zombie-filled go at HHN.
Those who feel like splurging can spring for a front-of-line pass or the R.I.P Tour. The R.I.P Tour includes access to dinner, drinks, and dessert; a private lounge with themed drinks; a tour of the mazes and the studio backlot; photo ops; an express pass to mazes and available rides, and parking for one car.
Universal Studios Hollywood's Halloween Horror Nights is located at 100 Universal City Plaza, Universal City. Sept. 13 – Nov. 3. $64 and up for general admission. $159 and up for Express. $270 and up for R.I.P. Tour.
Six Flags Fright Fest
Six Flags Magic Mountain will offer several original mazes and scare zones, plus nightly entertainment and roller coasters you can ride in the dark. Mazes include:
Vault 666 Unlocked: An old antique store's hidden vault of cursed objects.
Sewer of Souls: For those more horrified by bathroom humor than gore, this one's literally a sewer. From Hell.
Red's Revenge: A horrific take on Little Red Riding Hood. Yes, even more horrific than a lumberjack who has to hack a girl and her grandmother out of a giant wolf's belly.
Aftermath 2: Chaos Rising: A town is plagued with an apocalyptic virus.
Condemned – Forever Damned: You're attending an open house. You probably won't put in an offer.
Willoughby's Revenge: A horror classic, really. A dilapidated Victorian mansion, teeming with ghosts.
Six Flags Magic Mountain's Fright Fest is located at 26101 Magic Mountain Parkway, Valencia. Sept. 14 – Nov. 3. General admission starts at $54.99.
Knott's Scary Farm
The Western-themed, family-friendly Berry Farm will transform into Scary Farm this September. The park will feature several returning mazes, two brand new ones, scare zones, nightly entertainment, and a zombie-themed VR experience. New this year is Puppet Up! Uncensored from Brian Henson (son of Jim and Jane Henson), which replaces the long-running Elvira show. Mazes include:
Dark Entity: Aliens have breached your ship and they aim to possess you.
Dark Ride: A broken down carnival ride is full of depraved carnies.
Origins: The Curse of Calico: Why is Knott's Scary Farm so haunted? This maze explores the curse of the Green Witch, building on the annual event's decades-long mythology.
Wax Works: Ah, an old wax museum. What could go wrong? Unless the wax figures were made out of people, that is.
Pumpkin Eater: The Pumpkin Eater is a mysterious beast that stalks the woods. Is he made out of pumpkin? Uh, perhaps. He's also seven feet tall and will hunt you down.
Paranormal Inc.: A paranormal ghost-hunting show goes awry when the set turns out to be truly haunted.
Shadow Lands: Based on Japanese myths, guests explore an ancient temple—and the afterlife.
Special Ops Infected: It's like laser tag. With zombies.
Knott's Scary Farm is located at 8039 Beach Blvd., Buena Park. Sept. 19 – Nov. 2. Tickets start at $43.
Queen Mary's Dark Harbor
This year's annual event will feature six mazes, including the brand new Rogue, in which the crew either is (or isn't?) working to save the capsized vessel you're trapped aboard. Nightly entertainment, rides, roaming monsters, and themed lounges round out Dark Harbor's offerings.
The Queen Mary's Dark Habor is located at 1126 Queens Hwy, Long Beach. Sept. 26 – Nov. 2. Tickets start at $20.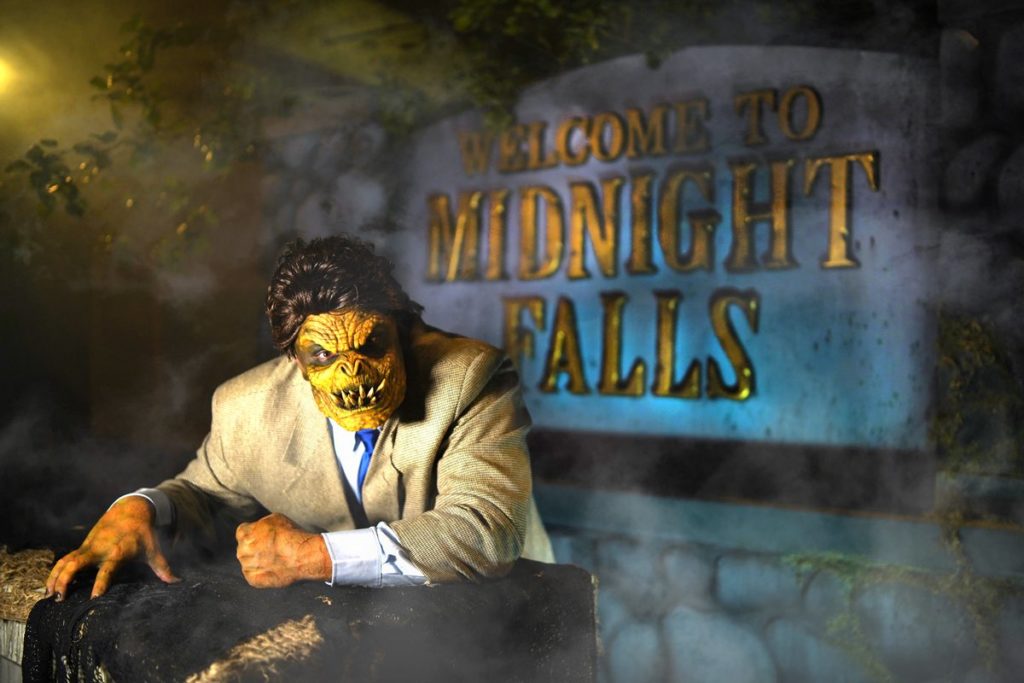 Haunted Hayride
Los Angeles Haunted Hayride will be helmed by Thirteenth Floor this year. And, instead of several disconnected attractions, the park will unify under one theme: Midnight Falls. Midnight Falls is a fictional town circa 1985. Guests can visit the Town Square and its macabre characters; check out the Roadkill Ranch on the outskirts of town; Trick or Treat in a ghoulish neighborhood; drop by the local mortuary, or engage in mini-escape games. Of course, the centerpiece remains the hayride, which will take guests straight to the hellish portal from which the town's nightmares escape.
Los Angeles Haunted Hayride is located in Griffith Park (Old Zoo), 4730 Crystal Springs Dr., Los Angeles. Sept. 28 – Nov. 2. Tickets start at $29.99.
Reign of Terror
Reign of Terror is one of the largest haunted houses you can attend, and it grows bigger every year. This year promises 115 rooms, encompassing nine different themes, each one connected to the last. Themes include Infected, Asylum, Miner's Revenge, Fun House, the all-new Containment and more. There's also a new experience called the Widow's Den where one should "avoid being wrapped up." We can only assume that means spiders.
Special events include a Lights-On tour ($5), for those who would prefer to see the sets without all the scares, and a Lights-Out, for those who'd prefer to navigate the maze with a single glow stick per group. (Please note that this event is recommended for those who have already enjoyed the attraction with all the special effects and lighting intact.) Reign of a Terror is a genuinely fun and creative haunt and, given its size and low ticket prices, one of the season's best deals.
Reign of Terror is located at Janss Marketplace, 197 N. Moorpark Road, Thousand Oaks. Sept. 28 – Nov 2. $17 and up.
17th Door
The 17th Door is an odd haunt. Its continuing narrative revolves around Paula, who debuted in 2015 as a quiet, troubled college student who suffered from a variety of topical youth issues. (Kind of like 13 Reasons Why, but horror, or Riverdale, but less sexy.) Throughout the past several Halloweens, Paula has become a mother, a murderer, and now an inmate of a twisted penitentiary where the staff inflicts experiments upon its charges. This year's 35-minute show, "Fearless," will follow both Paula's road to redemption and the Warden's sadistic hobbies. Those feeling particularly brave can add on a 15-minute VR experience, which occurs prior to the show. Please note that while this is not an extreme torture haunt, the actors may touch you and there is a safe word—"Mercy"—for anyone who'd like to nope right on out.
The 17th Door is located at the West Fullerton Shopping Center, 1851 W. Orangethorpe Ave., Fullerton. Sept. 20 – Nov. 2. Tickets are $25 an up.
IMMERSIVE EXPERIENCES
Haus of Creep
JFI Productions' Creep LA is always one of my favorite haunts of the season and this year, they're turning into an Instagram factory with Haus of Creep. You know those pop-ups that are little more than photo booths for aspiring influencers? That's what Haus of Creep is, only it promises to be a terrifying (and maybe sexy?) take on the modern concept. According to a release, Haus of Creep "sets out to remind us that art is alive, and it can't be restricted to a little square photo without dangerous consequences."
Small groups will spend about 75 minutes winding through bizarre vignettes, encountering some 20 characters, intimate scenes of terror, and a moody lounge area. Beer and wine will be for sale in the lounge, with proceeds benefiting nonprofit Beautify Earth. https://beautifyearth.org/
Haus of Creep is located at ROW DTLA, 777 S. Alameda St., DTLA, Building #2, Level 1. Sept. 13- Nov. 3. Tickets are $69. 21+ only.
The Ritual
Shine On Collective is an immersive theater company that, in the few years they've been active, has become adept at producing intimate, emotional, and provocative shows for small groups and single guests. We're sure their latest Halloween offering will be no exception.
In The Ritual, guests join a coven of witches to help them complete a ritual. While the coven is ostensibly looking for a missing person, you may slip through time and memory as your journey continues. The hour-long experience may contain moments of total darkness, small spaces, loud noises, and physical contact, and participants may have to crawl at times.
The Ritual is located in DTLA, location to be revealed to ticket holders. Saturdays and Sundays, Sept. 21 – 29. Tickets are $81.20.
Drunken Devil's Black Magic
Drunken Devil always throws a killer Halloween party, this one taking guests back to the Golden Age of Magic. Mingle with charismatic magicians while unraveling the secrets of Old Hollywood's dark dabblings in the occult. Drink themed cocktails, enjoy live entertainment, including tarot readers and burlesque, and dance your heart out—assuming no one removes it to sacrifice to an ancient deity, of course.
Black Magic is on Saturday, Oct. 19 from 8 p.m. to 1 a.m. The location will be announced to ticket holders. General admission is $85 and includes access to the open bar. Tickets are $75 and up.
The Depraved Attic of Dorian Gray
Disco Dining Club and the Grim Weather return with yet another lavish, elaborately themed dinner party under the mantra "consume everything." It's fitting that this time around they're summoning one of literature's greatest hedonists: Dorian Gray. The Depraved Attic of Dorian Gray consists of a 5-course meal via Chef Laurent Quenioux; themed cocktails from Happy Hour Academy; caviar from East Boston Oysters; immersive performances; live music and dance numbers, and parting gift bags. The entire party will take place within Oscar Wilde's gothic horror work, The Picture of Dorian Gray. So dress your best and leave your damning portraits at home in the attic.
Seatings available Oct. 24, 25, and 26 at 7:30 p.m. Located at a private location in Hollywood, to be revealed to ticket holders. Tickets are $250.
Alt Delete
Last year, Delusion brought us The Blue Blade, an interactive, time-traveling adventure. Guests were on the trail of Evelyn Lowell, a scientist who had stolen a blade that allows the user to cut through the fabric of time—sometimes to disastrous effect. This year, Delusion will debut a short bonus chapter to that story called Alt Delete. In this 20-minute immersive piece, guests will travel back to 1982 to deal with a breach in Lowell's former lab. The tone will be a departure from previous Delusion shows, trading horror for humor. Those looking for a lighter Halloween event without the gore and guts may enjoy this sci-fi offering.
Alt Delete is located at 3742 S. Flower St., DTLA. Sept. 18 – Dec. 15. Tickets are $38 and up.
Terror DTLA
In Terror DTLA, guests arrived at a downtown medical facility for an appointment. But instead of a standard physical, you'll have to fend off an unknown entity who's looking to remove something you'd like to keep. This haunted house will contain a few escape room-style puzzles, but the actors will not touch you. Suitable for ages 10 and up, though guests 10-17 must be joined by an adult.
Terror DTLA is located at 800 McGarry St., DTLA. Oct. 4 – 26. Tickets are $55.60.
Give Up the Ghost
In this 90-minute immersive work from Spectacular Disaster Factory, the audience will play themselves. The catch is that you're dead and awaiting passage to the afterlife via the mythical Ferryman. According to a release, guests will "play their dead selves on the shores of Eternity to bear witness to the sorrows and terrors of the living." Though jump scares and gore will not be a part of this piece, there may be dark or tragic themes throughout.
Give up the Ghost is located at First Christian Church of Whittier, 6355 Greenleaf Ave., Whittier. Select dates Sept. 27 – Nov. 15. General admission is $100; $50 on preview night (Sept. 27).
Freeform's Halloween House
Freeform's Halloween House returns for a second year featuring interactive and Instagram-friendly scenes from beloved Halloween films including The Nightmare Before Christmas, Hocus Pocus, and The Addams Family. According to a release, guests will enter through the Halloween Town tree portal, "interact with an animatronic Thackery Binx, call for another glorious morning from Winifred's window, and climb even deeper into Billy's Grave." On Oct. 3, enjoy a drag show and witch-themed cocktails with the Sanderson Sisters.
Freeform's Halloween House is located at Hollywood Athletic Club, 6525 Sunset Blvd., Hollywood. Oct. 2 – 7. General admission is $27; Hocus Pocus Drag is $37 (includes two drink tickets).
Urban Death Tour of Terror
Urban Death is an annual tradition at Zombie Joe's Underground Theater. Guests typically wind through a short maze full of strange monsters before taking a seat in the black box theater. A series of disturbing (and occasionally funny) vignettes unfold, one after another. In between, total darkness cleanses the palate for the next scares. It should be noted that while this is one of the weirdest, most creative Halloween shows around, you will see shocking, sometimes gross pieces and moments of total nudity.
Zombie Joe's Underground Theater is located at 4850 Lankershim Blvd., North Hollywood. Oct. 4 – Nov. 2. Tickets are $16 in advance or $20 at the door.
The Seance
From Cross Roads Escape Games, The Seance is an hour-long interactive theater piece in which Madam Ruby seeks your help to reach beyond the veil. The intimate experience is designed for 8 guests at a time, ages 16+.
Cross Roads Escape Games is located at 4245 E La Palma Ave., Anaheim. Oct. 2 – Nov. 3. Tickets are $45-60.
The Shadow Space: A Haunted Affair
The Shadow Space is part-escape room, part-immersive theater. You'll play a ghost who, after being schooled in the ways of haunting by elder spirits, will rattle your proverbial chains for the living. You'll enter the home of a couple hosting a small gathering and meddle in their gossip. Of course, things won't go as planned and it's up to you unseen specters to save the living from a dire fate.
The Shadow Space is located at 1763 N Gower St., Hollywood. Oct. 7 – Nov. 3. Tickets are $60.
ART SHOWS & EXHIBITS
The Evil Dead: An Immersive Experience
Bearded Lady's Mystic Museum frequently houses fun, horror-themed exhibits and their latest is a tribute to The Evil Dead. You'll find photo ops, tribute art, and props from the film inside, including Ash's signature chainsaw.
Bearded Lady's Mystic Museum is located at 3204 Magnolia Blvd., Burbank. Through Dec. 7. $12.
The Haunted 2: Welcome Foolish Mortals
This art show pays tribute to Disneyland's Haunted Mansion attraction with tribute art including paintings, sculptures, jewelry and more. An opening reception on Oct. 5 will feature tarot readings and Ghost Host tours.
Haunted 2 is located at The Hive Gallery, 729 S. Spring St. DTLA. Oct. 5 – Nov. 3. Suggested $5 donation for reception, otherwise free.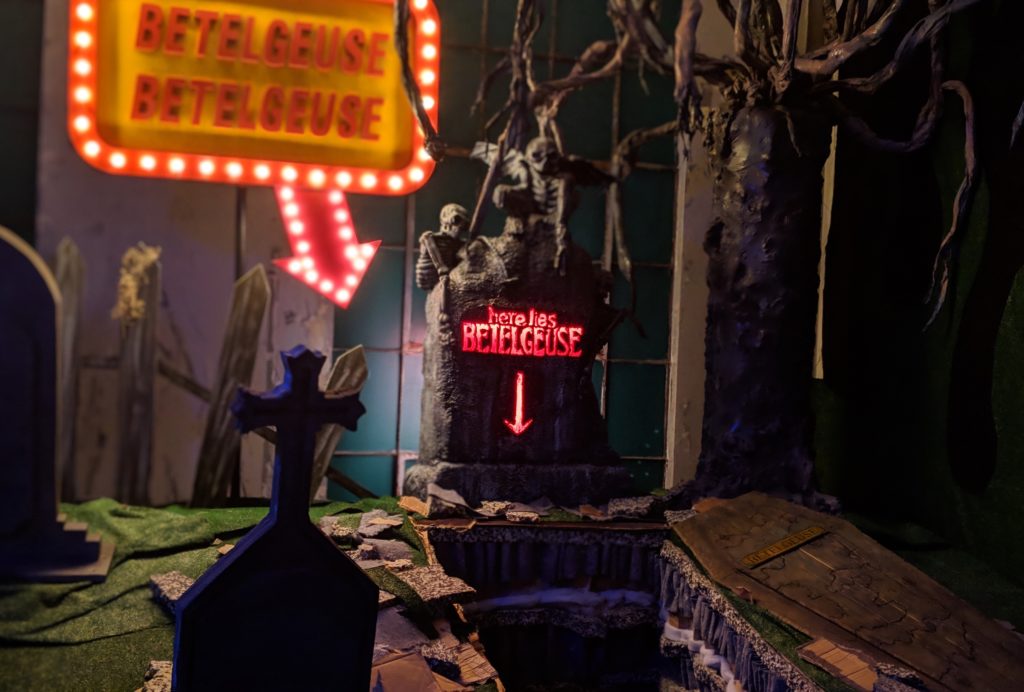 I Like Scary Movies
Artist Maximillian's popular horror-themed pop-up returns for Halloween with a few changes. They're moving downtown and adding a brand new Friday the 13th installation. The detailed and beautiful series of installations is a love letter from the artist to iconic horror films like The Lost Boys, Beetlejuice, and The Shining.
"In essence, it's kind of like you're walking into a 3-D fan art experience," Maximillian previously told We Like L.A. "I'm the fan, and I'm creating these installations and the things that resonated with me in these five movies."
I Like Scary Movies is located in the HD Buttercup Building, 2117 East Violet St., DTLA. Sept. 20 – Nov. 17. Tickets are $39.
MADAME TUSSAUDS' ILLUSIONS OF HORROR
Wax museums are already creepy, yes, but did you know Madame Tussauds in Hollywood has its own year-round horror exhibit? The Illusions of Horror features a series of Instagrammable installations from Dracula (1931), The Rocky Horror Picture Show, Silence of the Lambs, and more. And if you venture further, you can grab a selfie with Buffy the Vampire Slayer or play with Ouija boards in their '90s room.
Madame Tussauds is located at 6933 Hollywood Blvd., Hollywood. Admission is $16.99 and up.
NHM's History of Horror
This exhibit explores the history and science behind some of Hollywood's most famous monsters, including Dracula, Frankenstein and his monster, the Mummy, and the Creature from the Black Lagoon. The interactive display will feature real movie props and enough spooky party trivia to creep out all your friends. 
NHM is located at 900 W Exposition Blvd., Los Angeles. Oct. 10 – April 10. Included with general museum admission, which is $14.
HORROR ESCAPE ROOMS
Though most escape rooms are active year-round, here are some of our favorite rooms with a horror theme. If you're unfamiliar with escape rooms, you and a group of friends will typically have one hour to solve a series of puzzles and clues to "escape" a room or scenario.
The Basement, Sylmar
Four rooms—the basement, an elevator shaft, the study, and the courtyard—follow a continuous narrative. You've been captured by serial killer Ed Tandy, who has given you one last chance to puzzle your way out of his home before he eats you. Some rooms feature live actors.
60 Out, various locations
Amityville, Echo Park
Miss Jezebel, near DTLA (This is part-escape room, part- immersive theater experience with a live actor.)
The Orphanage, Koreatown (Note: This is the scariest escape room I've ever played.)
Dr. Psycho, East Hollywood
Dracula, Fairfax
Maze Rooms, various locations
They're Coming, Culver City
Vampire, Tarzana
Jack the Ripper, Culver City
Escape Room LA, DTLA
The Theater
The Bunker Experience, Pasadena
A dystopian Apocalypse horror story with three chapters you can play in succession for a 90-minute immersive journey.
Escapade Games, Fullerton
Zoe (Said to be the scariest room in Southern California)
The Last Experiment
Cross Roads Escape Games, Anaheim
Hex: Designed like a classic horror movie, guests will be assigned an archetype (Prom Queen, Jock, etc.) and split into separate rooms at the beginning of the game.
Psych Ward: Similar to Werewolf, 'sane' inmates will try to determine the 'insane' among them while solving numerous puzzles.
Escape Hotel, Hollywood
Numerous escape rooms all housed inside one spooky 'hotel' staffed by ghoulish characters.