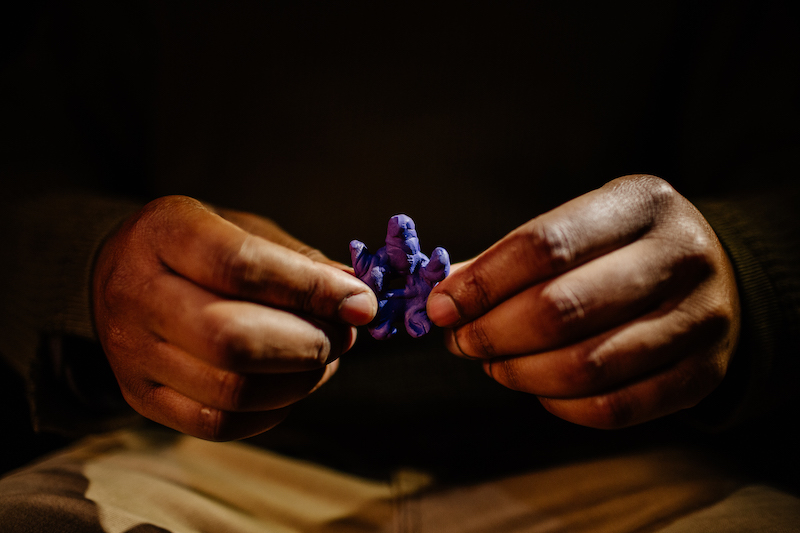 There is a subreddit full of two-sentence horror stories of which my favorite is as follows: "They say you eat seven spiders a year in your sleep. They never say anything about the thing that feeds them to you."

I was reminded of this tale by the title of a new, immersive horror experience at Zombie Joe's Underground theater in North Hollywood: I want to live in your mouth. But while both horror concepts revolve around the idea of an unwanted intruder, this show does not feed you spiders. Instead, one guest at a time, acting as both voyeur and participant, accompanies a reluctant host through a pivotal memory from their youth. On that specific night, supernatural interlopers entered the host's otherwise ordinary home. It is a dark, fantastical, and yet oddly whimsical journey into someone else's childhood nightmare.

I want to live in your mouth comes from writer/director David Ruzicka, who also serves as the co-artistic director of JFI Productions (Creep LA, The Willows), and creative producer Eric M. Vosmeier, whose previous credits include Creep LA and Center Theater Group. I came in on a quiet Sunday night to experience the show for myself.
Upon arrival, I was told to enter the theater alone, find an illuminated chair, sit down, and wait. From the onset, there was a surreal sense that I had been transported to a different place, possibly a different time. I was soon introduced to my only friend in this strange, new world—an anxious, but friendly young man. (The role has been triple-cast; performers include Terra Strong, Curtis Tyrone Scott, and Romeo Armand Seay. On this particular night, Scott had the starring role.)
He told me about a group of bizarre creatures who had been plaguing him since he was a kid. His story was reminiscent of many classic horror tropes: monsters under the bed, creepers in the closet, invaders from another planet who will turn your entire neighborhood into pod people. Gosh, you should warn someone, one might say. But who'd believe a child, what with their overactive imaginations and all? Don't children often talk of monsters that only come at night?
Child psychologist Dr. Laura Kauffman, in an interview with Dreams.com (they sell beds and mattresses), explained that kids, unlike adults, aren't used to dealing with the sounds they hear in the still of the night and haven't quite mastered how to fall asleep. This makes them "particularly susceptible to signs or indicators of [a] threat at night. As children enter their primary school years, they develop the cognitive skills and ability to imagine such things as monsters, and their fears of the dark get projected onto the caricature of the bogeyman."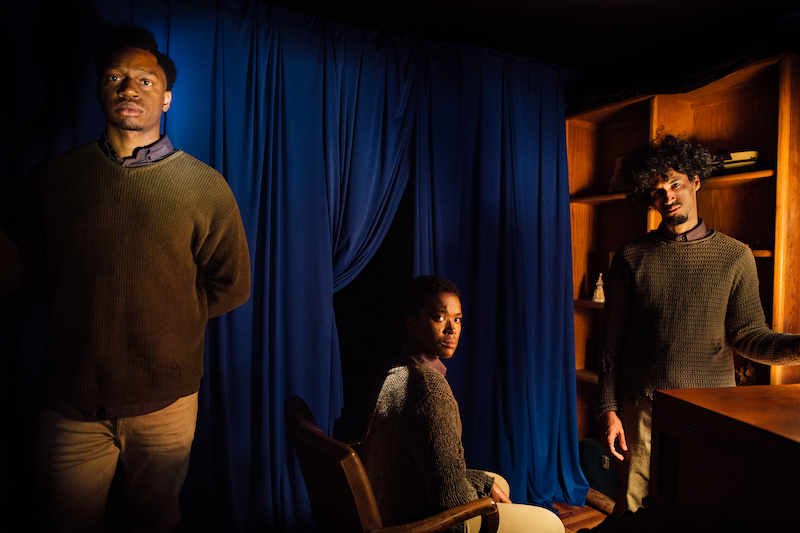 Ruzicka said one key inspiration for I want to live in your mouth was such common childhood fears, along with pop culture influences like the work of filmmaker David Cronenberg and movies like The Dark Crystal, Jacob's Ladder, and Labyrinth. He said the show initially percolated as "a little bit of a prose poem with these smaller vignettes of things happening."
As I made my way deeper into my new friend's increasingly warped home, there were indeed several vignettes. While I won't spoil them, I will say that while some are unsettling, others are oddly comforting.
If you've been to ZJU in the past, you know it isn't a particularly large theater. However, the creators of this show have managed to build a winding set that makes the space seem much larger. There are corridors to navigate, doors to unlock, and creatures to meet or, sometimes, avoid.
The creatures are not portrayed by human actors as in a traditional haunted house, but by puppets who straddle the line between horrific and kind of cute. In some ways, this makes them creepier—thanks, uncanny valley—but moreover, they further perpetuate the idea of a child's nightmare.

"The puppetry side was something that was part of the DNA of the project from pretty early on," Ruzicka said. "Each of those creatures does things that we couldn't do successfully with a human performer or even with larger scale, full-body costumes."
"It's also rooted in that childhood nightmare," Vosmeier added. "[Puppets] are thought of as children's programming, children's toys, but here there's this sort of warped version. If you imagine children having nightmares about Sesame Street characters, that's what they look like."

In total, the show runs about 20 minutes and offers plenty of surprises, some with an unexpected element of whimsy. For those who may find themselves curious about L.A.'s extreme haunt offerings, Ruzicka and Vosmeier note that I want to live in your mouth is not one, but could be a "gateway" to them.
"If you've ever wanted to be swept away or transported by one of those single-person, darker experiences but have been a little too afraid to be separated from your friend, we're hoping this is a safe and dreamlike way to access that," Ruzicka said.

There's also very little in the way of gore or violence. You're never being chased by vampires or werewolves or serial killers and there's more fear of what's to come than what actually is.
"There's so much real horror going on right now. For this particular experience, we kind of wanted to give people the chance to escape into a harkening back to classic horror stories where it's just a tale of the supernatural, a tale of dread that people can go into and forget about the outside world," Ruzicka said.
Still, you will be touched by actors and the show is intentionally unsettling, so do pay attention to warnings listed on the website before purchasing a ticket. Note that there is a safe word, and any guest is free to stop the experience and leave at any time.

Not deterred? In that case: sweet dreams!
I want to live in your mouth runs through May 19 at Zombie Joe's Underground theater, located at 4850 Lankershim Blvd. in North Hollywood. Tickets are $47.50. 18+ only.