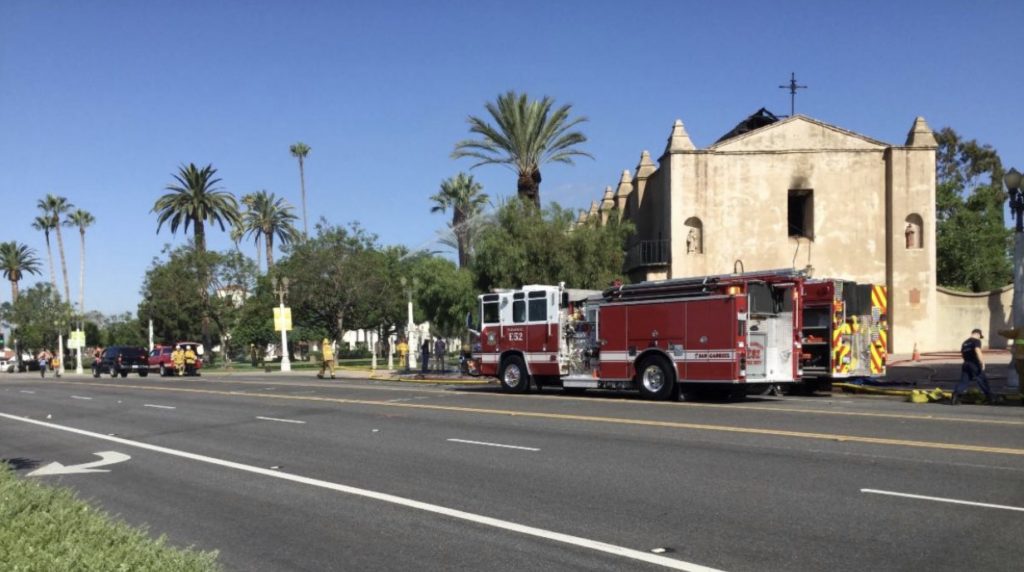 An early morning fire that badly damaged the San Gabriel Mission this past Saturday is still under investigation, city officials say.
Firefighters responded at 4:24 a.m on July 11 and worked for more than two hours to suppress the blaze, which completely destroyed the roof of the building and gutted much of the interior. In total, 80 firefighters and 28 fire units responded, including personnel from San Marino, Monterey Park, Alhambra, Arcadia, South Pasadena, and Pasadena. The incident was later classified as a four-alarm fire.
As of yesterday, the City of San Gabriel said the investigating is ongoing, though arson has not been ruled out, according to reporting by LAist. The preliminary investigation showed no immediate sign of arson.
Mission San Gabriel was founded in 1771 as the fourth of what would be 21 Spanish missions built throughout the state to spread Christianity and assimilate indigenous populations.
The name most often associated with the missions is Father Junipero Serra, who founded nine of the California missions from 1769 to 1782. In recent weeks, Serra's name has been in the news as protests for racial justice continue throughout the country and demonstrators have sought to remove statues of Serra from churches and public spaces.
Historians have argued that the practices by which Native Americans came to stay at these missions were highly coercive. The newly baptized indigenous peoples became a sort of captive labor force, performing agricultural and maintenance work. Threats of violence, including corporal punishment, were used to dissuade the laborers from leaving, and flogging was not uncommon.
Earlier this month, a statue of Serra was toppled by protestors in Sacramento. In June, a statue of Serra was pulled down on Olvera Street in downtown Los Angeles.
As a precaution, the San Gabriel Mission recently removed its Serra statue from public view, signaling a concern of potential vandalism. Given that the fire took place at a religious institution, and in light of the recent acts of vandalism against Serra statues, a representative from the Bureau of Alcohol, Tobacco, Firearms and Explosives was dispatched to assist with probe.
Meanwhile, the Archbishop of Los Angeles, José H. Gomez, defended Serra as a "good faithful man" when answering reporters' questions on Sunday.
Serra was canonized by the Catholic Church in 2015.