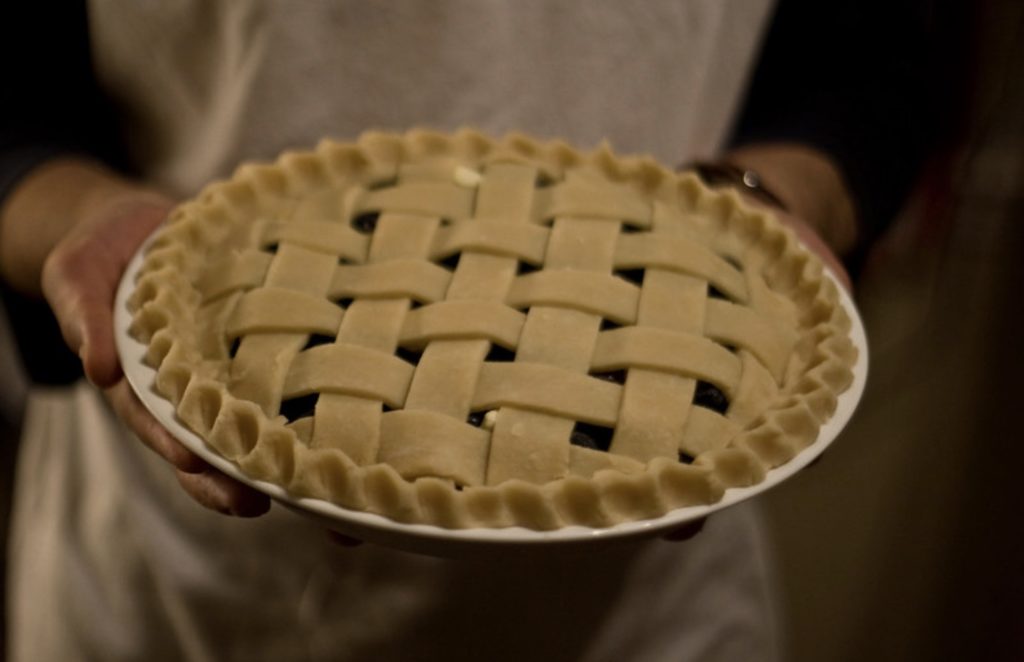 It was the summer of 2009 when KCRW Good Food host Evan Kleiman decided she wanted to master the art of pie-making. According to her personal website, Kleiman committed to baking to a pie a day for the whole season. She even went so far as to publish her progress on the Good Food Blog to hold herself to account. The posts spurred engagement with pie-lovers from around Los Angeles, and the community that formed around those interactions precipitated the 1st Annual Good Food Pie Contest, held in 2010.
Much like the radio program it takes its name from, Good Food's Pie Contest has become a local staple. It's something baked goods enthusiasts, whether bakers or tasters, can look forward to every spring. Last year, the 10th anniversary took place at UCLA's Royce Quad and included judges David Chang of Majordomo/Momofuku, pastry chef Genevieve Gergis, and KCRW's Josh Barro, host of Left, Right and Center. It's a big deal.
But this year, there will be no live event. In March, Good Food announced they'd be postponing the 2020 pie contest, in line with the wave other event cancellations that swept over SoCal as COVID-19 spread across the region. But Good Food did hint that there would be an Instagram-inspired replacement event. Now we have some details.
KCRW's Good Food Instagram Pie Pageant 2020 will take submissions from April 12-17. The rules are simple. Post a couple of specifically angled shots of you and your pie to Instagram. Use the caption space to tell the story of your pie. You could muse about your love for pies, share a personal pie anecdote, or maybe just talk about your love for baking in general.
Per the official entry guidelines, photos should include an overhead shot, a shot of you and your pie together, and a shot of your pie in action (think bite-of-pie-in-mouth type action). When you post your photo to Instagram, just make sure to tag @KCRW in the photo and use the hashtag #KCRWpie so the Good Food team can review.
Kleiman will judge entries in two categories: best-looking pie and best pie story. Winners will be announced on Sunday, April 19, and each will receive a Vitamix Ascent Series A2500.
While there are certainly many pie fans disappointed they won't be able to sample this year's field, it's worth remembering some wise words from Kleiman herself, written before the 2014 contest. "Look at this experience as a chance to bond with a pie-making partner or as a reason to dive into baking. Above all, try to have fun.  Winning is a bonus. Making is what it's all about."
That's sound advice, whether it's about baking or life in general.
And, of course, if you do get a hankering for some pie (or other freshly baked goods), you can check out this list of Los Angeles bakeries offering delivery and takeout.