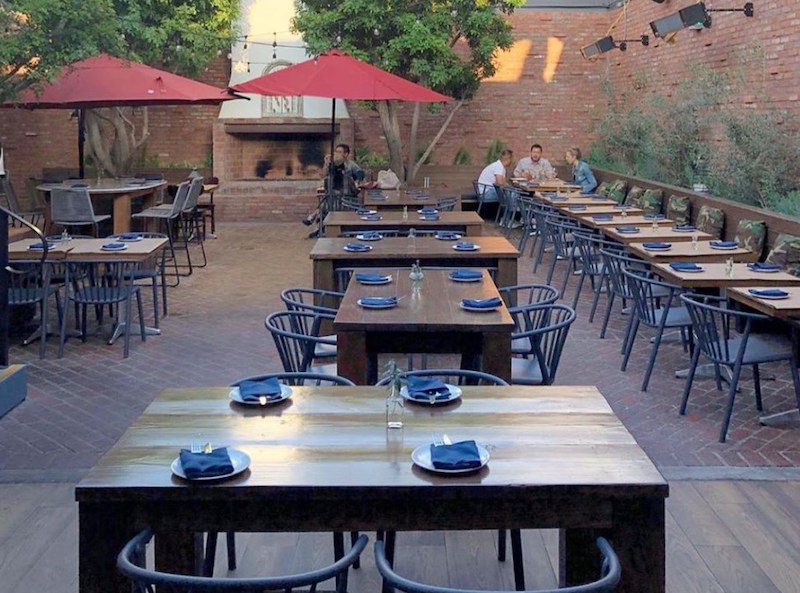 Today, L.A. County Department of Public Health Director Dr. Barbara Ferrer said that if restaurants are ready to reopen for dine-in service under the state and county directives, they can do so today.
Los Angeles County met requirements for a regional variance earlier today, joining nearly 50 other counties to qualify in the past several days. This opened the door for Los Angeles to reopen dine-in service at restaurants, barbershops, and salons. But as re-emphasized by Gov. Gavin Newsom today, the state only provides guidelines on how to reopen, but counties determine when. This means a county can choose to move slower, and they can also scale back if they see an increase in infections or hospitalizations.
Similarly, these businesses can decide whether or not they're ready to reopen. When they do, they're expected to adhere to current health and safety protocols and reach out to Public Health if they have questions or concerns on how to best implement them.
Francesco Zimone, owner of L'Antica Pizzeria da Michele in Hollywood, says his restaurant is ready. It will reopen tonight at 5 p.m.
"We have an incredibly spacious garden area with two patios—one of the largest outdoor dining areas in Los Angeles," he said. "We hope that this, along with our commitment to stringent safety and sanitation policies, will help guests feel comfortable when they're ready to dine with us. The team at da Michele has gone through extensive training to ensure everyone—from front-of-house staff to back-of-house staff—is fully aware of all guidelines outlined by the government, including face mask use for all team members, table spacing of more than [six feet apart], laminated menus which are sanitized between each use, and consistent sanitizing and hand washing. I know I speak on behalf of our entire staff at da Michele when I say that we are thrilled to have our beautiful community join us at the table again, and it is our number one priority to keep everyone safe."
On May 21, Los Angeles released some guidelines for how restaurants and bars that serve food should reopen. Some key highlights:
Restaurants must space tables at least six feet apart or install physical barriers, such as a Plexiglass wall, between them.
Restaurants should make sure they have enough PPE for employees and cleaning and sanitization supplies on hand.
Restaurants should identify, then either remove or change high-touch items. This might includes menus, condiments, or self-serve stations.
For now, all bar areas must remain closed and customers can only order alcohol if they're also buying food.
Waitstaff must wear facial coverings when interacting with customers.
Customers should bring their facial coverings and plan to wear them when not eating or drinking.
Restaurants should still prioritize takeout, delivery, and pickup. When possible, they should also prioritize outdoor seating.
Groups of diners should consist of no more than 10 people.
For at least the next three weeks, occupancy is capped to 60%.
The document also contains additional guidelines and resources for employee safety, cleaning and sanitization procedures, and letting customers know what they should and shouldn't be doing.
Barbershops and salons have similar guidelines in place. Customers and service providers must wear facial coverings and stylists can only work with one client at a time. Nail salons cannot open yet, and salons can't offer services that require providers to touch customers' faces, such as facials or eyebrow waxing.
Also in today's briefing, County Supervisor Kathryn Barger said the Economic Resiliency Task Force has worked with industry reps, labor groups, and Public Health on guidelines for other sectors including sports venues, theme parks, corporate businesses, manufacturing, and film and digital media. Those will be released next Tuesday.
These reports "ensure industries can hit the ground running with proper public health guidelines—and I emphasize with proper public health guidelines—as soon as the state gives approval to reopen," Barger said.
Guidelines for every reopening, including the ones we may see today, will include physical distancing and other protective measures.
"The 'new normal' reflects the fact that COVID-19 is still very active in our community and there's a great deal at stake in reopening," Ferrer warned, adding that "the actions we take today affect what we'll see in terms of cases, hospitalizations, and deaths several weeks from now."
It's too early for officials to tell if the reopenings we've already seen, including in-store retail and houses of worship, have caused an increase in transmission. According to Department of Health Services Director Christina Ghaly, M.D., we'll need to wait "a couple more weeks" to see if there's an uptick, simply because of the time it takes for someone to develop symptoms after becoming infected.
"If we do see an uptick, it will likely mean that there's already been two to four weeks of increasing transmission. So, we could be in the midst of a new upward curve or transmission may not have increased at all. We don't know," she said.
Want to know what's open and what's not? Check out this list.