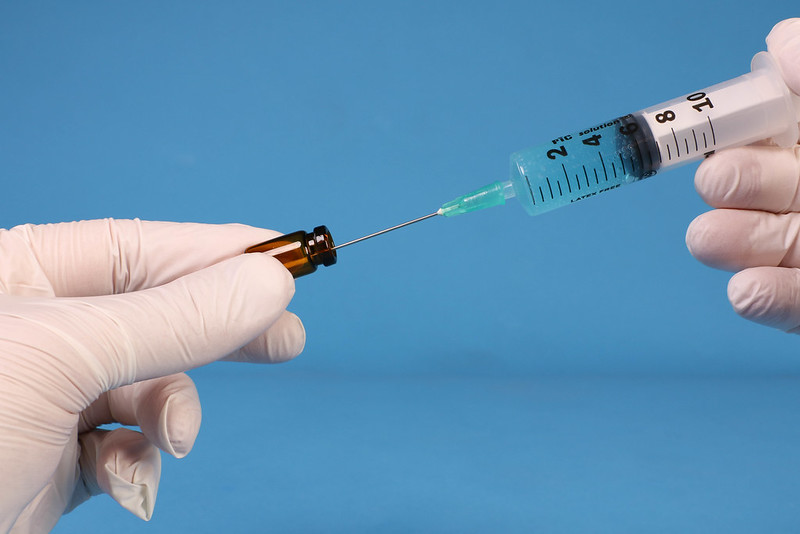 During a media briefing today, we learned a little bit about how Los Angeles County will begin distributing the COVID-19 vaccine, possibly as soon as next week. It's going to be a massive, unprecedented undertaking, but there is a plan in place.

Dr. Paul Simon, Chief Science Officer and Director of the Division of Assessment, Planning, and Quality at the Los Angeles County Department of Public Health, provided some key information this afternoon about how many doses are coming our way, who will get them first, and what the future may look like.
What vaccines are we talking about?
There are currently two vaccines—the Pfizer and the Moderna vaccines—that Simon said appear to be safe and effective. The Pfizer vaccine is ready to be shipped as soon as the FDA says so, while the Moderna is awaiting approval, but could be administered as soon as Dec. 21.
An FDA advisory panel recommended approval of the Pfizer vaccine for emergency use today. The full FDA could grant emergency use approval as soon as tomorrow. If that happens, L.A. could begin vaccinating as soon as next week.

The vaccines do have a few side effects. One common symptom is soreness in the area where the vaccine is administered, sort of like when your arm is sore the day after a flu shot. Other symptoms include cold-like symptoms, including headache, chills, and fatigue. 
What's up with this first batch of vaccines?
Pfizer is set to ship about 83,000 doses to Los Angeles County as soon as next week, pending approval. The county expects to receive two more shipments this month, totaling about 500,000 doses through December, then weekly allotments thereafter. 
The first batch will be sent to nine sites across the county, who will in turn distribute them to 83 hospitals countywide. Everyone who receives a vaccine will need a second dose three weeks later. What's tricky is that if the Moderna vaccine is approved, the county will start getting shipments of both, so it's important to carefully track everything to make sure people are getting the same vaccine for both doses. 
Who will get it first?
The vaccines will be distributed through a phased rollout in alignment with CDC recommendations.  
Phase 1a: Healthcare workers and residents of long-term care facilities. This phase could begin next week. More info on this phase is available here.
Phase 1b: Essential workers. This is a pretty broad category and details on who exactly qualifies are forthcoming. This phase could begin next month.
Phase 1c: People who are the most at-risk of developing serious symptoms if they get COVID-19. For example, seniors over 65 or people with certain underlying conditions.
So does life go back to normal once we're all vaccinated?
Not quite. While the vaccine efficacy in clinical trials has been very good, vaccine efficiency—or how it works in the "real world"—is unknown, Simon said. We don't know if the vaccine offers life-long protection from COVID-19, and there's still a lot of debate about how many people need to be immunized to achieve herd immunity. Simon said he and most experts tend to believe 60-70% of a population, while others say it could be as low as 35%.
Simon said the goal is to immunize 6 million people in six months, but he was very reluctant to say when we might return to some form of normalcy. His "cautiously optimistic" guess was next summer, "but I don't want to sound like I'm making a promise. No one should, really, because we just don't know."
How will we find out when it's our turn?

The Department of Public Health will be using mass communication strategies to reach as many people as possible. That'll include traditional media, social media, newsletters, emails, texts, and more. But you can visit this website for the latest info from the county.