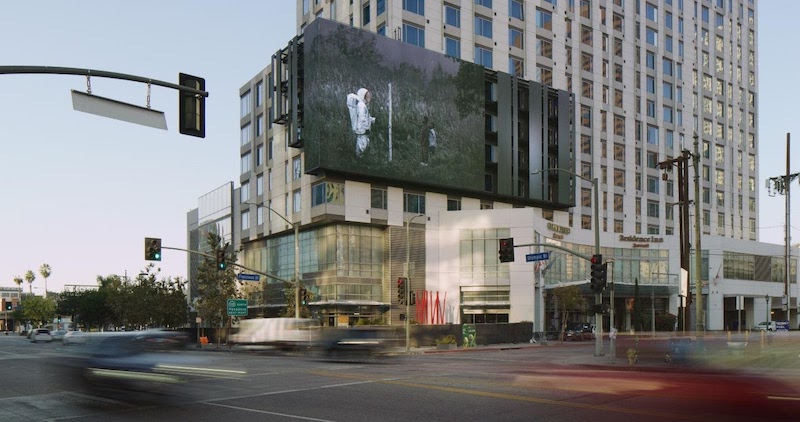 We used to tell you about all the things you could go out and do in Los Angeles on a daily, weekly, and monthly basis. Then, the coronavirus changed life for all of us, in a thousand small and massive ways. Until the pandemic is behind us, we'll post one list of events that adhere to Public Health's current protocols—including plenty of at-home and online events—every Thursday morning. We hope they keep you busy, make you laugh, teach you something, or help you feel less alone.
This week, we've got Hanukkah events and food specials, holiday markets, a Pawliday Zoom party at PetSpace, virtual performances and tours, and more. Have something you want to submit for next week? Hit us up: [email protected].
---
Out-of-the-House Events
Find fun holiday events for the whole family, including drive-thrus, online events, and socially distant gardens in our holiday roundup here.
L'Antica Pizzeria da Michele Hollywood has a new daily drive-in dining experience in the private parking lot adjacent to the restaurant. Expect TV shows, films, and iconic Italian football games projected when the sun goes down. Diners can order food from the full menu upon arrival or in advance via the website or over the phone. Staff will deliver food directly to your car. Space is limited, reservations through phone or email are highly recommended.
The Odd Market's Downtown Drive-In & Night Market kicks off on Dec. 13 across from L.A. Live with a screening of Scrooged. Screenings include food trucks and a night market with local arts and crafts vendors. Future screenings include Home for the Holidays on Dec. 20 and Mixed Nuts on Dec. 27. Tickets are $20 per car, plus $12 per person. Get them online here.
Santa's Cinema at The Grove's Level 8 presented by Citi offers two weeks of Monday movie nights. Each includes a curated menu for two, three, or four guests from Picnic Society by Gwen and Bar Verde. On Dec. 14, they'll screen How the Grinch Stole Christmas (2000). See Elf on Dec. 21.
Art Angels and former MLB player and artist Micah Johnson have partnered on a billboard featuring Johnson's art, visible at the Courtyard Marriott at 901 W. Olympic Blvd. in DTLA through Jan. 10. Per the release: "ˈsä-v(ə-)rən-tē (pronounced "sovereignty"), a time sensitive programmable photograph by Micah Johnson. The digital photograph features two real subjects (Jacque 8, Rayden 7) who have faced an adverse situation at a young age in a scene with an astronaut suit on one side of the door and the boys on the other. The mission of this work started by simply wanting to empower them by letting them see themselves in high art, but quickly turned into one of the most impactful use cases for art. Johnson's use of the astronaut in his works represents the dreams children aspire to."
From the team behind Nights of the Jack comes Holiday Road. The illuminated drive-thru includes large-scale holiday installations, thousands of Christmas lights, and Santa and all his cheerful friends. Open Dec. 4 through Jan. 10 at King Gillette Ranch in the Santa Monica Mountains. Tickets start at $75 per vehicle.
Christmas Tree Lane returns Dec. 7 in Altadena with a one-mile stretch of fully decorated houses and trees on Santa Rosa Ave., between Woodbury Ave. and Altadena Dr. Take a drive with the people in your household for some holiday cheer. This year marks their 100th anniversary!
Celebrate the Festival of Lights at LIT, a drive-thru Hanukkah experience at Stephen Wise Temple Dec. 10-20. The event includes a light show, art installations, a screening of animated short The Broken Candle, and an immersive projection tunnel.
Hikari a Festival of Lights at Tanaka Farms turns the 30-acre Irvine farm into a dazzling spectacle of lights on trees, scarecrows, tractors, and even their sugarcane crop. Open nightly through Jan. 10, but Santa also makes an appearance every Friday, Saturday, and Sunday. Tickets start at $49 per vehicle.
The Pacific Opera Project's drive-in season features three live shows at Camarillo Methodist Church in Ventura County through Dec. 13. Guests will remain in their cars throughout each two-hour performance. Live video with supertitles will be projected above, while sound will come through FM radio. Each performance accommodates about 90 vehicles.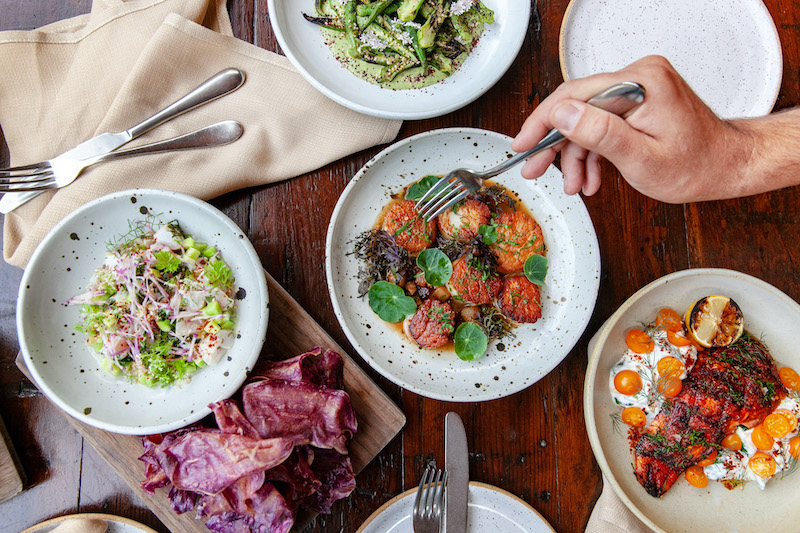 Pickup & Delivery
Rustic Canyon's new "Grin & Bear It" pop-up offers simple Southern comfort food for takeout and delivery. The menu includes Sour Corn Biscuits, Macaroni & Fancy French Cheese, Half or Whole Honey-Roasted Chicken with hot honey jus, Beef Brisket with Red Eye Gravy, Pork Ribs in Andouille Sauce, Mystery Slices of Pie, and more.
Iki Ramen collaborates with chef Yoji Tajima for a 14-item sushi omakase set that includes a selection of nigiri and grilled blue shrimp topped with sea urchin and fresh black truffle. Available exclusively on Tock for $58 Dec. 14 and Dec. 21.
For Hanukkah, Milky Way is offering kosher dairy favorites including Build-Your-Own Latke Platters for takeout, contactless curbside pickup, and delivery via Postmates. Entree purchases during Dec. 10-17 also come with one free order of latkes when customers use the code: LATKES20 to redeem via phone order. Gelt chocolate coins will also be included in all orders during Hanukkah as a special treat for kids.
Manuela's supper-for-two menu is back. For $48, get an entree, seasonal salad, vegetable sides, two biscuits, and dessert, with enough to serve two people. The menu changes nightly, so check Instagram to see what's on special this week. Curbside pickup and delivery are available via Tock and Postmates.
American Beauty and Superba Food + Bread are both offering five-course, takeout Hanukkah dinners. Both are $160 and serve four. From American Beauty, get slow-cooked show rib stew, potato latkes, spiced carrots, roasted artichokes, and sufganiyot. Order on TOCK Dec. 10-18. From Superba, get beef brisket, potato latkes, haricot vert-tahini sauce, beet salad, and sufganiyot. Order on TOCK starting Dec. 10.
Burt Bakman and the h.wood Group's bbq concept SLAB are offering a Hanukkah Package that feeds four for $195. The feast includes half a brisket, latkes, salad, matzo ball soup, and roasted green beans. Available for pre-order (24 hours in advance) Dec. 10-18 for pick-up at 8136 W. 3rd Street.
Superfine Pizza and Skid Row Housing Trust have a new special going on. Any time you order for pickup or delivery, you can add a $1 or $5 donation to bring meals to residents at The Rossmore House. On Saturdays, Superfine will match donations.
The Little Tokyo Community Council (LTCC) is relaunching Community Feeding Community (CFC) to provide free meals to those whose jobs were impacted by COVID-19 closures while also supporting small businesses in Little Tokyo. Meals are distributed every Saturday from 2-4 p.m. at 327 East Second Street. The menu rotates weekly and advanced reservations are required for pickup. Reserve a meal online at littletokyola.org/cfc. You can also use that link to donate a meal.
Idle Hour in North Hollywood is offering craft cocktail kits all December. The kits include mixes, syrups, and garnishes for Idle Hour's signature margarita ($25), mule ($30), or old fashioned ($20) Spirits are not included in the kits but customers can add a bottle of vodka or tequila with any kit purchase.
Cake Monkey recently launched a budget-friendly Pie Gram service. For $6.75, send friends mini-pies with customizable messages on the box. Flavors include Cider Roasted Apple in Double Cheddar Crust or Brown Butter Pecan with Toasted Cocoa Nibs. Pick up orders at the Beverly Grove shop or North Hollywood kitchen. Local delivery is also available.
Maple Block Meat Co. has a new drive-in and pickup lot. Guests can stay in their car and enjoy free popcorn while they wait for their order to be brought directly to their car. Items include sandwiches, salads, BBQ, daily specials, and family meal packages. For $83, get a whole smoked chicken dinner with pickles, biscuits, salad, and a side (serves four).
Michelin-starred Chef David Myers's pop-up ADRIFT Burger Bar features burgers, fried sides, and milkshakes for delivery (GrubHub) or pickup in Venice. Hours are daily, 11:30 a.m. to 9 p.m. The signature DM Burger is a medium-rare patty with Vermont Cheddar Cheese, shaved onion and lettuce, and secret sauce on a brioche bun. Other options include Curry Leaf Fries and Matcha & White Chocolate Milkshakes.
Hotel Figueroa is hosting a pop-up event with local bakeshop Flouring LA on Dec. 12 and 19. Each dessert box includes gingerbread cake bars, peppermint meringue-topped brownies, cinna-sugar donuts, and Belgian sea salt chocolate chip cookies ($44 for eight pieces). Available for pre-order and pickup each Saturday of the pop-up from 1-3 p.m., along with other Flouring LA items available at the hotel. Email [email protected] to place an order.
Foo Fighters and Casa Vega have teamed up for a limited-edition taco collaboration that benefits No Us Without You. Available all month, The Foo Fighters taco ($7) features smoked brisket in a Mexican spice rub, backbeat BBQ sauce, Mexican coleslaw, pickled onions, and cilantro, on a homemade flour tortilla. A Foo Fighters cocktail called Los Luchadores Foo ($14) made with La Gritona Reposado tequila is also available. The Foo Fighters taco is only available for take-out (online ordering) at Casa Vega's drive-thru. In addition, there will also be a special Foo Fighters x Casa Vega tee shirt sold on Casa Vega's website, with the proceeds donated to No Us Without You.
Chef Jordan Kahn of Vespertine is recreating items Chicago's Alinea for a special eight-course menu available for pickup Thurs.-Sun. through Dec. 20. Guests can either order ready-to-eat, individually plated small dishes ($115 per person) or a DIY family-style format with directions to reheat and plate at home ($95 per person). Two order minimum. Order via Tock.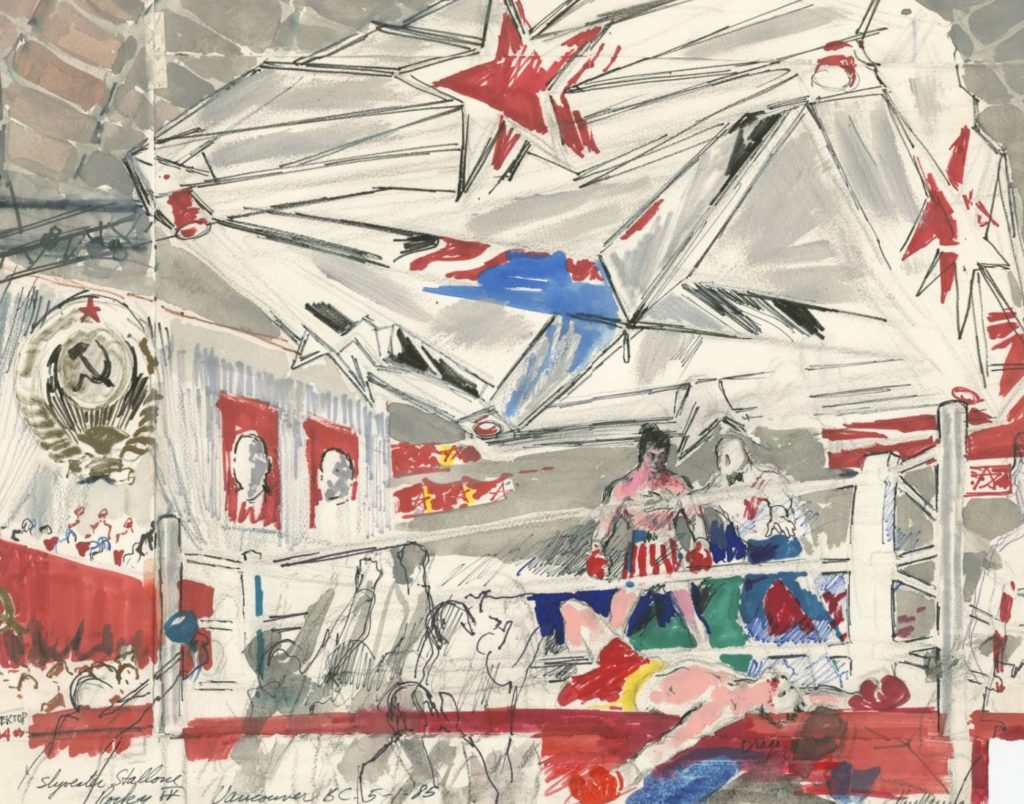 At-Home & Online Events
Antaeus Theatre Company's The Zip Code Plays: Los Angeles is a series of virtual, interactive tours that highlight landmarks and small businesses. Each episode is narrated by a member of the Antaeus Theatre Company and includes a map illustration from Cynthia Jacquette Art + Design. The Zip Code Plays are set in 90011 (South Central Los Angeles), 90012 (Downtown L.A.), 90024 (Westwood), 90403 (Santa Monica), 90272 (Pacific Palisades), and 91352 (Sun Valley). Listen for free at www.antaeus.org.
Age Before Beauty is an online exhibition of LeRoy Neiman's sketches from the set of the Rocky films. It features 25 images staged throughout the historic Gleason's Boxing Gym in Brooklyn.
Annenberg PetSpace is hosting kid-centric Pawliday Zoom party this Saturday, Dec. 12 starting at 4 p.m. The hour-long online event features a puppet show, a cooking segment and lots of virtual meet-and-greets with adoptable pets and critters. You can register to attend for free here.
Cyndi Lauper's annual Home for the Holidays concert this year features appearances and performances from Cher, Henry Rollins, Billie Eilish, Taylor Swift, Billy Porter, Dolly Parton, and more. The show will premiere on TikTok on Friday, Dec. 11, then re-air on YouTube and Facebook on Sunday, Dec 12. The concert is free to view and supports True Colors United, which works to end homelessness among LGBTQ youth.
Celebrate Hanukkah with the Skirball on Dec. 13. Register for a sweet and savory cheese pancake workshop or celebrate the Festival of Lights online with a free streaming event that includes a community candle lighting, a lively sing-along, and a puppetry performance that tells the Hanukkah story.
#WomxnCrush Music (#WCM), a non-profit arts organization dedicated to creating opportunities for rising womxn songwriters, hosts the "WomxnCrush Music On Tour: Spotlight On Los Angeles" showcase to benefit local venues on Dec. 10 at 6:30 p.m. The show features Esbie Fonte, Rivita, and Sydney Ranee.
From The Wallis's Sorting Room Sessions on Dec. 12, Magic Castle members Elizabeth Messick, Michealann Awesome, Patricia Magicia, and Simone Turkington offer an on-demand, all-ages virtual performance of music, comedy, and magic. Tickets are $25.
Gorillaz will perform Song Machine Live from London on Dec. 12 and 13. The virtual global tour will blend the live performance with animated visuals by Jamie Hewlet. Tickets start at $15.
A virtual table reading of "It's a Wonderful Life" benefitting The Ed Asner Family Center is on Dec. 13 at 5 p.m. Per a release: "Karolyn Grimes, the original 6 year old Zuzu Bailey featured in the motion picture "It's a Wonderful Life " will relive the classical holiday story as she joins Ed Asner, Pete Davidson, Ellie Kemper and a star-studded team of actors—including Mia Farrow, Maude Apatow, Carol Kane, Ed Begley Jr., Diedrich Bader, Bill Pullman, Richard Kind, and BD Wong—for a one-night-only, live virtual table read of the 1946 holiday classic." Tickets are $50 per household or five tickets for $200.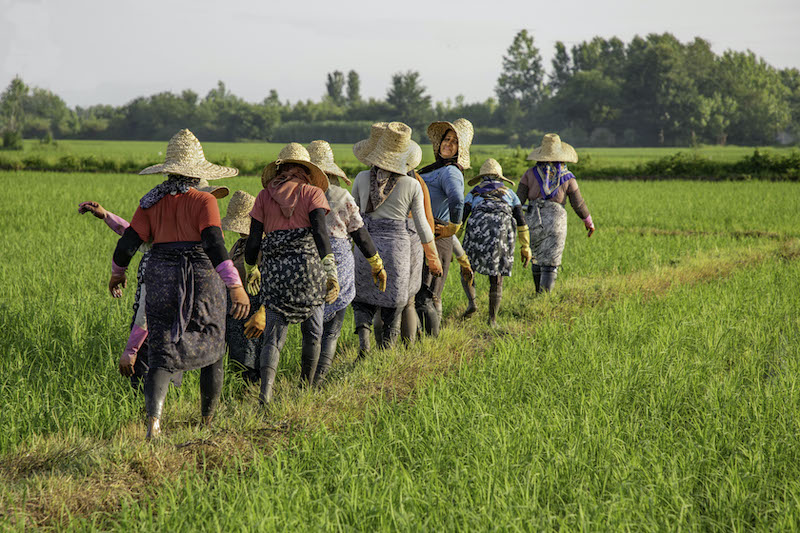 MASH Gallery hosts "Saffa," a new online photographic exhibit from Adel Yaraghi. Per a release: "Curated by MASH Gallery's Haleh Mashian, Yaraghi's momentous photographic series tells the story of the women rice farmers of the coastal regions of Northern Iran. Yaraghi documents it all—the families who farm together, the multi generations of women minding the fields, the songs that the women sing as they work—a matriarchy that is the backbone of the land." See it online through the end of the year here.
The gift shops of four downtown institutions come together Dec. 12-13 for Gifts on Grand. Buy gifts from The Shop at The Broad, MOCA Store, The Library Store, and LA Phil Store online, then pick up your items the same weekend. As a bonus, get a free mug (while supplies last) when you spend $50 at each participating store.
The Gay Men's Chorus of Los Angeles Holiday Spectacular goes online this year with a one-hour virtual concert on Dec. 12. The free event features brand-new performances as well as the best performances from past Holiday Spectaculars.
Downtown Culver City and Amazon Studios host a virtual tree-lighting celebration on Dec. 10 at 6 p.m. The show includes the lighting of a 22-foot Rocky Mountain Pine, performances by Invertigo Dance Theater and Lesili Beard, a visit from Santa, and more.
A Current Affair goes virtual Dec. 11-13, allowing people to shop from dozens of the top vintage retailers safely and from the comfort of their homes.
On Dec. 12 at 10:30 a.m.. join the Culinary Historians of Southern California for "The Culinary History of Disneyland and Walt Disney," hosted on Zoom by Marcy Carriker Smothers. "Per a release: "Marcy Carriker Smothers explores Walt Disney's "Kingdom of Good Eating" at Disneyland. While mid-century fare in America may have been humdrum, Walt's world of food was filled with fantasy and color; he was committed to making the dining experience at Disneyland entertaining—just like the rides. He was among the first in the world to have a themed restaurant and we take a look at his unexpected role of restaurateur. Marcy will also probe into what Walt ate at home." The event is free, but you must RSVP 24 hours in advance to get the Zoom link.
The Tom of Finland Foundation's 25th Art and Culture Festival: Plugged In will be held online Dec. 11-13, highlighting fringe erotic works from dozens of artists. 2020 also marks the centennial of Tom!
NewFilmmakers Los Angeles host a virtual edition of its annual Film Festival InFocus: Middle Eastern, Arab & Dutch Cinema program Dec. 11-12 featuring an international lineup of virtual screenings, filmmaker Q&As, and industry panels. An All-Access Pass is $30. Single tickets are $10 per film program.
The Robey Theatre Company hosts a free virtual Kwanzaa celebration on Dec. 11 at 6 p.m. Festivities include musical performances from Robey artists including Cydney Wayne Davis, Julio Hanson, Marva Smith, plus the Hearts On Fire Choir, and the young artists of The Amazing Grace Conservatory. There will also be comedy performances by Jason Mimms, Vanja Renee, and Stevie Mack. Register for tickets here.
Join KCET Cinema Series host Pete Hammond for a virtual screening of The Prom followed by a Q&A on Dec. 11 at 7 p.m. Register by Dec. 9 at noon.
LA Plaza's 100th virtual program is on Dec. 11 at 7 p.m. They'll look back at all of their "En Casa con LA Plaza" online offerings, featuring highlights dating back to April 27. Register to view on Zoom or watch on Facebook.
Union Station's Tinsel on the Tracks is online this year, featuring a tree lighting under the stars on the station's South Patio and a performance from the Grand Arts Chamber Singers. Watch on Dec. 11 at 7 p.m. on Facebook or YouTube.
From Zombie Joe's Underground Theater comes a spooky 22-minute personal visit from The Ghost of Jacob Marley, the first of many spirits Scrooge sees in A Christmas Carol. Zombie Joe himself will play Jacob Marley as he Zooms you to make sure you change your ways or whatever it is Marley is up to these days. From Dec. 16-30, you can book your personal ghost consultation for $25 at ZOMBIEJOES.COM.
Sofitel LA's annual dog-friendly event is on line year. The hotel will partner with Wagmor Pets Dog Rescue on a meet and greet with rescue dogs.
After Hours Theater Company is offering a virtual show with drinks. A Christmas Carol Cocktail Spectacular takes guests back to the 1950s with an interactive online retelling of A Christmas Carol. The ghosts of past, present, and future each bring their own cocktail, which you'll make along at home thanks to a kit you'll receive in the mail. Performances are Dec. 11, 12, 18, 19, and 22 at 7 p.m Tickets are $78 for two guests, and include the live-stream and ingredients to make three cocktails (alcoholic or non-alcoholic available).
UCLA's Center for the Art of Performance (CAP UCLA) presents the Pomegranate Arts production Taylor Mac's Holiday Sauce…Pandemic! on Dec. 12 at 7. p.m. Per a release: "Conceived as a virtual vaudeville, Holiday Sauce…Pandemic! blends music, film, burlesque, and random acts of fabulousness. Tickets are available for a minimum $25 donation.
Welcome to Meadowlark Falls – Christmas At Home is a story told through the mail and online from Tin Can Telephone. It's a holiday rom-com that begins when you receive a letter from Jenny Snow, a friend you met at baking camp. Jenny needs your help to make sure the holidays in Meadowlark Falls are as merry as possible. Tickets are $40. Get them by Dec. 11.
"Breathe." Is a livestreamed multimedia interactive theater event from artist Philicia Saunders, in which she'll play 20 characters. Per a release: "Breathe. is based on the life-changing personal journey towards activism after a chance trip to a Civil Rights monument during a civil rights tour in Alabama and mentorship by a luminary of activism, Sweet Alice Harris, one of Watts' most beloved community organizers and whose Parents of Watts organization was created as a result of the Watts unrest of 1965." It streams Dec. 11-18. Find tickets and times here.
On Dec. 12 at 10:30 a.m., author Danny Jensen presents a virtual tour of Catalina Island. Learn about its free-roaming bison, Hollywood connections, and other fascinating tidbits of history, plus get tips on the best things to do when you're able to visit in the future. Tickets are $10.
On Site Opera is offering something unique for opera fans with The Beauty That Still Remains: Diaries in Song. It consists of three diary-based shows that you can listen to in your home while sifting through a package of letters, photos, and other ephemera related to the story The package will arrive in the mail, consisting of a handwritten libretto, access codes to the performance, invitations to virtual events, and other insights. Shows include The Diary of One Who Vanished, From the Diary of Virginia Woolf, and A World Turned Upside Down (based on the diary of Anne Frank). Diaries are $45 each or $120 for all three.
The Groundlings Annual Holiday Show goes virtual this year with three weekends of original sketches and interactive improv every Friday and Saturday from Dec. 4-19.
The 53rd Annual Holiday Look-In Home Tour presented by the Women's Committee of the Pasadena Symphony is online this year. The tour "showcases the architecture and gardens of four magnificent Pasadena homes decorated for the holidays in festive floral regalia." The event is narrated by Pasadena Symphony music director, David Lockington with music from the Pasadena Symphony Youth Orchestras. Available Dec. 5-31. Free with registration here, though donations to the Pasadena Symphony Youth Orchestras and the Pasadena Symphony will be graciously accepted.
FORT:LA has a new VR experience recreating the Dodge House by Irving Gill, which was demolished in 1970. Per a release: "The house was built in 1916 and represented a pivotal moment in architectural history- a hybrid style that blended the indigenous culture of the southland with the first inklings of European modernism." 
UCLA's Center for the Art of Performance (CAP UCLA) presents A Thousand Ways (Part One): A Phone Call by 600 HIGHWAYMEN Dec. 13 and Jan. 24 at various times PST. Per a release: "The experimental A Thousand Ways, which will ultimately comprise three parts, plumbs the essence of theater—bringing people together in the creation of a moving live experience—to counteract social isolation exacerbated by the COVID-19 pandemic. In Part One: A Phone Call, two audience members—nameless strangers to one another—follow a carefully crafted set of directives, revealing things about themselves and their lives. Over the course of the hourlong journey, a portrait of the other emerges through fleeting moments of exposure and the simple sound of an unseen voice." Tickets are $25 per person here.
Explore handmade products including home décor, food, housewares, fashion accessories, and body products during the Jackalope Virtual Holiday Market Nov. 28 through Dec. 13.
The Groundlings Theatre hosts an interactive improv show on Dec. 4, 5, 11, 12, 18 & 19 at 7 p.m. It's directed by Groundlings Main Company Member Leonard Robinson (Insecure) with cast including Robinson and fellow Groundlings Lauren Burns (This Is Us), Michael Churven (Modern Family), Samantha DeSurra (Yeoja), Chris Eckert (Empty Space), Ryan Gaul (The Last O.G.), Kiel Kennedy (Robot Chicken), and Ariane Price (Barb and Star Go to Vista Del Mar). Tickets start at $25.
The William Turner Gallery hosts Andy Moses's "Recent Works" Dec. 5 through Feb. 10. Per a release: "Implementing techniques that utilize the artist's almost obsessive study of the alchemical properties of paint, Moses's work blurs the line between abstraction and a new kind of pictorialism." By appointment and at williamturnergallery.com.
Corey Helford Gallery's seventh annual Art Collector Starter Kit group show highlights affordable 12" x 12" works from new contemporary artists, giving new art collectors and enthusiasts a chance to buy an original piece from artists. The show will be on view Nov. 14, 2020 through Jan. 9, 2021.
The Natural History Museum of Los Angeles County (NHM) and Nickelodeon will explore the Science of Slime through videos, DIY activities, and weekly live programs with NHM scientists. Check out new programming here every Monday and Thursday (except Thanksgiving) through Dec. 14.
The Music Center's digital series, For the Love of L.A., "celebrates the creativity of Los Angeles and supports L.A.-based artists representing the disciplines of music, dance, visual culture, and more." See it every Tuesday through Feb. 9 on Instagram.