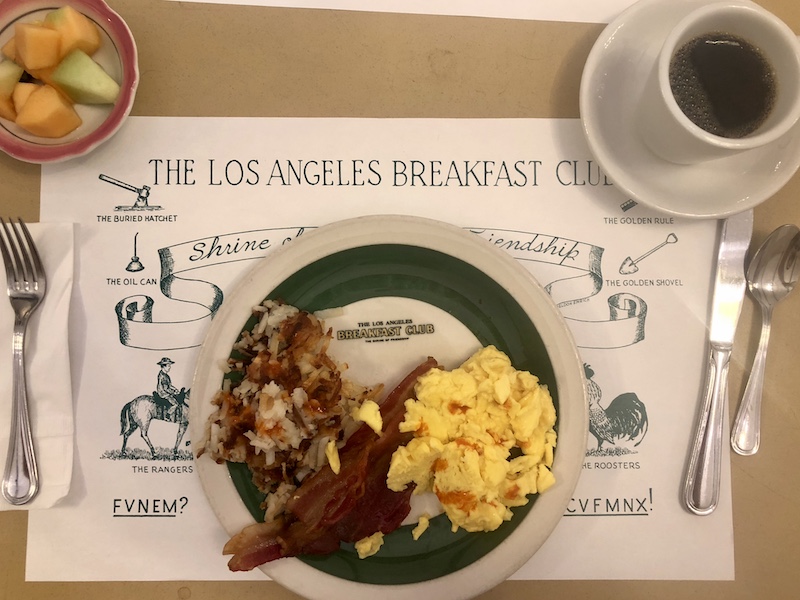 Secret Los Angeles: A Guide to the Weird, Wonderful, and Obscure holds the keys to some of L.A.'s most interesting and, at times, surprising locations, events, and historical facts. And best of all, many of the locations are free to visit.
The book comes from author Danny Jensen, co-writer of 100 Things to Try in Los Angeles Before You Die, and a contributor to a number of local and national outlets, including KCET and Thrillist. Full disclosure: Jensen and I have been colleagues in local media for several years, which is how I know him and his love of obscure history and good food. As he was writing this book, he accompanied me to a drag brunch I was writing about, then I tagged along to a few of his research spots.
Now that the book is finished, it serves as a quick guide to dozens of public artworks, quirky restaurants and bars, architectural beauties, and other uniquely L.A. gems.
Some you'll likely have seen before, but may not know the full story. Consider the Crossroads of the World, the tall structure topped with a globe that declares Sunset and Las Palmas exactly that, the "crossroads of the world." Jensen reveals that the structure was designed to look like an ocean liner by Robert V. Derrah, who also designed a similar bottling plant in DTLA (also highlighted in the book). Before Derrah got involved, a bungalow stood in that spot. Widow Ella Crawford hired Derrah to tear it down and replace it with an open-air shopping center after her husband was shot and killed there in 1931. The shopping center opened five years later. Its buildings are now home to offices.
Elsewhere in the book, you'll find directions to a pet cemetery, a museum of military vehicles, hidden gardens and staircases, a spooky shop that will teach you the finer points of witchcraft, and a creamery where you can hike with goats.
We also asked Jensen to share a few of his favorite entries.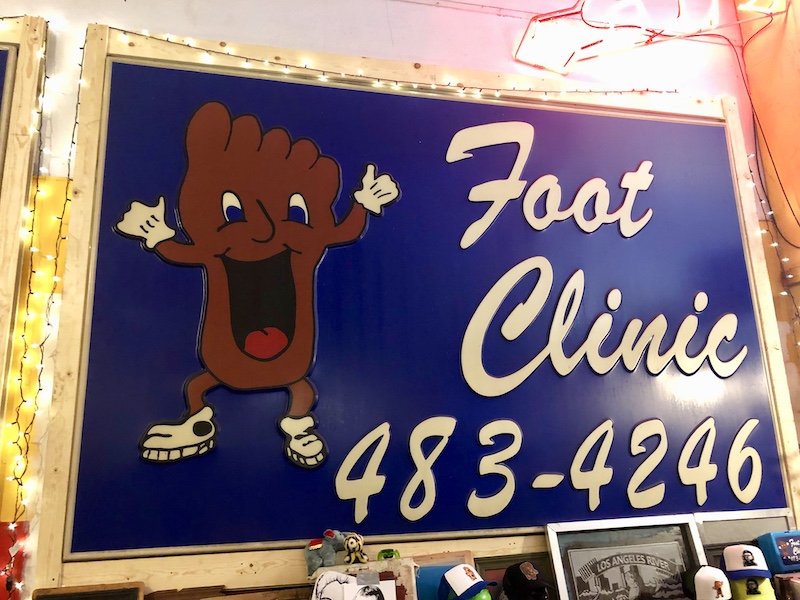 The Happy Foot / Sad Foot Sign
"This iconic sign once stood above Sunset Blvd. in Silver Lake, telling the fortunes of countless Angelenos driving by as it spun around revealing two cartoon feet: one happy and healthy, the other bandaged and dejected. If you saw the cheerful "Happy Foot," you were going to have a good day, but if you saw the injured "Sad Foot," you were in for trouble. Recently, the sign vanished from its post, causing great concern amongst its believers (it's been featured in numerous songs, novels, and artworks), but thankfully it was saved and safely placed in a new home (you'll have to read the book to find out where). The sign is such a great and tragically comic symbol of the hopes, dreams, and aspirations that so many people pine for in Los Angeles. And while we often look to outside validation or some sort of mystical sign to know if we're on the right track, we too often put stock in a simple twist of fate to determine our future rather than trusting our instincts."
The Los Angeles Breakfast Club
"One of my favorite discoveries was this nearly century-old, non-denominational and nonpolitical social club that typically meets Wednesday mornings at Friendship Hall in Griffith Park for breakfast, secret handshakes, sing-a-longs, guest speakers, and all sorts of zany traditions. While it was once a gathering of the city's most prominent civic and business leaders, it's now a really fun under-the-radar gathering for a friendly bunch of merry misfits, celebrating L.A.'s history and culture. It's such a wonderfully quirky side of L.A. that so many people are unaware of, and yet part of the fabric that makes the city so special."
Due to the pandemic, the breakfast club isn't meeting in-person, but they are connecting virtually. Find more info here.
The Lizard People Beneath Fort Moore
"Another one of my favorite entries is one of the wildest of L.A.'s urban legends. The legend goes that a superior race of "lizard people," said to be related to the Mayans, created a vast underground city beneath present-day L.A.—one of several along the Pacific coast—roughly 5,000 years ago. George Warren Shufelt, a mining engineer, and geophysicist, managed to convince the city to let him dig beneath Fort Moore Hill with the help of a supposedly ancient sheepskin map and his "radio X-ray machine" to find the tunnels and rooms full of riches and gold tablets. It's such an absurd fantasy and yet, just one of the many that L.A. is (literally) built upon."
Secret Los Angeles: A Guide to the Weird, Wonderful, and Obscure is available now for $22.50 here, where you'll also find upcoming virtual (for now) tours and events.