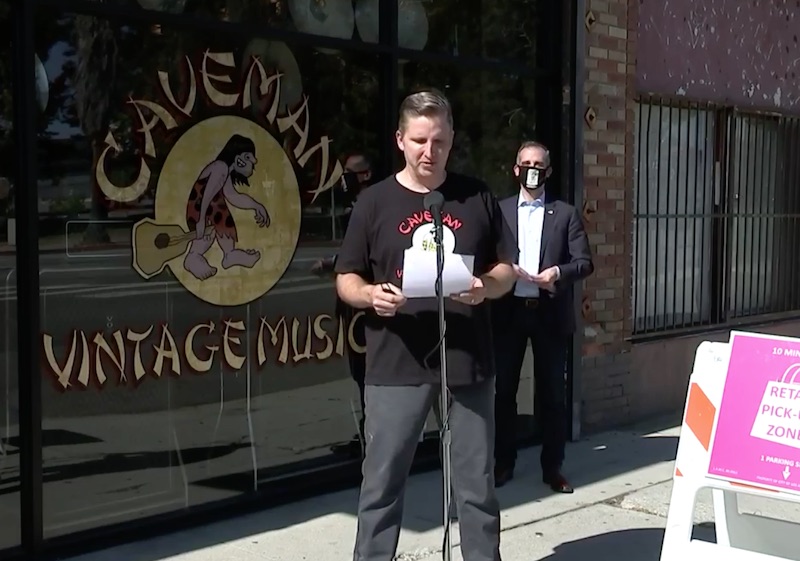 Today, Los Angeles Mayor Eric Garcetti encouraged small business owners to apply for the city's microloans, saying the city has made the process easier and hired more employees to process applications faster. Those new hires will also go back through applications that were initially rejected to "see if we can't get you some of that microcredit that you need right now, especially as businesses are opening up," he said.

Garcetti gave his afternoon briefing in front of Caveman Vintage Music, a musical instruments and records shop in Lincoln Heights. Caveman is one of 149 businesses that's been approved for a microloan. According to owner Eric Stollsteimer, the shop used its $20,000 loan on three months of rent and to keep its staff employed full-time.
Though the shop was forced to close in March, it's since reopened for curbside pickup. Stollsteimer describes the process as "very simple." Customers can phone in or email an order, then call the shop when they arrive to pick it up. Caveman has a designated curbside pickup spot, which businesses can also apply for.
The city has set aside $11 million for the microloans and doles them out in amounts between $5,000-$20,000. Garcetti said he is also working with City Council to increase that budget.

But not every small business has had as easy of a time as Stollsteimer. In March, the Los Feliz Ledger found the process confusing and time-consuming with a 45-day turnaround.

"We urge Los Angeles Mayor Eric Garcetti to take a look at this important program for small businesses, rework and streamline the application, provide instructions on how to fill it out and, above all, find a way to approve these loans quicker than 45 days," the Ledger wrote at the time.

For the sake of our small businesses, here's hoping that these new changes have done just that.

So, if you're a small business owner, here are some resources you might need:

Find out more about small business emergency microloans and apply for one here.
Check out the city's health and safety protocols on reopening here.
Apply for a retail pickup parking zone here.