Where can you enjoy L.A.'s best street food in unlimited quantities in a massive, festival style atmosphere?
The LA Street Food Fest of course!
This Saturday, July 11 at the Rose Bowl, the 6th annual LA Street Food Fest returns featuring samples from 100+ carts, restaurants, and chefs representing some of the best edibles (and drinkables) in Los Angeles.
Best part? It's all-you-can-eat! One ticket price gets you unlimited samples of food and drink plus music, entertainment, a photo booth, and 100% free parking.
Only downside? Expect it to be crowded (i.e., there will be lines…).
But lines notwithstanding, it sounds like an incredible lineup of vendors.  Check some of the highlights below.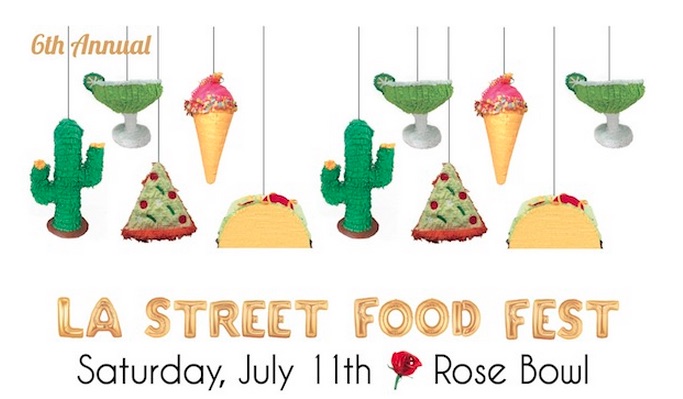 Trucks, Stands, Carts + Pop-Ups: Ceviche Project, Arroy Thai, Bling Bling Dumpling, Mumbai Kitchen, Taqueria El Severo, The Lobos Truck, Kai Kai Dumplings, Poke 2 Go, Howlin' Rays, Crepe'n'Around, CAS Postcards, Monsieur Madame (serving foie gras croque monsieurs for the first hour!), Buddha Bing, Tacos La Bomba, and more!
An Iced Coffee + Donut Zone: Home Brewed Bar, Midori Matcha, Frijolitos Mobile Latin Coffee Shop, Chupacabra Coffee, Colorado Donuts, Donut Friend, Steven Fretz's brown butter glazed donuts from The Church Key, and more!
Tequila Tasting Tent: Select pours from Angel Bendito Tequila, Corazon Azul, Tequila Don Nacho and more!
Beet + Cocktail Options: Angel City Brewery, Cabotella Baja Brewery, Golden Road Brewery, Firestone Walker, Stella Artois, Goose Island and Singha alongside curated cocktails from Greenbar Craft Distillery, Magnolia House, the Venice Whaler, Corner Door with special cocktails at the Loteria and Tacoteca booths, and Corazon y Miel and Matthew Biancaniello at the helm of the VIP Lounge bars, plus Guelaguetza's Michi Mobil serving up micheladas and Ludlow Cocktail Co's jelly shot.
And that's just the tip of the iceberg! Check the LA Street Food Fest website for the complete lineup.
Sound like your thing?
General admission tickets are $60, allowing you to sample over 100 vendors from 5:00pm to 8:00pm
VIP admission is $90 and allows you to get in at 3:00pm plus access to VIP Parking and a VIP Lounge.
Tickets are available online via Eventbrite. Be sure to read the FAQ on the ticketing page for all questions on admittance.
The LA Street Food Fest takes place Saturday, July 11 at the Rose Bowl, 1001 Rose Bowl Dr, Pasadena, CA 91103.