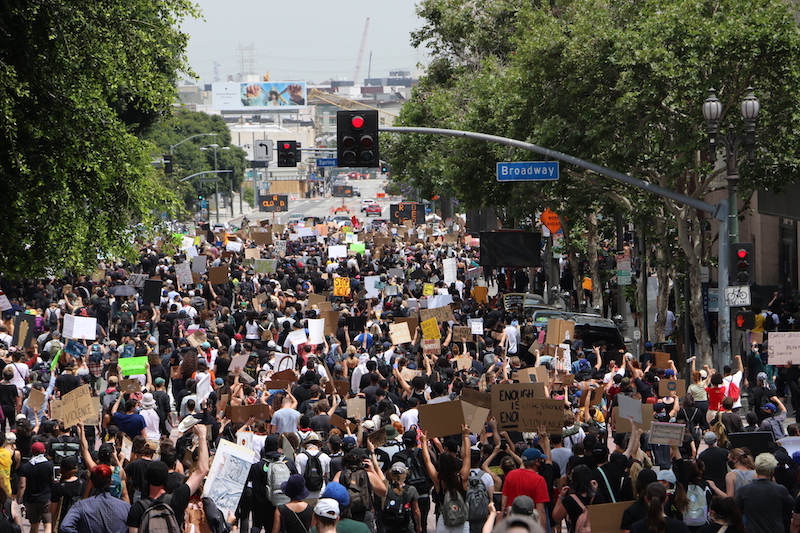 Over the past several days, numerous videos, photos, and statements have surfaced alleging police misconduct against peaceful protestors. In Los Angeles, they include everything from disturbing accounts of mass arrests to photographer Kirk Tsonos's shocking images of a man in a wheelchair, blood dripping from his face after he was struck by a foam round. In response, the LAPD says it's investigating 56 allegations of misconduct and has removed seven officers from the field, the Los Angeles Times reports.
Of those 56 investigations, 28 are related to alleged use of force. The LAPD has 40 investigators on the job. Via a statement, the LAPD says it "will investigate every complaint thoroughly and hold every officer accountable for their actions." It's worth noting that many activists—and some callers to the recent Police Commission meetings—have expressed concern about law enforcement agencies investigating themselves.
Outrage spread online as people who attended recent protests over the death of George Floyd posted their accounts on social media. Actor Matt McGorry (who played C.O. John Bennett on Orange is the New Black) posted this video to Twitter. It depicts officers swinging batons at a group of protestors in the Fairfax District on Saturday, May 30. The protestors have their hands up.
Laura Montilla has been sharing her account of being arrested everywhere, from the local news to Riverdale actress Lili Reinhart's Instagram Live. Montilla said that she and several others were arrested following a protest, placed in cages on a bus, and left in a parking lot for several hours.
Kristina Bakrevski posted this video to Instagram, which depicts the LAPD firing non-lethal rounds at protestors and, later, coming into her apartment, grabbing a woman she identifies as her roommate out of the lobby, and detaining her.
Meanwhile, Black Lives Matter-LA and other advocates have filed a suit against the LAPD over the allegations and the detention of over 2,600 protestors.