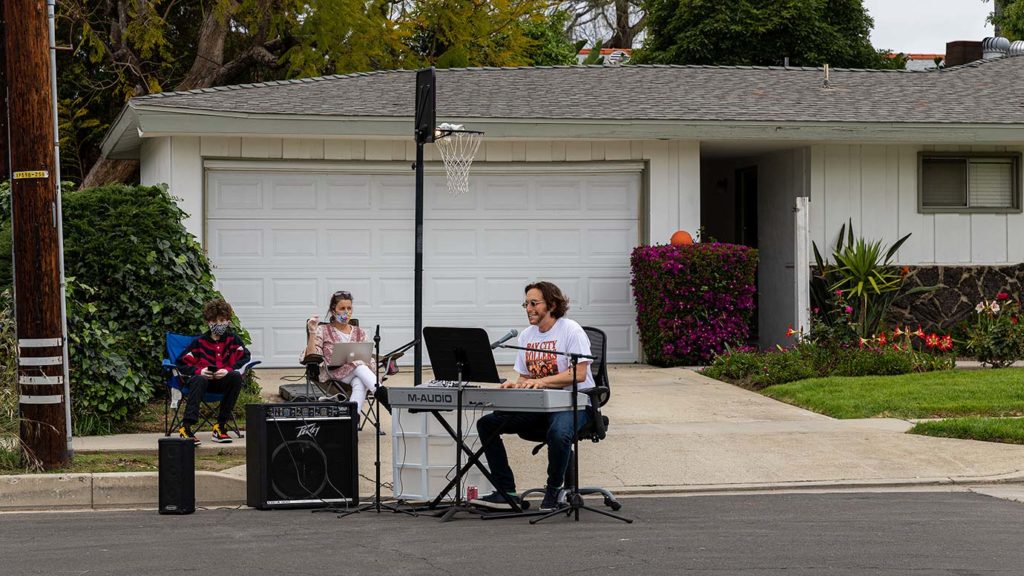 It's a gloomy Saturday at a cul-de-sac in the San Fernando Valley. Adam Chester lugs his keyboard across the driveway while his wife and boys help haul the rest of his gear. For at least the next 20 minutes, his family members are roadies. This is the new normal. For Chester, it's essential.
"I used to play all of the time," Chester tells We Like L.A. "And if I don't play, I'm going to go out of my mind."
Chester may not be a household name, but among professional musicians and the celebrities who hire him out for private parties, he's known for his virtuoso piano work. Chester has been Sir Elton John's sit-in pianist since 2005, rehearsing with the band, playing John's parts, and keeping the group sharp as they tour around the world. It's a responsibility that requires a special kind of talent, one that goes well beyond mere mimicry.
"It's not just playing the music, it's actually playing the songs and living the songs for these people as if I wrote them," Chester explains.
But now there is no band to rehearse, no tour to look forward to. His regular shows at the Sunset Marquis and Four Seasons are canceled. There's just his cul-de-sac, his neighbors, and whoever happens to be tuning into his Facebook Live streams. Lately, that includes hundreds, sometimes thousands of people from all over the world.
Chester began streaming jam sessions from his home in the second half of March, soon after 'Safer at Home' went into effect. In early April, he took the show outside for a weekly neighborhood gig. Since then, he's garnered thousands of likes, some new fans, and he's even raised hundreds of dollars for causes including weSPARK and World Central Kitchen.
Many neighbors were on board with Chester's outdoor concerts from the start. Others were more skeptical. Kristen Lazarian, who lives with her family across the street, was among the latter.
Lazarian recalls having a meeting with a few neighbors in the week leading up to the first public show. They stood in a circle and talked over some concerns, but when she went inside to speak with her husband, she realized everyone in that small group may have been standing too close together. Is it wise to put on a community performance if you can't hold an everyday conversation at a safe distance?
Still, with a little planning and neighbor consent, the concert moved forward. The first time she heard Chester's music through her kitchen window, something clicked.
"It just felt like sort of normal human behavior or an opportunity to enjoy something that we haven't been able to enjoy, even while keeping our distance," Lazarian says.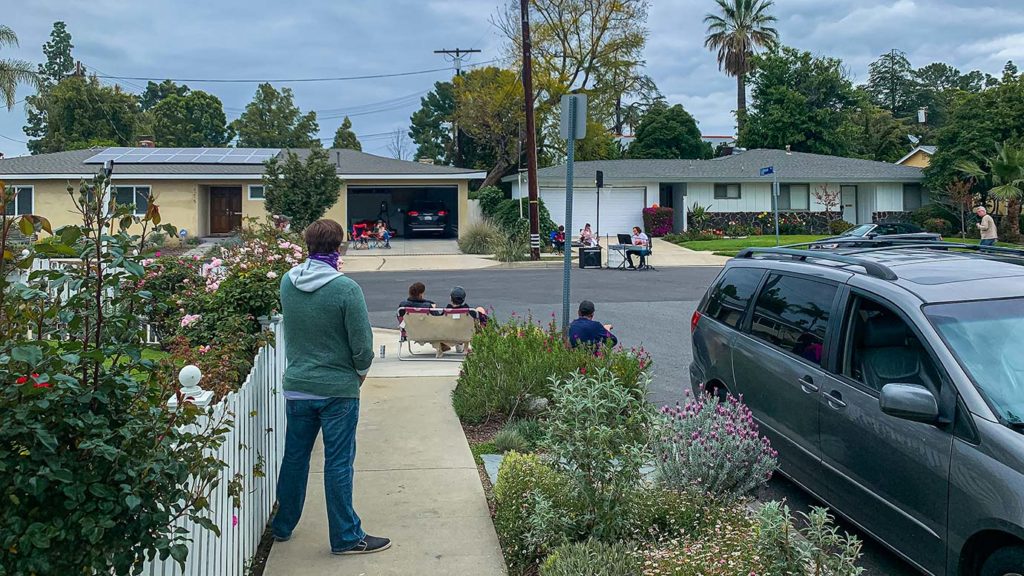 Now, on that gloomy Saturday, Chester finalizes the setup and plops down in a mesh-backed office chair. The stream goes live and the show begins. Scattered neighbors settle in from 20 or 30 yards away. Some nestle into lawn chairs, others post up against fences or stand in their yards. For the most part, everyone keeps their distance.
It's hard to read the faces of the masked onlookers, but emotions reveal themselves in subtle ways. Eyes soften. Feet tap. A wave of relief washes over the crowd. Two songs in and it's easy to see how this makeshift concert offers not only a platform for creativity, but also a welcome sense of normalcy. It's a dynamic that recurs in neighborhoods all over Los Angeles.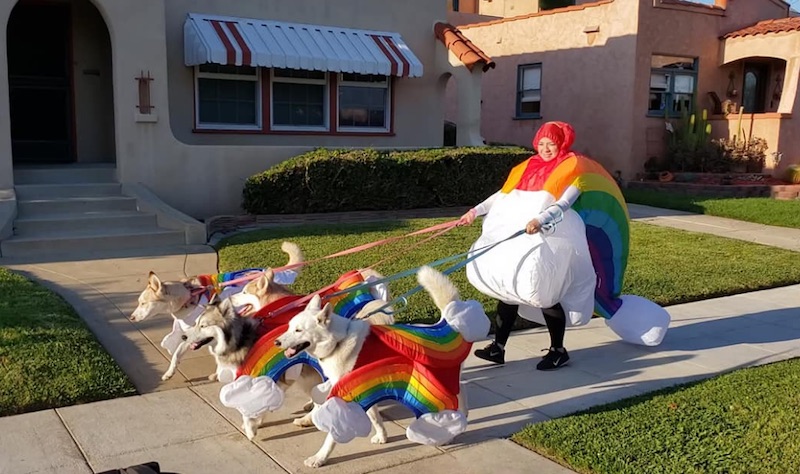 Over in Koreatown, artist Dania Strong uses the fence outside her bungalow to showcase her work in the absence of galleries. In Eagle Rock, an "Isolation Band" streams concerts to a neighborhood Facebook group and Instagram. In Long Beach, Shirley Porter parades four huskies through her Zaferia community in colorful outfits meant to brighten the days of passersby. She tells We Like L.A she "just wanted to have some fun and cheer up the neighbors." The rainbow outfits she and her "kids," as she calls them, wear even made it onto the local news.
Harrison Klinski is not a comedian by trade, but he brings levity to his Claremont community through the daily "dad jokes" he posts on his lawn. Klinski's neighbor Julian Iannini shared some of the quips to Reddit and has since received messages from around the world. "I ordered a chicken and an egg from Amazon," the sign from day 20 reads. "I'll let you know."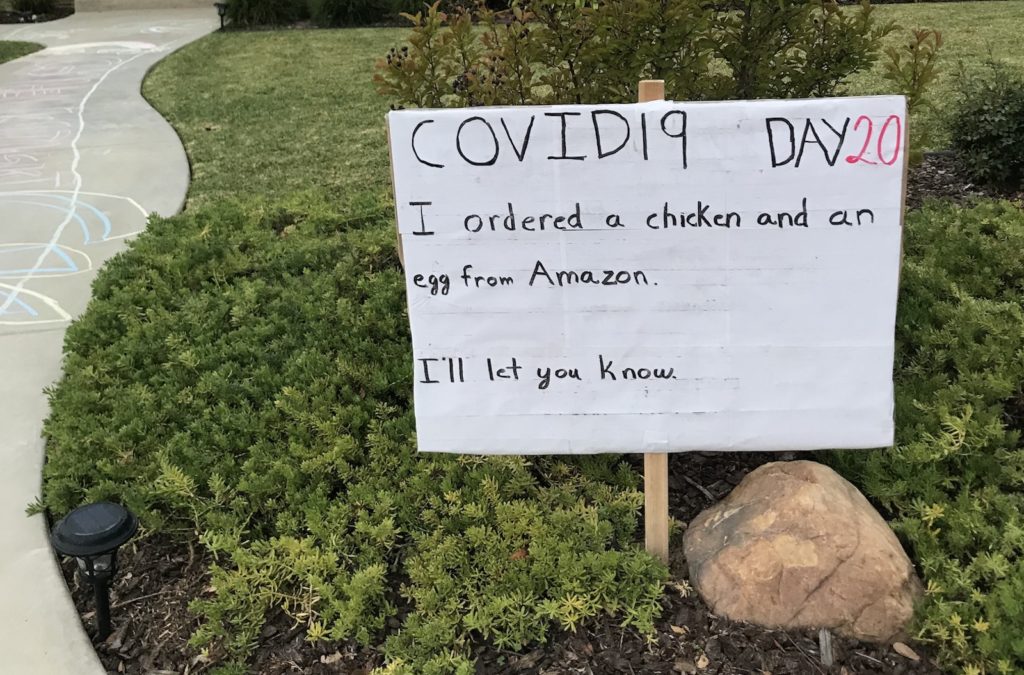 Maybe these little bursts of laughter and delight seem trivial in a place as big as Los Angeles. But taken in aggregate, one could argue they show the creative heart of a city still beating. The Hollywood Bowl may be empty, but the sidewalk is alive and well. We adapt, and life goes on.
Midway through Chester's Saturday concert, a black sedan rolls into the cul-de-sac. Chester's wife Maria scrambles over to a stretch of curb guarded by a molded plastic chair. She picks up the white seat like a traffic cone and directs the car takes its spot. Clearly, this is some sort of V.I.P.
Maria sets down an amp and some cable at the driver's side door, then jogs away. The door opens, barely, and a slender arm pokes out, grabbing the cable and pulling it inside.
Chester concludes a cover of Tom Petty's "Free Fallin'" then announces a special guest will be joining him—a friend, actress, eyeglass designer, and Grammy-winning recording artist. It's Lisa Loeb.
Loeb exits her vehicle carrying a small amp and a mic. A woman recording on an iPhone steps towards the car to line up a rare shot of a celebrity during a pandemic. She's probably more than six feet away, but still too close for comfort.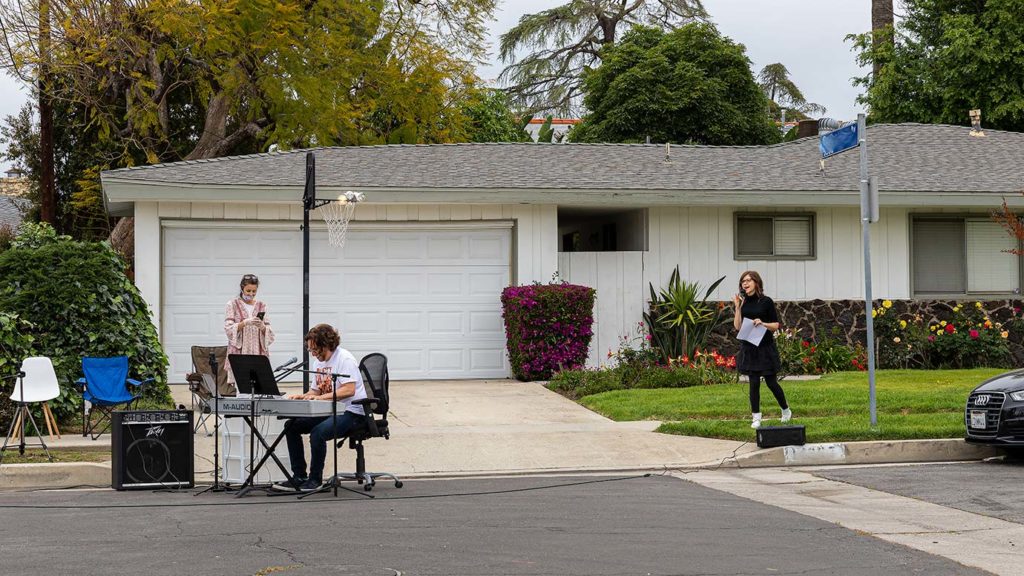 After a gentle reminder to make sure everyone keeps their distance, Loeb circles around to the Chesters' lawn. The duo begins with a spirited version of "Don't Go Breaking My Heart." The crowd loves it. It's the next song, however, the concert finale, that really leaves a mark. Chester and Loeb embark on a rendition of Simon & Garfunkel's "The Boxer." This one has a special meaning.
On this day, a friend of Lazarian's attends the performance (from a safe distance), even as her thoughts linger elsewhere. The woman's father lies dying in a New York hospital. His health situation is not COVID-related, but the circumstances that prevent the daughter from seeing dad are entirely the pandemic's doing. No one in the crowd knows it, but the patient will not survive through the night. "The Boxer" was his favorite song.
The song isn't perfect. Chester's piano work is solid, but he and Loeb struggle to harmonize through the chorus. It's the first time they've played the tune, and it shows. But it doesn't matter. The power of the tribute far outweighs any defects in performance. In some ways, perhaps it stands out even more, especially when contrasted against the weirdness of the cultural moment.
Back when he was doing his shows at the Marquis, Chester took requests from the audience, even if he didn't know the song.
"That's one of my favorite things to do, is to play something I don't know how to play," Chester says.
To satisfy the requests, Chester dials up the song on his phone, then wedges the device between his ear and shoulder so he can play as he listens along. He looks admittedly awkward, but it's all part of the challenge.
Chester's persistence through the unfamiliar mirrors a struggle we're all facing right now. The trauma of COVID-19 comes at us from many angles. There's the specific fear of the disease, but also the general anxiety of unknown variables and social constraints.
Through it all, let's not forget how the creative spirit endures, how it helps us cope. Let's remember that sometimes joy and beauty and catharsis are in the places you least expect. If you live in Adam Chester's neighborhood, it's right outside your front door.