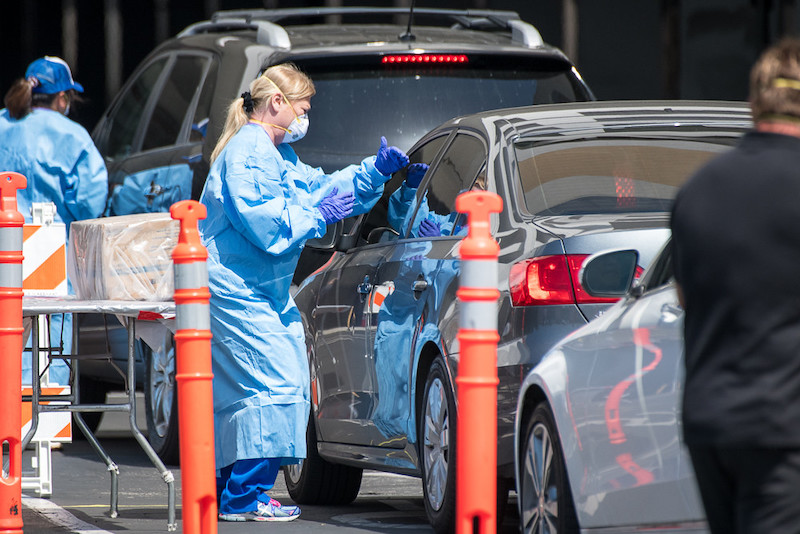 During today's briefing, Mayor Eric Garcetti announced that Los Angeles's testing capacity has increased enough to allow anyone who wants to be tested for COVID-19 to get a free test, even if they don't currently have symptoms. Though those with symptoms will still get priority, Garcetti advised Angelenos not to "wait, wonder, or risk" spreading the virus to others.

"We know that coronavirus is a silent killer that moves quietly though the population and many people who transmit the disease…don't know that they have it," he said. "They're infectious, but they're not showing symptoms. And this illustrates why making testing available to anyone who wants it is essential."

Over the last 40 days, testing restrictions have decreased as testing capacity has increased. At first, only those most at-risk from the virus were prioritized. On April 22, Garcetti announced that all critical workers—including healthcare workers, grocery store employees, first responders, and other critical government workers—could get a test, even without symptoms, beginning April 23. Garcetti added taxi drivers, delivery drivers, and rideshare drivers to the list on Monday, then construction workers on Tuesday.
Today's announcement was only inevitable. And, according to Garcetti, it makes Los Angeles the first major city in the U.S. to allow anyone of any age who wants a test to get one, symptoms or not.
If you're wondering why you'd get a test without symptoms, you might just want reassurance. If you were around someone exhibiting symptoms and want to make sure you don't infect someone the next time you hit the grocery store, get a test. If you're a frontline or essential worker who deals with the public frequently, you can get tested regularly so that you can self-isolate even before you feel sick. Testing, self-isolating, and contact tracing remain crucial steps in containing and mitigating this outbreak.

To register for a test online, go here. There are over 30 testing centers across the county. Tests are simple and free. You perform them on yourself with a swab without getting out of your car. If you don't have a car, there are some walk-up centers available.