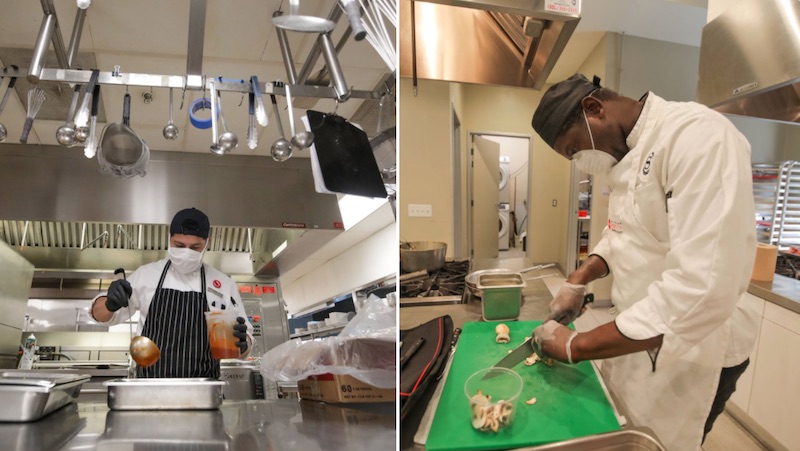 Last week, Governor Gavin Newsom announced Restaurants Deliver: Home Meals for Seniors, a new program that will put restaurants back to work providing free meals for seniors in need. Today, Los Angeles Mayor Eric Garcetti outlined how L.A. seniors can request meals and how local restaurants can sign up to prepare those meals.

According to Garcetti, the city was already delivering meals to seniors through other programs, including 120,000 meals delivered just last week. This program will allow Los Angeles to provide even more. To ensure safety, everyone, from the chefs to the drivers, will have guidelines to follow to avoid spreading the virus. The Mayor's office will perform spot checks to ensure compliance.
To be eligible, seniors must be over 65 or between the ages of 60-64 with a preexisting medical condition. They must also meet a certain economic threshold (600% below federal poverty). If that sounds like you or someone you know, starting tomorrow, you can call (213) 263-5226 between 9 a.m. and 5 p.m. to request meals. Garcetti said that if you're not sure if you qualify, you should still call and check.

"Odds are you'll qualify if you live alone or with a partner alone," he said.
Once enrolled in the program, seniors can spend up to $16 on breakfast, $17 on lunch, and $28 on dinner each day. FEMA will shoulder 75% of that cost. Local governments will pay a quarter of the remaining 25%, while California pays for the rest.

Restaurants who are interested in participating can sign up here. Some may be able to start making meals for delivery as early as next week, allowing these restaurants and their employees to continue earning money while dine-in service is closed. One of the city's first partners is The Los Angeles Hospitality Training Academy, which trains low-income and underserved populations for hospitality and food industry jobs.

Garcetti also said the program will put taxi drivers to work delivering these meals.
"[Taxi drivers] are background checked. They're already providing meal and grocery deliveries to seniors throughout the region using face coverings and other protective gear to mitigate the risk of spreading COVID-19," he said.
Taxi drivers, along with other transit professionals including delivery and rideshare drivers, will be eligible for COVID-19 testing even if they do not currently have symptoms beginning tomorrow.

You can find more information about senior meal programs here. To register for a free COVID-19 test, go here. As a reminder, anyone with symptoms of any age may register for a test right now. You are encouraged to get a test even if your symptoms are mild. Frontline workers (including first responders, grocery and pharmacy employees, critical government personnel, and transit drivers) can register without symptoms.