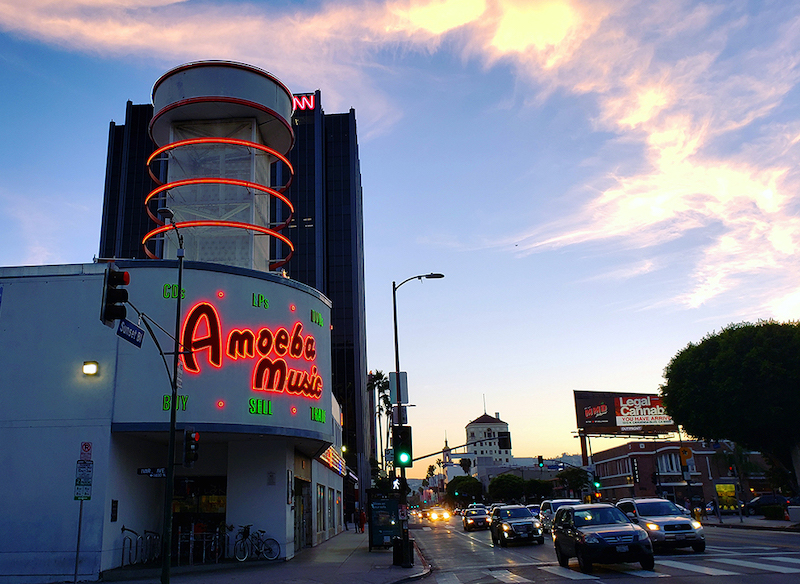 Despite plans to give it a fond farewell, Amoeba Music's iconic Sunset location is officially closed for good. Via a statement, owners say that due to the pandemic, they'll instead focus on moving into their new home at 6200 Hollywood Boulevard. 
Amoeba has been planning this move for some time. In 2015, the company sold its building to a developer for $34 million. Those developers plan to build an apartment tower where Amoeba has operated since 2001, and Amoeba announced its new location at Hollywood and Vine in early February.
With its wide selection, prime location, eye-catching building, and a slew of notable performances over the years, Amoeba's Hollywood outpost was a staple destination for tourists and locals alike. The shop had slated several events to celebrate that Hollywood history, but owners now say they are "facing too many mitigating circumstances that simply won't allow for it."
For one, they feel it's unlikely that orders will relax enough for music shops to reopen this summer. And even if they did, they're reluctant to ask their staff of over 200 to come in and interact with the public on a regular basis. This decision also allows Amoeba to work on getting the new store open earlier than planned and updating its website and online shop. 
"We have to move in the fall and there are timelines and tasks involved in making that happen that were set into motion long before COVID-19. If we don't focus on getting the new store ready for the fall opening, the hard reality is we may never open again anywhere," the statement reads.
Meanwhile, a GoFundMe is collecting money for the move as well as the company's staff in L.A. and the Bay Area.

Feel like reminiscing about some highlights from Amoeba's past? Here's Paul McCartney performing live in 2007: