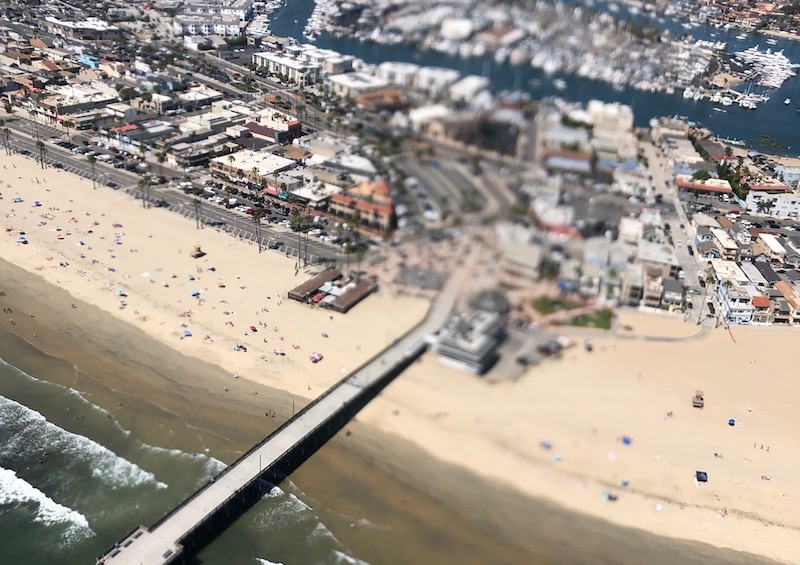 [Update, April 30, 1 p.m.] Newsom announced a 'hard close' of Orange County's beaches during his daily briefing. Read the complete update here.

Governor Gavin Newsom is expected to close state beaches, effective May 1. According to the L.A. Times, California police chiefs received a memo indicating Newsom would make that announcement today.
The potential closure follows scenes of crowded coasts in Orange County. Newsom called out Newport Beach in his press briefing on Monday, saying we may only be a "few weeks" from a gradual reopening if data suggests it's safe to do so. But, he said, "We can't see the images that we saw, particularly on Saturday in Newport Beach, and elsewhere in the state."

Newport Beach City Council members met on Tuesday to discuss closing the beaches on the weekends or the roadways that lead to popular areas. They ultimately voted 5-2 against it. The Times reports that prior to the meeting, the council received 391 emails requesting the beaches close and 664 requesting they remain open.
Thus far, the decision to open or close outdoor recreation areas has mostly been left in the counties' hands. In L.A., the county beaches have been closed since late March. Unsurprisingly, Los Angeles's coasts remained mostly empty over the same weekend Orange County's were busy.
But how busy were they? That's become a matter of debate. According to the Orange County Register, an estimated 40,000 people visited the coast in Newport Beach on both Friday and Saturday. However, the City of Newport Beach contends that most people, aside from "some clusters of people," were beaching responsibly. According to a statement via Newport Beach Police Department Chief Jon Lewis and Newport Beach Fire Department Chief Jeff Boyles, the beaches were patrolled by both the city's police department and the Newport Beach Fire's Lifeguard Operations Division.
"It was our personal observation, and that of our officers, that the overwhelming majority of Newport Beach residents and visitors were families or practicing social distancing," he wrote.
In the post, the city also released aerial photos, taken on Saturday afternoon, that claim a much sparser beach. See the contrast below:
Whatever Newsom announces today (and we'll of course update you when that happens), everyone is advised to keep six feet of space between themselves and others when in public. In some areas, you're asked to also wear a cloth facial covering. Beach or no beach, officials have stressed these practices are the best ways to flatten the curve and begin returning to a state of normalcy—whatever that looks like after COVID-19.