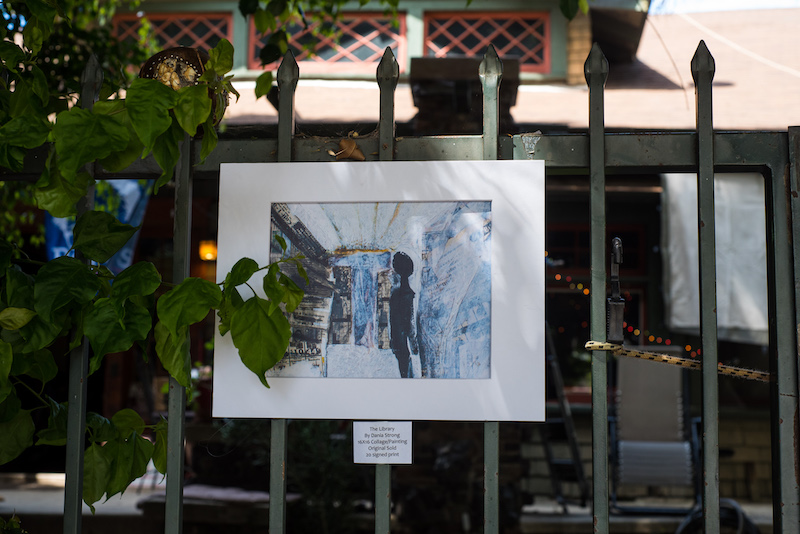 In the absence of traditional cultural centers, we've seen artists and performers use creative means to connect with audiences. We've seen driveway concerts, virtual gallery spaces, livestreaming comedy and drag shows, and interactive, immersive plays hosted entirely on Zoom. Artist Dania Strong's solution to shuttered galleries is simple: she's turned her fence into a walk-by gallery. Anyone who happens along can view several pieces, monitored by three dogs that share the Koreatown bungalow with Strong and three other artists.
Strong is originally from Maine and says she's spent most of her life working as a caregiver while making art on the side. She's also a resident member of the Hive Gallery in DTLA.
Due to the COVID-19 pandemic, she's had upcoming group shows canceled and hasn't received any commissions in a month. Still, she says she constantly reminds herself how lucky she is "to have a roof over my head, housemates to keep me sane, food, and a gallon of Mod Podge." To pass the time, she's been pouring herself—and likely some of that Mod Podge—into her work, which includes "a post-apocalyptic fairy house, an animation, [and] a few virtual reality exhibits of my art."
Strong had been thinking about doing something artistic with her front yard for a while, as it's always received a fair amount of foot traffic. With more people at home and taking walks to get their exercise, general foot traffic has increased. So, Strong compiled a "show" and attached the neatly matted pieces to her metal fence.
Strong's work is often surreal; she cites surrealism and expressionism as early influences. Though her art falls into different patterns, she says it's mostly "based around dreams, feelings, and stories." Next week, she'll trade the pieces currently on display for a series titled "Road Through Life" that she describes as an "expressionistic, dreamy, yet dizzy tour through a young woman's existence."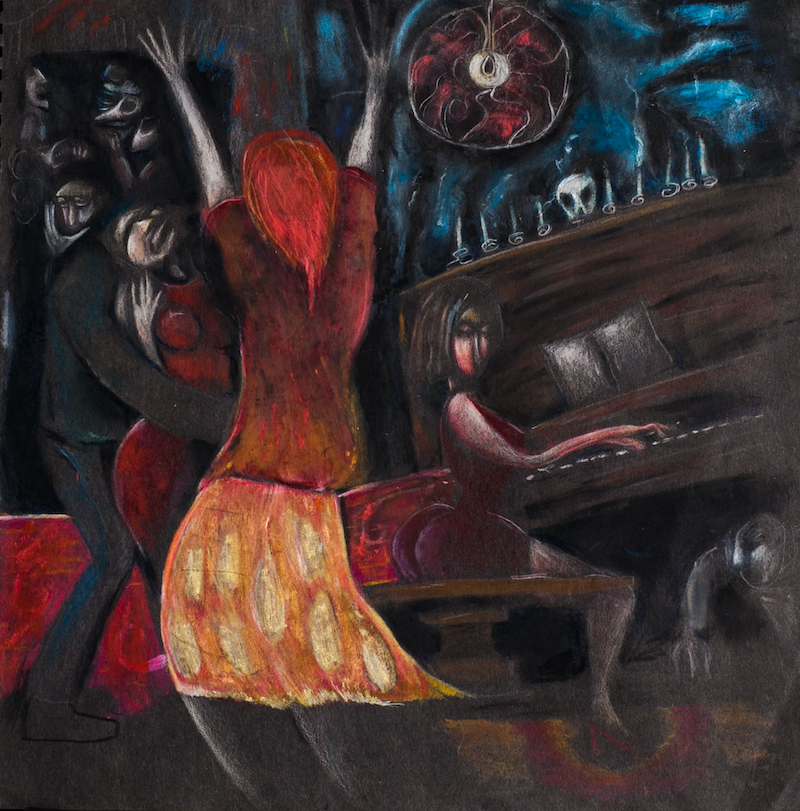 I live just over a mile from Strong, so I stopped by on a recent walk of my own. Giving anyone who passed by a good six feet of space, I was able to observe several pieces. Eventually, the three dogs came out to bark at me excitedly, though they quickly got bored and resumed their lounging once they realized I wouldn't be getting any closer. Their names are Indica, a German Shepard mix; Lola, a Pit Bull terrier, and Theo, a golden pit/lab puppy.
Thus far, Strong says she hasn't personally encountered any other artists displaying their art on their lawns, fences, or driveways, but she hopes they do.
"We need new ideas to add flavor to life to get us through this," she said.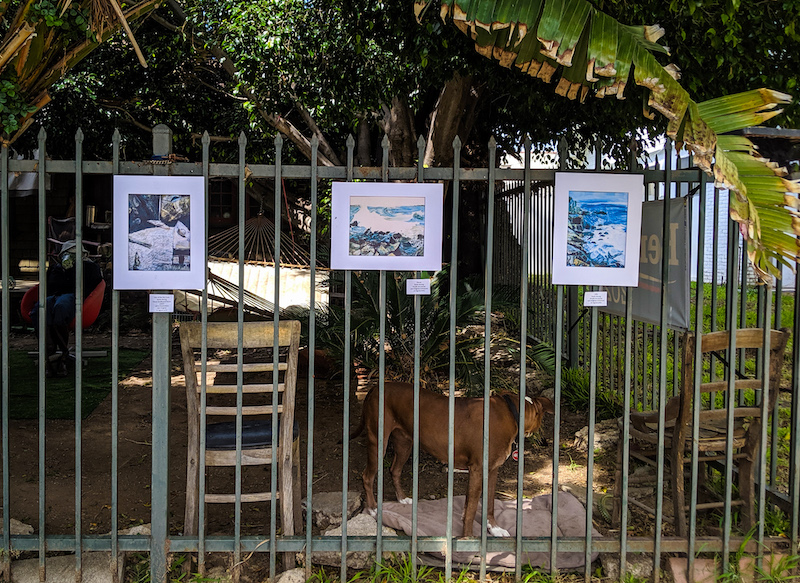 If you're interested in checking out Strong's work for yourself, you can stop by 863 Gramercy Drive. If you're interested in buying a piece, you can text 207-200-1571 or send an email to [email protected]. Strong takes cash or PayPal payments. You can also check out more of Strong's art on her website or via a virtual gallery here.