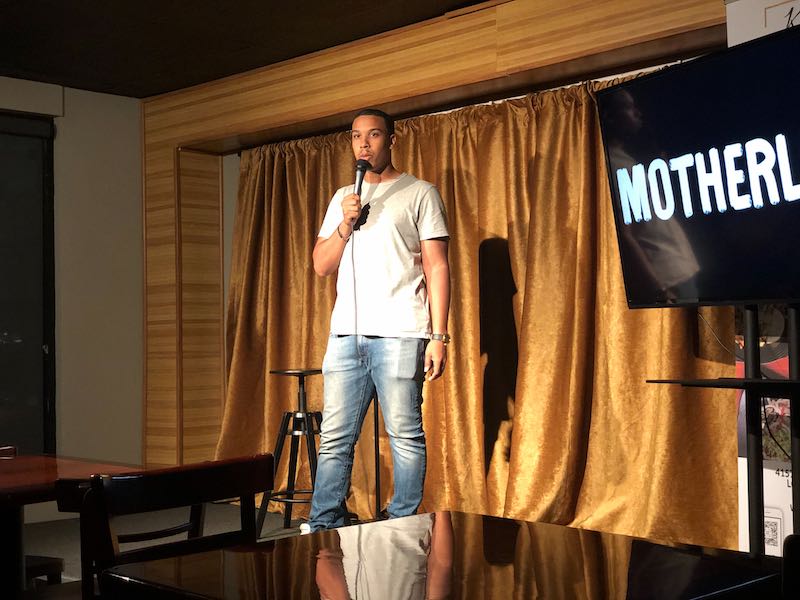 Home is in a strip mall in Eagle Rock, it turns out. Or at least that's what the newish standup comedy series Motherland, would have you believe. Housed at the very-fine Filipino restaurant Kusina Filipina, Motherland features a murderer's row of known comics, and they're worth more than the price of admission, which just happens to be free.
Produced by Mike Joyce, Rob Haze and C.J. Toledano, the show feels like stumbling into a speakeasy, a very low-key and dimly lit affair in an unassuming location.
The show is free, but you'd be a fool to not order this inexpensive, delicious Filipino food to devour while you take in the show. The portions are unbelievably large; you could eat one entree over the course of s day and still have leftovers.
Haze hosted the mid-August show I recently attended, and he kicked things off with a delirious story about getting drunk in the Dominican Republic and worrying he'd never get back to the U.S., a story anyone who likes drinking in strange locations can relate to. So many missed flights, so little time.
Rosebud Baker (Inside Jokes on Amazon Prime) opened her night with a casual braggadocio, explaining how much easier it is to have sex in LA, and how she's committed herself to the much-maligned vaping community. '
"I'm on the vaping side of history, I chose my side," she quipped. "I'm just treating vaping like my dad treats climate change. If it kills me then it's not my problem!"
Amy Silverberg (also from Inside Jokes), talked about her Grandma's new man Bill, who recently confessed his decades old love to her. During a family gathering, grandma insisted she wouldn't sleep in the same bed as her new man if it made Amy uncomfortable.
"Grandma, the only thing that would make me uncomfortable is if you don't fuck Bill tonight," she joked.
Matty Ryan (Comedy Central) was a standout, a lanky, sarcastic wit with a talent for fully acting a story out. Ryan, who is from Chicago, recently had a man sneeze into his mouth on the L train, a harrowing experience that now haunts both him and members of the audience who saw his set at Motherland.
"I was worried my water was going to wash his sneeze into my belly," he said. "Please god. I'm not positive but I'm pretty sure that's how a plague starts."
Motherland is fresh on the very-crowded standup scene, but it's set apart by an extra lean production. Hosts and producers keep their personal sets short, and a it's hip-if-you-know-what's-up location. Tucked next to the worst target in L.A. (one man's opinion), across the street from the best 7-11 in L.A. (same man's opinion), it's in an area rife with slowly simmering nightlife, a rising hipster bubble away from the Silver Lake / East Hollywood / Hollywood morass.
Motherland convenes in a restaurant, which makes the show a winning date idea, a 2-for-1 eating and entertainment experience for folks looking for love with maximum efficiency. It's the big city, baby! Gotta move fast.
The lineup, at least on the night I attended, offers significant racial diversity that reflects the cultural brilliance of the city at large. Chris Garcia really drove this home, cracking jokes about the culture clash he faces being married to a white woman. There's a ferocious bit where he does Spanish dirty talk to non-Spanish-speaking wife during sex, and how he eventually runs out of material and starts saying random, unsexy phrases. Those jokes had the room in pieces.
This setup and punchline also crushed: "My wife is white, she's from Iowa. I went there for Christmas, I was the only Black guy there," said the not-black Garcia. "Her family was like, are you…Scottie Pippen?'
While this particular show had seating available–much to chagrin of Haze, who lightly prodded the audience to sit up front all night–this show is going to take off pretty soon. If you want a seat, get there early.
Motherland takes place weekly on Thursday nights at Kusina Filipina, located at 4157 Eagle Rock Blvd Los Angeles, CA. Doors open at 8:30, the show starts at 9, and it's a steal to see this caliber of talent for no cover.
It's not the easiest place to get to by public transit, though there are buses from downtown / Chinatown, and carpooling is always a good idea. For updates on the lineup of the week, you can visit the Motherland Comedy Facebook page.