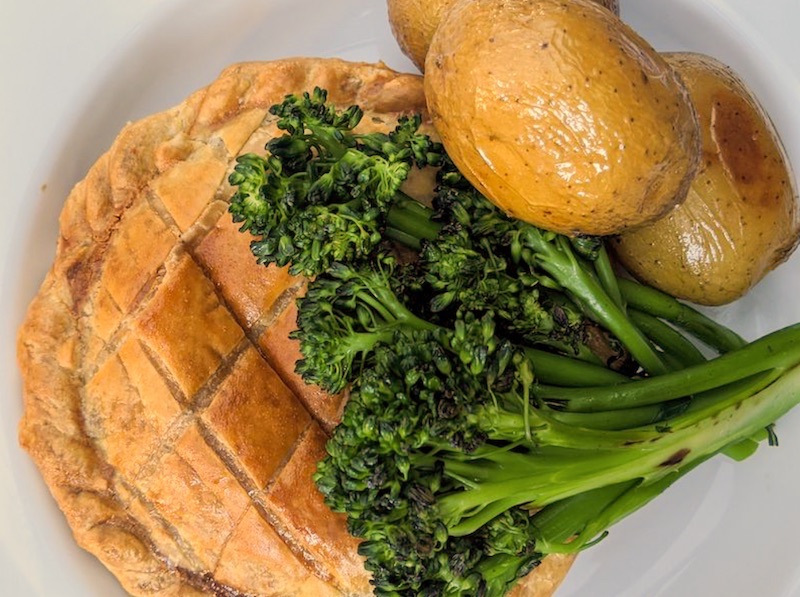 Now open for outdoor dining and takeout at The Original Farmers Market, Market Tavern is a pub that pays homage to both the hearty dishes many associate with British cuisine as well as U.K. rock and roll. 
Market Tavern is a new venture from musician Gary Twinn, who also manages the Farmers Market's Bar 326 and E.B.'s Beer and Wine, and Chef Brendan Collins of Fia in Santa Monica.  
Upon entrance, you'll hear the likes of Pulp, Blur, The Who, and The Clash and there's a wall covered with recognizable U.K. albums, like Quadrophenia and Abbey Road.
However, you won't be able to sit inside until COVID-19 regulations subside. Instead, you'll have your temperature taken before you're seated at a socially distanced table on the spacious outdoor patio.
The menu has all the staples you're looking for and a few surprises. There's a selection of pies, including a traditional steak and ale as well as a vegetarian Shepherd's pie made with Impossible meat. The fish and chips is a generous portion of beer-battered rockfish with thick, hand-cut chips (and plenty of malt vinegar, of course). A menu of "British bites" includes a traditional English breakfast, marmite on toast, and a chip butty—that's a sandwich made with fries.
But alongside the very British items, you'll also find some shockingly good Brussels sprouts in a Thai sauce, pizza, hamachi, and a few pastas. And for dessert, it's sticky toffee pudding with caramel ice cream, of course.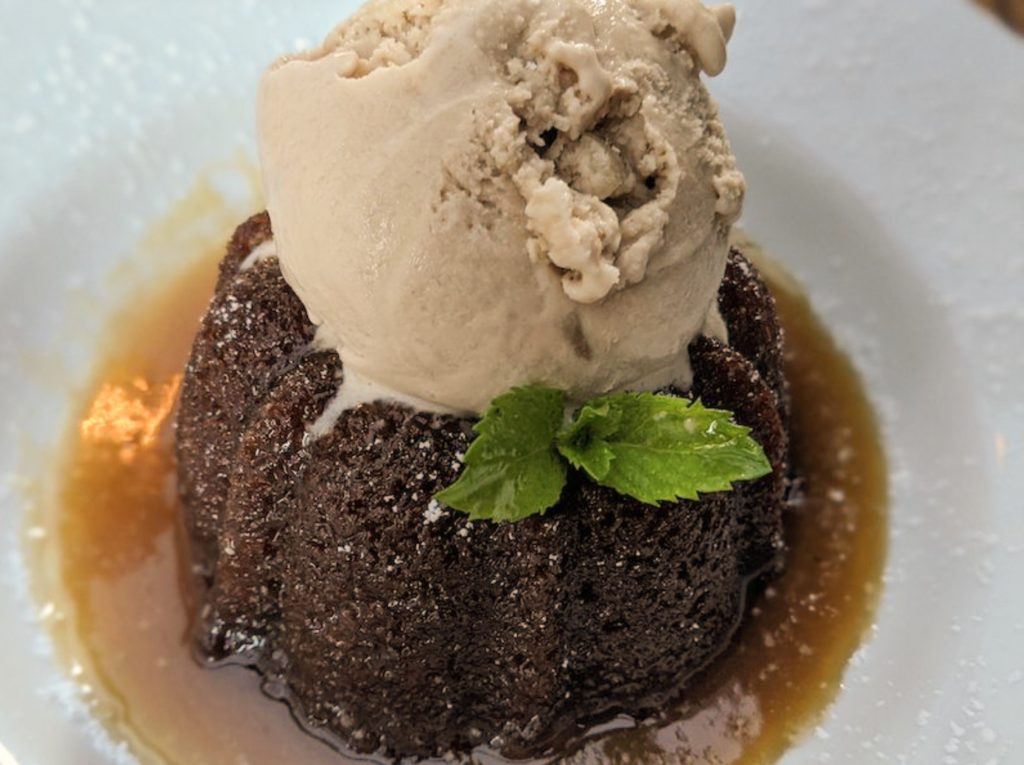 The prices at Market Tavern may at first appear a bit high, but the larger dishes and pies are more than enough for two people. The fish & chips is $24, but it's also huge. The pies are all about $20, but again, they're filling and come with greens and potatoes. On Sundays, they do a hearty roast from noon to 4 p.m. that includes a meat—like roast beef with horseradish or lamb in mint sauce—with vegetables and gravy. Prices range from $26-$28.
Market Tavern also has a full bar with a sizable beer list that contains more than a few interesting options for those who get bored with the hoppy IPAs and pales on many L.A. menus. Happy hour is Monday through Friday, 3-6 p.m., and includes $6 beers, $8 wines and wells, and $9 cocktails, plus food specials.
For those who aren't yet venturing into the world of outdoor dining, takeout and pickup are available.
Market Tavern is located at 6333 W 3rd St, #706 at the Original Farmers Market, next to The Grove. Open Monday through Saturday, 11 a.m. to 10 p.m.