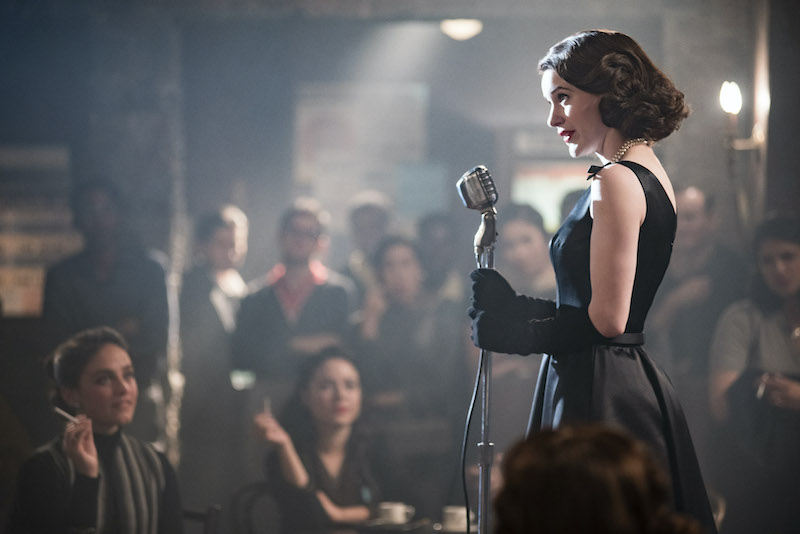 For fans of The Marvelous Mrs. Maisel, Amazon Prime Video and Street Food Cinema are hosting "A Marvelous Night at the Drive-In" at The Grove on August 20-23. Best of all, everything—including dinner—is free!
The Marvelous Mrs. Maisel has been nominated for 20 Emmy awards this year, second in nominations only to HBO's Watchmen. To celebrate, Amazon Prime Video is throwing a socially distanced drive-in event on the rooftop of The Grove. All guests will get to watch two episodes of the show per night while enjoying complimentary concessions, dinner, and cupcakes. Plus, they'll also get a gift bag. 
Dinner is courtesy of Bar Verde and includes a Cuban sandwich (vegetarian and vegan versions available) with rice and fried plantains. A gluten-free chicken bowl is also available. It's Sprinkles cupcakes for dessert, while concessions include popcorn, candy, bottled water, and soda. 
Check-in starts at 6:30 p.m. each night while the first episode begins at 8:30 p.m. 
To attend, you'll need to register for a ticket, available today starting at noon, here. Each ticket is good for one car with two guests.
On August 20, the drive-in screens Season 3, Episode 1, "Strike Up the Band," and 2, "It's the Sixties, Man!"
On August 21, it's Season 3, Episode 3 "Panty Pose," and 4, "Hands!" 
On August 22, catch Season 3, Episode 5, "It's Comedy or Cabbage," and 6, "Kind of Bleau."
On August 23, it's Season 3, Episode 7, "Marvelous Radio" and 8, "A Jewish Girl Walks into the Apollo."
Amazon Prime Video has also partnered with dineL.A. to give away 100 free ice cream desserts per day through August 14. Each day references a different Amazon series and takes place as a different local shop. Pre-order your desserts daily at 8 a.m. here.