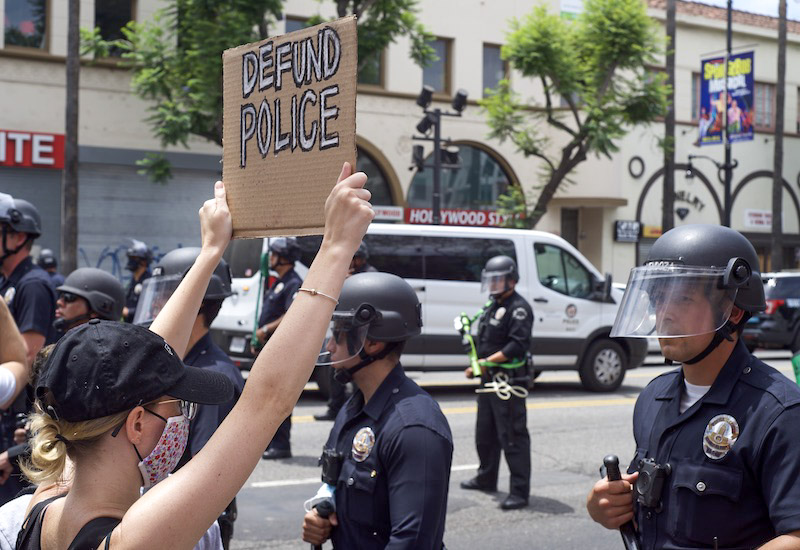 L.A. City Councilmember Herb Wesson said he and Council President Nury Martinez will introduce a new motion today to replace LAPD officers with "unarmed, non-law enforcement agencies" to respond to non-violent calls for service. Wesson's announcement comes one day after Black Lives Matter L.A. representatives presented the People's Budget to members of City Council, including Wesson. 
The People's Budget would cut the LAPD's budget and fund other things like community care workers, mental health and wellness services, education, public transit, and housing instead. Wesson further went on to say, via Twitter, that those presenters were right, and that "we need to reimagine safety in the 21st century."
"We have gone from asking the police to be part of the solution, to being the only solution for problems they should not be called on to solve in the first place. We've given this responsibility to law enforcement but, more often than not, in non-emergencies they may not be best equipped to safely handle the situation. These calls need to be directed to workers with specialized training who are better equipped to handle the situation." 
This doesn't mean that police would no longer respond to any calls. It means that medical professionals, mental health workers, homeless outreach workers, and others would respond to those types of calls instead.
An example of one such situation was highlighted by BLM-LA researcher David Turner during yesterday's meeting. He said that when the group arrived at City Hall, it was an armed police officer who took their temperatures as part of a COVID-19 screening. Turner questioned why a police officer with a gun was responsible for this task. 
The idea that police are responsible for too much, including situations they have inadequate training in, has been such a popular topic lately that John Oliver devoted a whole segment to it on a recent episode of Last Week Tonight.