Today, representatives from Black Lives Matter L.A. presented a report on the People's Budget to members of L.A. City Council. The People's Budget would take money from the LAPD budget and invest in other areas, including public transit, education, roads, parks, and housing. At the same time, police would no longer be responsible for certain community services. 
Black Lives Matter L.A. (BLM-LA) co-founder and organizer Melina Abdullah began the meeting by noting that BLM-LA has been talking about the budget for the past five years since they first saw a pie chart that attributed a majority of the general fund to police. They seek instead "participatory budgeting," which is when the people, not just officials, are involved in determining how budgets are allocated.
According to BLM-LA's Gregory Akili, he sent a list of demands to the City Council back in April, closer to the onset of COVID-19, a virus that L.A. County Public Health Director Barbara Ferrer has repeatedly said disproportionately affects Black residents. Akili said Councilmember Herb Wesson was the only one to respond.
"These demands are the genesis of and connected to the People's Budget because Black people are dying at two-thirds the numbers of our population from Covid-19," he said.
A coalition of more than 50 organizations developed the demands, focusing on both long-term and immediate needs. The demands call for the city to "divest from a bloated police budget, defund the police, and invest in the people's needs and quality of life spending." BLM-LA's presentation detailed examples of what that would actually look like. 
BLM-LA researched David Turner said 50 organizations distributed a survey about the budget resulting in 24,426 responses.
Based on those responses, the People's Budget prioritizes universal aid and crisis management (things like child and youth development, emergency preparedness, and food and housing services), built environment (things like public transit, parks and recreation, libraries, and public works), and reimagined community safety (things like the fire department, community care workers, restorative justice, and mental health and wellness).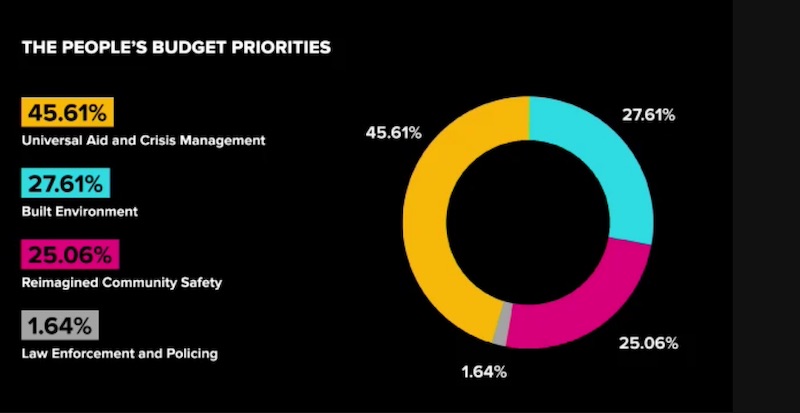 One example, which Akili highlighted, would mean that instead of expanding police patrols, L.A. would instead set up neighborhood-based community care workers that the public could come to as a resource.
Another example occurred this morning. Turner noted that when the group arrived at City Hall earlier today, armed police officers took their temperatures. This is a common practice these days due to COVID-19, and you'll likely have your temperature taken when you visit reopened restaurants, gyms, museums, or other businesses. But Turner questioned why police would be the ones to do this task. He asked, "What would it look like if we were greeted by community care workers, had our temperatures taken by people who were health workers for the city, not people with guns who could take my life?"
Turner also said that under the People's Budget, the city would have a fund for emergency preparedness to deal with situations like COVID-19 before they happen. He asked what it would look like if we had already had enough PPE for our frontline health workers.
Also present was BLD PWR founder and actor Kendrick Sampson, who recounted how police shot him several times with non-lethal rounds as he was leaving a protest on May 30, causing significant wounds. (He posted several images from this day on his Instagram account.) He said it was traumatic for him to be greeted by police today. The LAPD is currently investigating over 50 allegations of police misconduct during the recent protests.
"We need healing and we need to invest in healing," Sampson said.
In response to the protests, Garcetti announced that the LAPD's budget would not be increased this fiscal year. Also, $250 million will be allocated to "jobs, health, education, and…healing" focused on Los Angeles's "black community…as well as communities of color, women, and people who have been left behind for too long." Those cuts will come from every department, including between $100 million to $150 million from the police budget. However, many, including BLM-LA and the protestors in our city's streets, say that's not nearly enough and that the LAPD's budget is still too large compared to other areas' budgets.
While Garcetti has said he does not support the People's Budget, some Councilmembers seemed more open. Councilmember Wesson said today, "I'm not going to miss this moment. The world is looking at us. And I [do not] want to be part of history, I want to make it, and you only have opportunities to do that a few times. I believe in this council, I believe in this leadership, I believe we will do some things that will make you proud."
Read more about the People's Budget here. Listen to today's presentation on Black Lives Matter L.A.'s Instagram here.