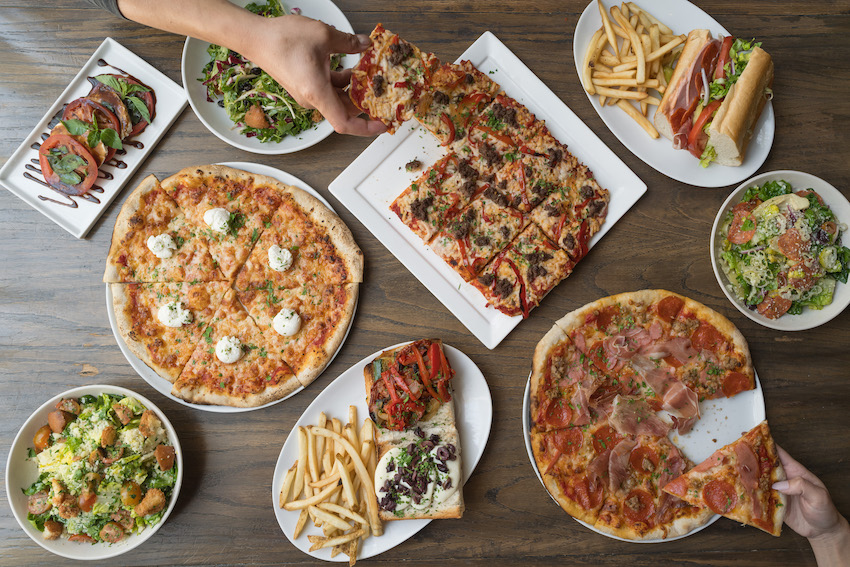 Chef Michael Hung's latest project, DTLA Pizza, starts delivering Neapolitan and Sicilian-style pies to the homes of hungry Angelenos today. Hung tapped into his New Jersey roots for the comfort food concept, which also includes subs, burgers, and salads.
"As the world is today, I find myself craving comfort foods. The menu for DTLA Pizza reflects my time growing up in New Jersey eating at such institutions such as Star Tavern in Orange, New Jersey.  These dishes and flavors remind me of home and the joyful times I spent with my friends and family as a kid," Hung said via a statement.
Folks can sink their teeth into Sicilian-style pan pizzas with thick focaccia crusts or a Neapolitan pie fresh out of the wood oven. You can customize your pizza with a list of traditional toppings, but Hung's signature pizzas are the real standouts. Options include the Street Meat Magic pizza loaded with pepperoni, mortadella, Italian sausage, and prosciutto or the vegan It's Literally Possible prepared with Impossible sausage, marinated peppers and onions, and vegan mozzarella cheese.
Like the pizzas, Hung designed the rest of the menu to also accommodate meat-eaters and vegans. There's an American Kobe beef cheeseburger, and its counterpart is a double Impossible burger with vegan cheese. You can also get a super salumi submarine sandwich or a grilled vegetable sandwich.
DTLA Pizza is open for takeout, delivery, and curbside pickup every Wednesday through Sunday from 5-10 p.m. Call (213) 465-9400 to order and pick up at 709 West 9th Street in the South Park district of downtown Los Angeles. DTLA Pizza delivery is offered through Caviar, DoorDash, Grubhub, Tock, and UberEats. To learn more about DTLA Pizza, visit www.DTLAPizza.com.