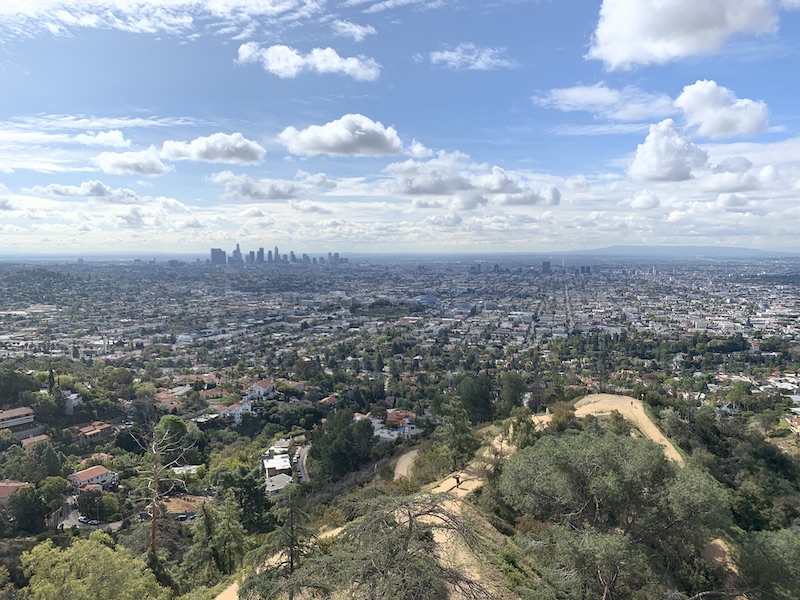 Anyone else have their apartment go dark just as yesterday's Lakers game was getting started? Wasn't just me? Thought so. Also for this Wednesday: Riverside County pushes to reopen, a transphobic incident in Hollywood was caught on video, and Uber threatens to pull out of California. Finally, an important look at a day in the life trying to serve the unhoused. First, some newsy stuff.
Morning News Rundown
Late yesterday afternoon, extreme heat overloaded electricity demand for the LADWP, causing thousands of Angelenos to lose power, some even overnight. As of early Wednesday morning, an estimated 4,800 customers still didn't have the juice back on. If you were like me, the outage took place just minutes after the Los Angeles Lakers began their playoff matchup with the Portland Trailblazers. Conveniently, service was restored at my apartment only minutes after Damion Lillard hit a ridiculous three-pointer to seal a game one upset. Probably better I didn't see that anyway. [ABC 7]
We can joke about minor inconveniences like missing a ballgame, but a heatwave can have absolutely deadly consequences. Consider 17-year-old Shane Thomas, who died at a Chino Hills Park on Saturday only minutes after finishing soccer practice with his Palisades Charter High School on a day when temperatures reached 111 degrees in the area. Investigators now believe that his death was heat-related. [CBS Los Angeles]
Riverside County is angling to start phased reopening right after the Labor Day holiday. The County's Chief Executive Officer outlined the plan to state public health officials in an Aug. 12 letter. According to the multi-phase approach, dine-in restaurants, wineries, breweries, and places of worship would open on Sep. 8. [Press Enterprise]
According to a consumer watchdog, California's recycling network is in serious peril because an ongoing statewide order allows grocery stores to ban redemption of cans and bottles for health reasons. [SGV Tribune]
Yesterday, YouTube influencer Eden The Doll (Eden Estrada) posted footage of an apparent transphobic attack she and friends experienced in Hollywood on Monday morning while waiting for an Uber. The videos, which you can now find in a highlight tab called 'HELP' on Eden's IG account, are both graphic and highly upsetting. LAPD says an investigation is ongoing. [CBS Los Angeles]
Well… that moved fast! Last week, a state judge ruled Uber and Lyft have to classify drivers as full-time employees. Uber CEO Dara Khosrowshahi followed up by saying the company would have to pull out of California if the order stood. Now, Uber says it may end service in the state as soon as Thursday. [ABC 7]
Yesterday, Congressional Rep. Judy Chu joined members of a local postal workers union at Pasadena City Hall to sound off on USPS service cuts and operational changes under the direction of Postmaster General Louis DeJoy. Earlier in the day, DeJoy issued a statement saying the USPS would be pausing planned changes, but it's not clear if earlier actions (like removing sorting machines) would be reversed. [LAist]
The City of Los Angeles is suing the Trump Administration over its decision to end the census early, claiming the move will lead to an undercount of minority communities, along with a loss of millions of dollars in potential funding from the federal government. [Los Angeleno]
Worthy Watch
A recent video posted to the Invisible People YouTube channel chronicles a day in the life working for SELAH, a neighborhood coalition started in 2017 that serves and advocates for unhoused individuals in areas like Echo Park, Silver Lake, and Los Feliz.
The thing that strikes me watching the episode (and yeah, the point is not subtle) is the importance of humanizing the unhoused, even in the simple acts of handing out a bottle of water or having a weekly conversation. If we can just see unhoused people as people first––instead of unfair stereotypes like lazy, a nuisance, or criminals––maybe we can build the electoral momentum to support housing and social policies that address the root of the problem.
In any case, sorry to moralize. The video is worth a watch and maybe a donation if the spirit moves you.