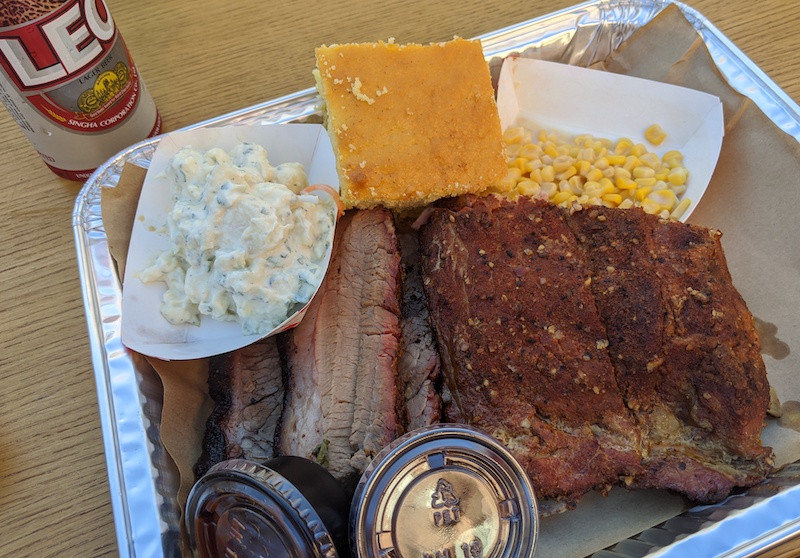 Koreatown is full of spectacular KBBQ options and now, one KBBQ spot is sharing its outdoor dining area with a Texas BBQ pop-up. It's got tender ribs and brisket, plus all the fixings.
Big Daddy Anthony's comes from Anthony Hypolite, who also owns Big Ant's BBQ in Glassell Park. Hypolite grew up with a Korean mother and his father—"Big Ant"—frequently barbecued for the family's church. So, the two cuisine styles were always a part of Hypolite's culinary life. 
Hypolite met Brian Chong, owner of MooDaePo II and Dragon Boba, through mutual friends. Through a shared passion for BBQ and good food, they decided to host a pop-up for Hypolite's style of barbecue in MooDaePo's parking lot. Here, you'll find diners enjoying bulgogi and banchan at some tables and baby back ribs and banana pudding at others—all spread at least six feet apart, of course.
Hypolite says that when it comes to barbecue, his signature style is tenderness.
"I make sure to go a little further. Most people say, 'oh, a perfect rib is supposed to have a bite' to it. But me? No. I just like tender, fall-off-the-bone juicy, so everything I cook, I cook it all the way through," he says.
Even Big Daddy's cornbread is especially dense and moist.
"I like to cook cornbread almost like a brownie, like you almost need something to drink after you eat it," Hypolite said.
When Big Daddy Anthony's officially opens on August 21, guests will be able to order meats by the pound, half-pound, or quarter-pound, plus sides including coleslaw, baked beans, potato salad, cornbread, creamed corn, and some very nostalgic banana pudding with Nilla wafers. 
Big Daddy Anthony's is located at MooDaePo II, 3014 7th St. in Koreatown. Hours are Friday, Saturday, and Sunday, 11 a.m. to 4 p.m. for outdoor dining, 4-8 p.m. for takeout. The pop-up plans to continue indefinitely.