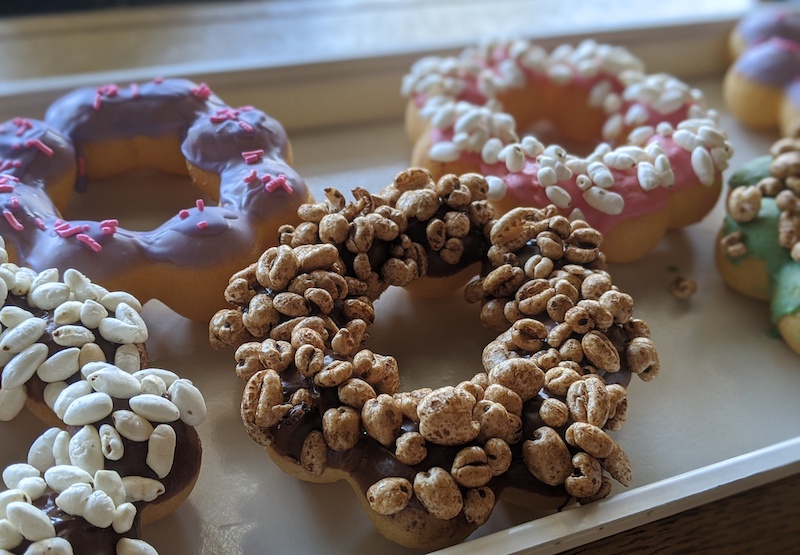 Brian Chong of Koreatown's IOTA Brew Cafe is back in the very same spot on Western Avenue where the popular restaurant and dessert cafe once operated. His new cafe is called Dragon Boba, and it specializes in coffee, boba tea, ice cream, mochi donuts, and other colorful desserts. 
Chong closed IOTA Brew Cafe in 2016 after he had a stroke. He moved to Texas, where he launched another IOTA cafe that remains open today. Chong returned to Los Angeles three months ago for the same reason he left: his health. He suffered a heart attack and came back to Los Angeles to seek medical treatment.
After IOTA closed, its location hosted a number of short-lived ventures. There was the restaurant Horse's Mouth, the ice cream and cereal bar Milk Tavern, and, most recently, the Korean fusion restaurant Tipsi. Dragon Boba soft-opened on June 8 and is planning a grand opening this month, at least as far as anyone can plan anything during COVID-19. 
With Chong's return, perhaps the airy space and its sidewalk patio have finally found a long-term match. Chong personally hopes Dragon Boba will offer the neighborhood "love and good vibes" at a time when we all need it most. 
"We want it to be very calm and friendly here," Chong said. "When people feel angry, depressed, lonely, they can come to Dragon Boba to relax."
While Dragon Boba's menu is not as vast as IOTA's, where it seemed like you could find just about anything, you will find a lot of fun desserts. There are fruit, milk, and boba teas. You can order ube, matcha, or vanilla soft serve with boba or pick up a pint of brown sugar or ube ice cream with boba to take home. They've got ttung, or "fat," macarons, which have a double layer of filling between the cookies. They come in flavors like Dalgona Coffee and lemon cheesecake. The bakery case contains rainbow-colored crepe cakes, tiramisu, and more. 
Chong is currently working to perfect his mochi donuts. They look like a series of donuts holes, looped together into a circle. Each pocket is soft, airy, and chewy and dressed with sweet strawberry icing, Nutella, cereal, or other toppings. If you stop by Dragon Boba before July 21 and order a drink, you'll get a free mochi donut while supplies last. (You may want to call ahead to make sure there are some left.) Feel free to offer feedback, as Chong continues to refine his recipe.
Rounding out the offerings is a coffee bar, where you can use an app to upload an image and have it "printed" on the foam. The space has also retained its beer and wine license.
In the future, Chong plans to offer some savory items, including pizza and pasta, and serve as a fun place for K-Pop birthday parties and gatherings. For now, Dragon Boba is open for takeout, delivery, and limited seating as health orders allow. (All indoor restaurants in L.A. County are closed for dine-in service, starting July 1, for at least three weeks.)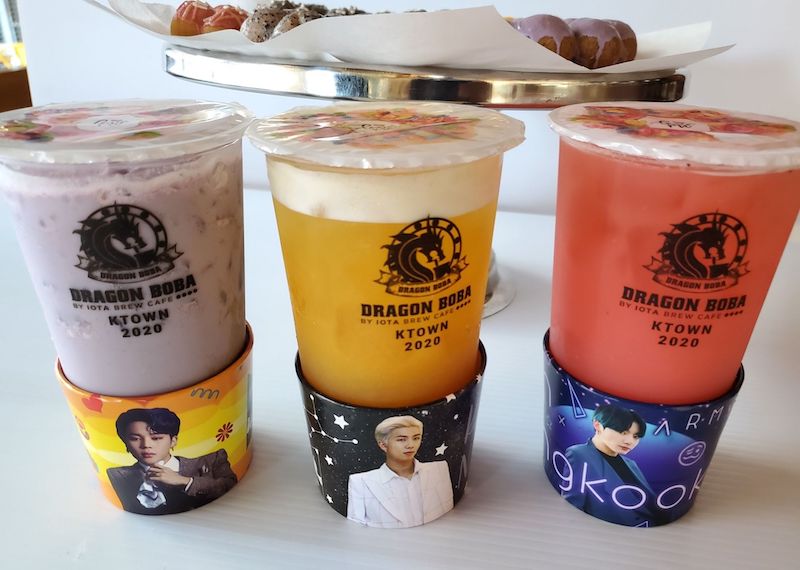 Dragon Boba is located at 528 S. Western Avenue. Hours are currently Weds.-Mon., noon to 10 p.m., closed on Tuesdays. We'd suggest checking social media for the latest updates.