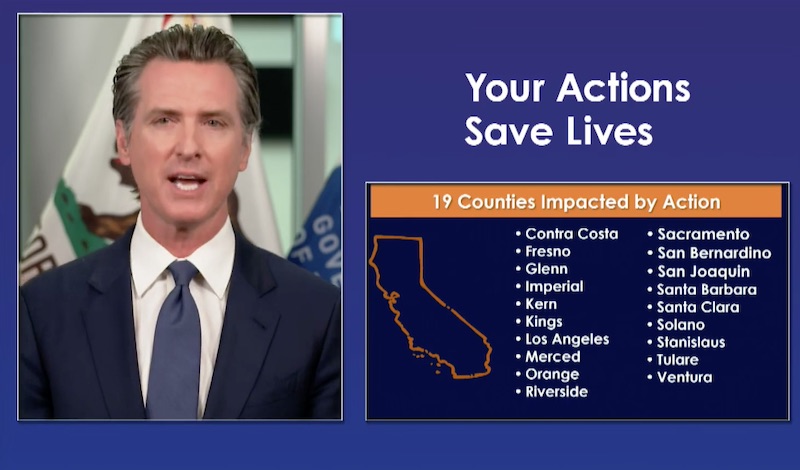 Due to climbing cases of COVID-19 across the state, Gov. Gavin Newsom announced that several businesses in 19 counties, including Los Angeles County, must close again for at least three weeks.
The 19 affected counties are those that have been on a County Monitoring List for at least three days in a row. They include:
These counties include: 
Contra Costa
Fresno 
Glenn
Imperial
Kern
Los Angeles
Merced
Orange
Riverside
Sacramento
San Bernardino
San Joaquin
Santa Barbara
Santa Clara
Solano
Stanislaus
Tulare
Ventura

In those counties, the following sectors must shut down indoor operations, effectively immediately:
Restaurants
Wineries and tasting rooms
Movie Theaters
Family entertainment centers
Zoos and museums
Cardrooms
As a reminder, bars were shut down on June 28.

"We're trying to take as many activities as we can…and move them outdoors, which is a way of mitigating the spread of this virus," Newsom said during today's briefing.
Additionally, all parking facilities at state beaches will be closed in SoCal and the Bay Area. In counties that decide to close their beaches, the state will also close state beaches. Yesterday, Los Angeles County announced that its beaches would be closed July 3-6 and banned 4th of July fireworks displays.
State parks remain open with measures in place to limit the number of visitors. 
Newsom stressed that, despite the upcoming holiday weekend, people should avoid crowds and gathering with people with whom they don't live.
Yesterday, L.A. County announced 2,779 new cases of COVID-19 and 45 new deaths.