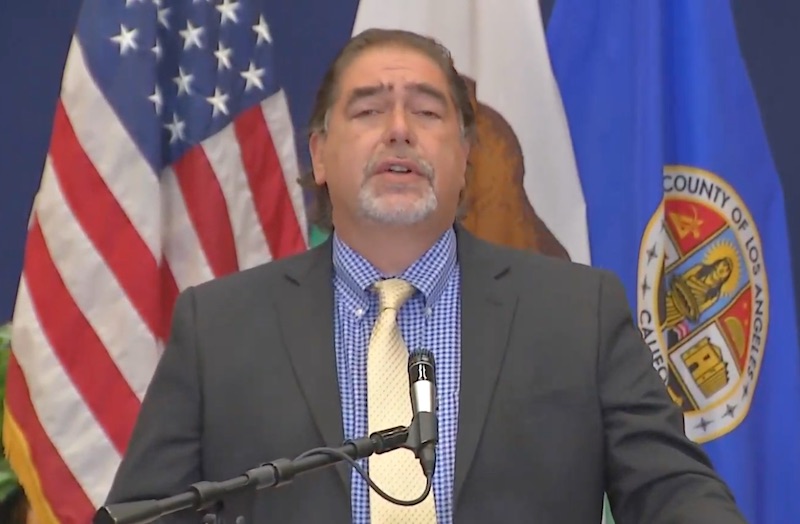 In a Los Angeles County briefing hosted by Supervisor Hilda Solis this afternoon, Los Angeles County Inspector General Max Huntsman, Civilian Oversight Commission appointee Hernán Vera, and Anti-Recidivism Coalition Executive Director Sam Lewis spoke out about the reforms they'd like to see in the Los Angeles County Sheriff's Department.
Municipalities across the nation have been talking about police reforms a lot lately as protests against racism and police brutality and corruption continue. Los Angeles is no exception, as officials at the city and county levels talk about budget cuts and replacing officers with other unarmed professionals.
Today, Vera outlined a list of things the COC wants to happen with the LASD immediately, including:
Requiring de-escalation before resorting to use of lethal force
The funding and deployment of body cams for all patrol deputies
The funding and rollout of Mental Health Evaluation (MET) teams
All lethal use of force incidents investigated by an independent agency
Providing the Office of Inspector General and the Civilian Oversight Commission with unfettered access to proposed policies, internal and disciplinary processes, and investigations and decisions, including deputy complaint records
See the COC's complete list and more info here.
Huntsman alleged that the LASD has restricted his office's monitoring of police shootings and has both scaled back discipline and attempted to rehire deputies who were fired for dishonesty or violence. He also noted that he's seen deputies not wearing face coverings as required by current health orders.
Lewis called out what he deemed an excessive response to a peaceful protest in Lancaster and a lack of information regarding how LASD is handling COVID-19 in county jails.
Despite all of this, Huntsman was optimistic.
"None of this feels like progress, but I want you to understand that it is," Huntsman said. "We know all of these things because of efforts [taken by the public, Board of Supervisors, and COC]. These efforts have brought to light many of the problems we now need to move forward and solve."
You can watch the full briefing here.