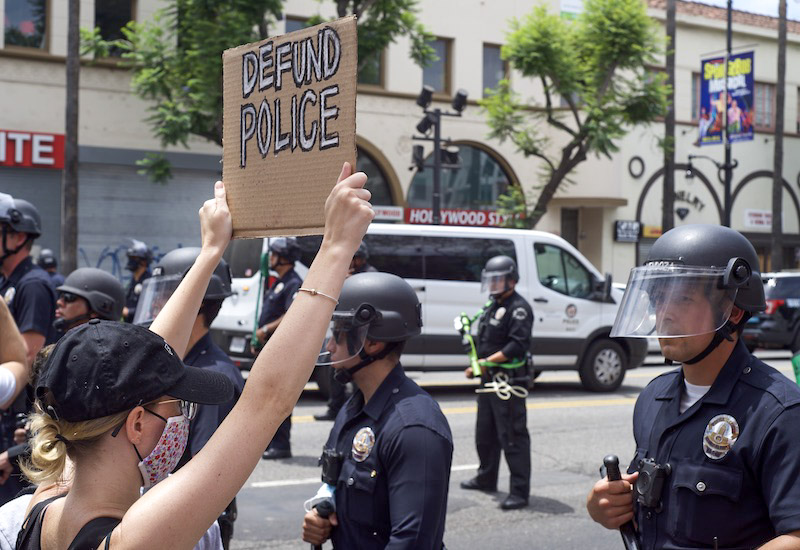 Los Angeles City Council voted today to slash $150 million from the LAPD's budget, which was $1.86 billion. The city's 2020-21 fiscal year begins today. 
According to the Los Angeles Times, the cuts will reduce the number of officers to 9,757, the lowest number since 2008. Most of the cuts will come from funds earmarked for officer overtime.
Some of that money will instead be used to save civilian employees from furlough, while Councilmember Curren Price said two-thirds will benefit services for Black, Latino, and underserved communities. 
If you haven't been following the news surrounding the LAPD's budget, L.A. Mayor Eric Garcetti initially proposed increasing it by 7%. Protestors and activists called instead for the People's Budget, which took money away from the LAPD and funneled it into community services instead. Following protests in late May and early June, Garcetti promised to cut $250 million from the city's budget to spend instead on services for "communities of color, women, and people who have been left behind for too long," $100-150 million of which would come from the LAPD.

The $150 million figure is higher than it perhaps could have been. Last week, City Council's Budget and Finance Committee initially approved $133 million in cuts before increasing it to $150 million, according to CBS LA. But, it's still much lower than advocates for the People's Budget had hoped.

Related: Plan to Replace LAPD on Non-Violent Calls Moves Ahead