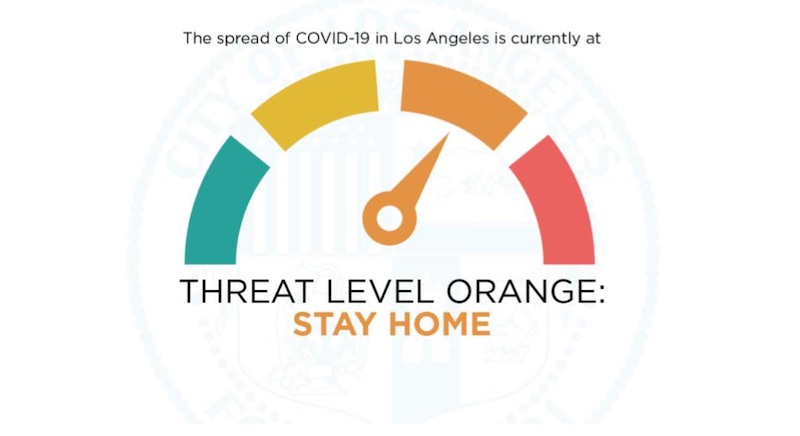 If health officials repeatedly telling us the daily COVID numbers and what they mean hasn't been enough, Los Angeles Mayor Eric Garcetti announced a new color-coded threat level system that lets us know, at a glance, how things are going. (Spoiler: Not well.) 
There are four colors on this meter:
Red: This is similar to what we were dealing with back in March. You should stay home and only leave for essential activities. You should assume you and everyone around you is infected and behave as such. Hospitals may be at or near their capacity. 
Orange: The risk is high. You should assume you and everyone around you is infected and stay at home as often as possible. Hospitals are currently able to handle the situation, but that could change quickly if we don't take precautions. 
Yellow: We're flattening the curve, but you should keep taking precautions including physical distancing and wearing your mask. 
Green: COVID-19 is mostly contained and presents a low risk. 
You can check out the threat meter here.
Today, we're orange. L.A. County announced 2,002 new cases today and amended its Health Order to include the immediate shut down of indoor restaurants, museums, and other businesses for at least three weeks. Officials stress practicing physical distancing, wearing cloth face coverings, staying home as much as possible, and avoiding crowds or gatherings with people outside of your household.