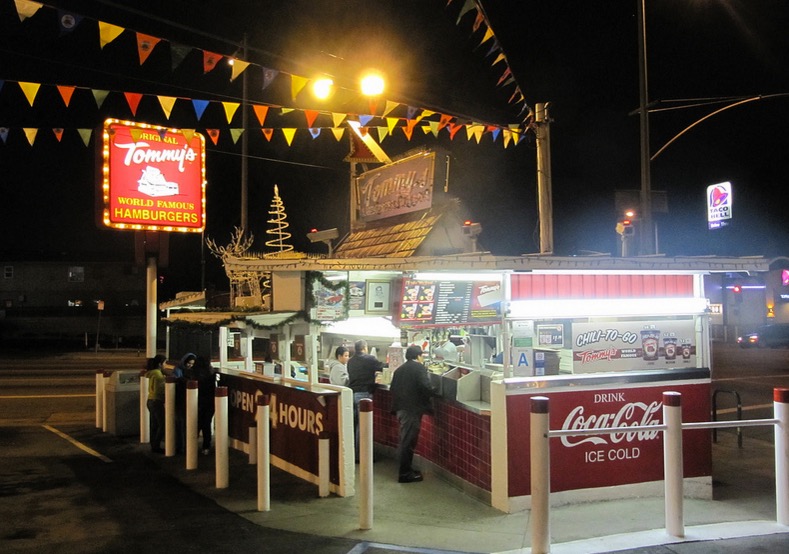 Attention deal-seekers and chili burger-lovers: This Wednesday, May 15 locations of the Original Tommy's will offer 73-cent hamburgers to celebrate the 73rd anniversary of the Southern California hamburger chain.
For the uninitiated, The Tommy Burger is a greasy, melty collection of condiments (including their signature chili) with a thin patty of meat casually slid into the middle. You may love it, you may hate it, but the iconic standing of Tommy's is undeniable. If your thinking you want to get in on the anniversary special, then here are the details you need to know:
Burgers will be offered for $0.73 from 11 a.m. to 10 p.m. (or until supplies run out) at all Tommy's locations, per this post on Tommy's Facebook page.
There's a limit of 5 burgers per order if you walk up, or 5 per car on drive-thru.
Make sure to mention the social media post embedded below to take advantage of the deal.
If previous years offer any clue, the ultra-cheap burgers are sure to draw larger-than-usual lines. That said, in past years the celebration focused on the flagship location on the corner of Beverly and Rampart, including a full-on Mariachi performance and the USC Marching Band for the 70th anniversary back in 2016. Perhaps spreading the wealth to all of the locations will also spread the crowds, but we'll see.
In any case, if you want to try your luck for the free burgers here's a list of Original Tommy's locations for your Wednesday burger fix. I'd recommend keeping an eye on their social media feeds before you head out just so you can get an idea on lines or if they unexpectedly run out at any specific location.
Best of luck bargain burger hunters!