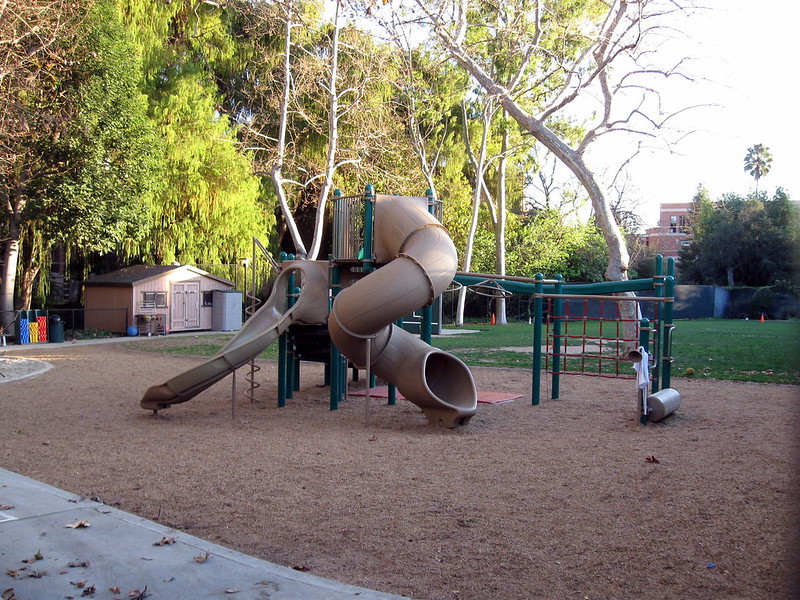 Though the surge of COVID-19 infections is not slowing down, Los Angeles County announced it will align with state guidance and allow playgrounds to reopen—with masks and social distancing, of course. 
Today, the state updated its Regional Stay at Home order, allowing playgrounds to remain open to "facilitate physically distanced personal health and wellness through outdoor exercise." 
Previously, only playgrounds affiliated with schools and daycare centers could stay open, which angered many parents who demanded to know why playgrounds were closed while certain non-essential retailers weren't. 
In a recent media briefing, Dr. Barbara Ferrer had noted that the county's Parks departments had observed children not wearing masks or social distancing. That's the sort of behavior that spread the virus.
But in a letter several lawmakers wrote to Gov. Gavin Newsom on Dec. 4, they said closing playgrounds negatively affects families who do not have access to backyards or green spaces in their neighborhoods, ultimately persuading the state to reverse course.
"It's not like the risk that we've been talking about has gone away at playgrounds," Ferrer said during today's briefing. "So if you've decided that you need to take your children to a playground, we're going to ask that you be super careful. The most important thing is that you are required to have everyone at that playground wearing a face covering at all times and they should be distanced from people not in their households."
She also suggested you bring hand sanitizer as it's hard to clean playground equipment in between kids using it. Children should sanitize their hands before and after using each piece of equipment.
The bottom line right now is that playgrounds may be open, but community spread is high. Here's some data from the Los Angeles County Department of Public Health:
Today, the positivity rate in Los Angeles County is 12.5%.

Today, Los Angeles County is reporting 9,243 new positive cases and 3,299 people in the hospital. Of these patients, 23% are in the ICU and 15% are on ventilators. 
The 7-day average of new COVID-19 cases has increased by 300% from Nov. 1-30. In the past week and a half, we've seen cases increase from an average of about 4,900 new daily cases to 8,933 new daily cases. 
The Regional Stay at Home order only affects regions where ICU capacity dips below 15%. The Southern California Region to which L.A. belongs is currently at about 9%. As a reminder, this doesn't just impact COVID patients, but all patients who require care in the ICU.