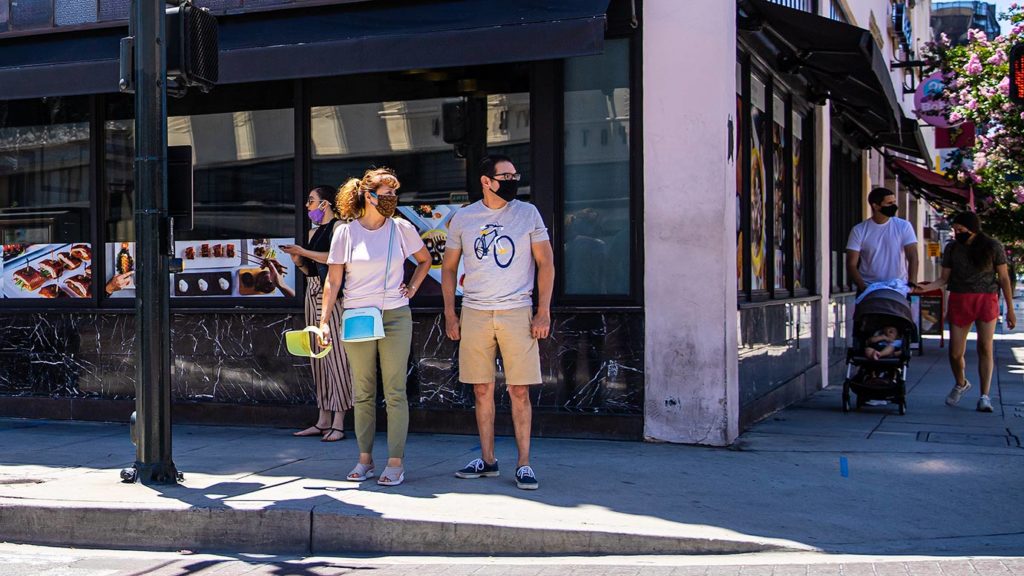 The COVID-19 pandemic is looking pretty dire right now, not just in Los Angeles County, but statewide. Earlier today, Gov. Gavin Newsom said that if COVID-19 trends continue, the state could run out of ICU beds by Dec. 24. Right now, 74% of beds are full. If the spread doesn't slow down, we could be looking at 107% capacity by Christmas Eve. 
Newsom indicated these numbers could mean stricter guidelines for some counties, but a lot of people are confused about the ones we have in place right now. Today, Public Health Director Barbara Ferrer conducted an online media briefing to address questions about rising cases, plus current guidelines, what they mean, and why we have them.
Newsom implied more restrictions could come for counties experiencing especially high rates. What does that mean for us in the near future?

Los Angeles County is definitely one of those California counties experiencing a high number of cases. For reference, Ferred noted that 9% of the county's tests are coming back positive now, while a month ago, it was just 4%.
It's not clear at this time what stricter measures the state might implement. What we do know is that counties have to abide by state orders, so expect the county to fall in line with whatever guidelines the state produces in the coming days.
When will we see the effects of Thanksgiving gatherings?

Health officials asked us not to gather outside of our households for Thanksgiving, but let's be real: people did.

Whatever you did or didn't do, in two weeks, we'll see the effects in the number of daily cases. Two weeks after that, the effects will be reflected in hospitalizations. A week after that, we'll see the effects in daily deaths.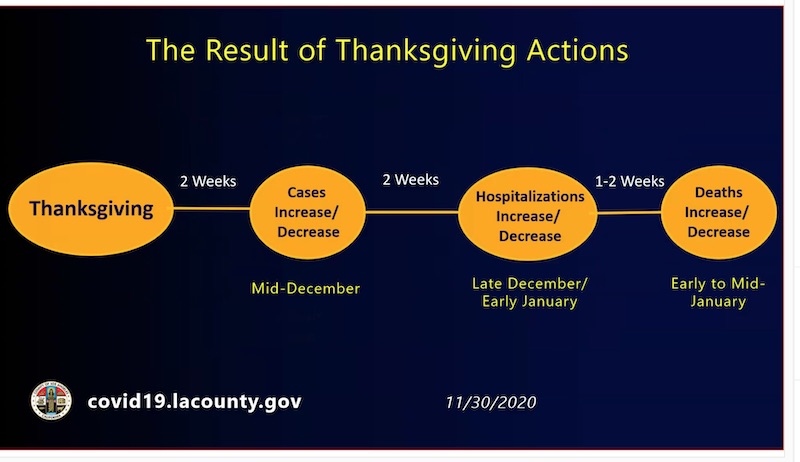 If you did travel or spend time with people outside your household, you are advised to quarantine for at least 14 days to prevent further spreading of the virus.
Why are restaurants in L.A. County closed for outdoor dining?

Ferrer stresses that restaurants were not shut down due to a lack of compliance with regulations, but because people obviously can't wear their face coverings when eating and drinking.
"If you don't have your face covering on, there's a much greater risk of transmission, both to workers and to the people at your table and people at other tables," she said.
She noted that when you start seeing 5,000 cases per day in the county, it's time to take additional steps. And one of them is "not engaging in any activities outside of your household where that face-covering comes off."
The closure of outdoor dining is set to last for at least three weeks. You can still support local restaurants through takeout and delivery.
Why are Pasadena restaurants open for outdoor dining when the rest of L.A. County's restaurants remain closed?
There are two key reasons. Both Pasadena and Long Beach have their own public health departments. All three public health departments work together, but may make different decisions from one another.
Long Beach sided with the county's recommendations, while Pasadena elected to keep outdoor dining open, but bolster enforcement of health and safety regulations. Because Pasadena is obviously much smaller than the whole of L.A. County, it's easier for Pasadena's inspectors to monitor its restaurants for compliance. L.A. County has over 31,000 restaurants. Even when Public Health inspectors worked seven days a week, they were unable to visit them all. Additionally, when a restaurant is found to be out of compliance, inspectors must return, adding to their workload.
Pasadena may still ban outdoor dining in the future. Pasadena inspectors found about half of the 60 spots they visited recently had minor violations. City spokesperson Lisa Derderian told ABC7 they are assessing the situation each day.
Why is it okay for me to go to an indoor shop, but not gather with my friends in a park?
These rules may seem confusing, especially when you think about navigating a crowded grocery store full of strangers, versus spending time outdoors with your friends or family. But these rules are all about how people typically behave in these scenarios.
When you gather with friends or family, you tend to hang out with them for a while. Ferrer noted that many people were gathering in situations where they were in close contact with each other for prolonged periods of time, oftentimes unmasked while eating, drinking, or socializing.

When you go to the store, you go alone or with members of your household, wear your face covering, and have very short interactions with others, if you have any interactions at all. For example, if you go to CVS, pick up a few household items, and use the self-scanner, you didn't really interact with anyone.
Additionally, the maximum occupancy has been reduced at all retail operations to 20-35%, depending on what they sell. For example, grocery stores are reduced to 35% capacity, while non-essential retailers and malls are reduced to 20% occupancy. This is to allow for social distancing. Under these current orders, you should be able to stay six feet away from others any time you shop. Mask wearing is also enforced in all businesses.
Why are playgrounds closed?
Again, it's the behavior exhibited at the playgrounds that has led to their closure.

"I know this isn't understood and creates hardships," Ferer said today. "We went back and forth for many days."
But ultimately, various parks departments reported crowded playgrounds that were difficult to monitor for infection control and cleaning. Children were frequently seen without masks, interacting with other kids and people outside of their households.
Playgrounds that belong to schools or daycare centers remain open.
For more information about what's open and what's not, read our coverage of the new Safer at Home order here.
Why can I protest, but not outdoor dine?

Protesting is your constitutionally protected right. But you should wear a mask.
I'm really bored in my house. What should I do?
Check out our guide of outdoor or online activities. We publish it every Thursday. Here's last week's.