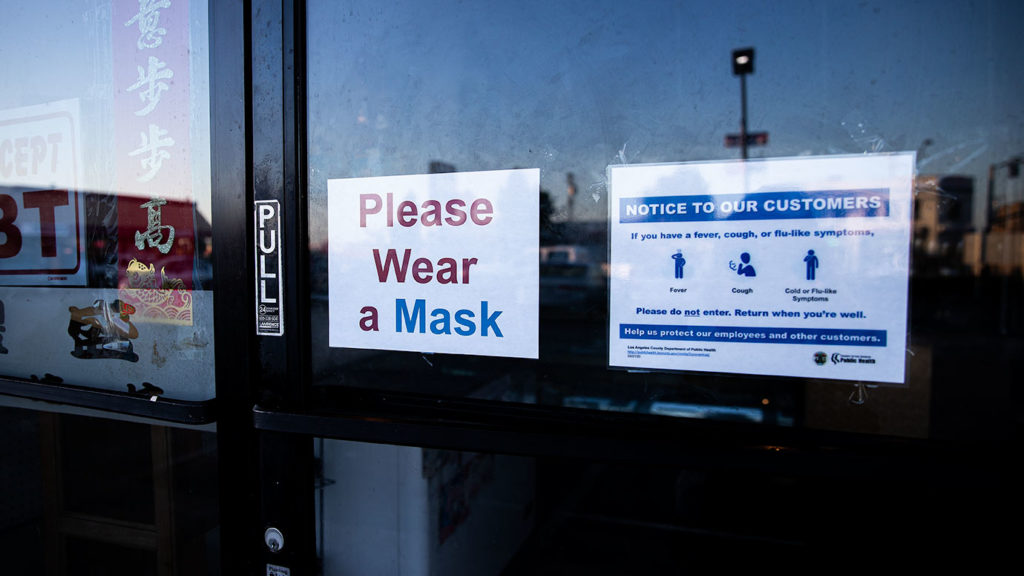 Today, Los Angeles County announced new safety measures due to "alarming levels" of new COVID-19 cases, a trend that's continued for the past several days. The modified Health Officer Order, which bans most gatherings and further reduces capacity at area businesses, takes effect on Monday, Nov. 30, and will last through at least Dec. 20.

On Nov. 17, the County implemented restrictions on capacity and operating hours for some businesses as COVID-19 cases and hospitalizations surged. That same day, Public Health said if the county's 5-day average of new cases exceeded 4,000 or if the 5-day average of hospitalizations exceeded 1,750, outdoor dining at restaurants, breweries, wineries, and bars would pause. On Sunday, Nov. 22, Los Angeles County's 5-day case rate hit 4,097. Outdoor dining paused on Nov. 25 at 10 p.m.

Today, Public Health announced 4,544 new cases and 24 deaths, bringing the 5-day average to 4,751 cases. Public Health also announced 1,893 people with COVID-19 currently hospitalized, 24% of whom are in the ICU. Comparatively, there were 747 people in the hospital with COVID-19 one month ago on Oct. 27.

In short, all residents should stay home as much as possible, avoid contact with people outside of their households, and wear their face coverings and social distance whenever they're in public. The new Health Officer Order also includes the following changes:
All public and private gatherings with people outside of your household are prohibited, except for church services and protests, which are constitutionally protected rights.
Essential retail is limited to 35% maximum capacity.
Non-essential retail, including indoor malls, is limited to 20% maximum capacity.
Personal care services are limited to 20% maximum capacity.
Libraries are limited to 20% maximum capacity.
Outdoor fitness centers are limited to 50% maximum capacity.
Outdoor museums, galleries, zoos, aquariums, and botanical gardens are limited to 50% maximum capacity.
Outdoor mini-golf, batting cages, and go-kart racing are limited to 50% maximum occupancy.
Playgrounds (except for those at childcare centers and schools) must close.
Cardrooms must close.
As a reminder, all restaurants, breweries, wineries, and bars remain closed for in-person dining, either indoor or outdoor. Takeout, pickup, and delivery are allowed. Breweries and wineries may remain open for retail sales at 20% capacity.
The following businesses and activities remain open. All require social distancing. All except swimming require face coverings.
Outdoor recreation locations and activities including beaches, trails, parks, golf courses, tennis courts, pickleball, archery ranges, skate parks, bike parks, and community gardens remain open. No gathering with those outside of your household is permitted at any of these places. Pools that serve more than one household may open only for regulated lap swimming with one person per lane.
Drive-in movies and events, plus car parades, are allowed so long as everyone in the same car is in the same household.
All schools and day camps remain open adhering to their re-opening protocols. K-12 schools and day camps with an outbreak (three cases or more over 14 days) should close for 14 days.
The high numbers we're seeing now, which are considerably higher than the spike we saw this summer, reflect the behavior County residents took two to three weeks ago. Due to rising cases, county officials urged residents to avoid gathering over the Thanksgiving weekend. Two to three weeks from now, we'll find out how people responded and if those choices contributed to further COVID-19 spread.