If someone asked you to go to a puppet show, you might assume you're going to a children's play. Yet it's not uncommon in other cultures to find a rich history of all-ages storytelling using puppetry and masks, like Italy's commedia dell'arte or Japan's bunraku puppet theater. According to Rogue Artists Ensemble founding partner Sean T. Cawelti, it's an American perspective to strictly associate puppetry with kids' entertainment, and one that Rogue continues to challenge.
Take Rogue's Wood Boy Dog Fish, now playing at Burbank's Garry Marshall Theater. The play is set in Shoreside, a coastal town not unlike Coney Island, if it had been built by Tim Burton then fallen on hard times. The town has turned itself into a merchandise-hawking carnival centered around its urban legend, the terrible sea monster known as the Dog Fish. But this peculiar hamlet is also home to a sentient puppet, built in a drunken haze by a whiskey-slugging, broken-hearted craftsman called Geppetto. Yes, it's a dark and imaginative re-telling of the classic Pinocchio story, written by Chelsea Sutton and largely based on Carlo Collodi's 1883 children's book. Yet unlike the Disney adaptation, this is not a show for kids.
Rogue Artists Ensemble—founded in 2001 and acting as a nonprofit since 2003—specializes in what they call "hyper-theater," or a fusing of technology and various theater traditions, including the use of puppets.
"[Puppetry has] really always been a part of our core philosophy and how we approach our storytelling and create experiences for audiences," Cawelti said. "[We use] puppetry, mask work, multi-media and technology, and leverage all of those together to hopefully create something that is seamless and that feels meaningful."
This is apparent in Wood Boy, where they've incorporated projections, 3-D glasses, William Castle-esque hijinks, and original music from composer Adrien Prévost into the piece. Both of the villains in Wood Boy wear masks most of the time, turning them into garish, larger-than-life figures who mercilessly torment the eponymous puppet and his maker. Additionally, carnival games and Shoreside ephemera have been placed throughout the lobby and just outside the doors of the venue, providing a bit of world-building even before the audience is seated.
In Rogue's 2017 work, Kaidan Project: Walls Grow Thin, the ensemble delved into Japanese folklore via an immersive show set in an actual storage warehouse. In one scene, guests were allowed to explore a hallway filled with interactive sets, including a candy shop and a zen garden. At one climactic point, there appeared an eight-foot-tall fox manipulated by two hidden puppeteers.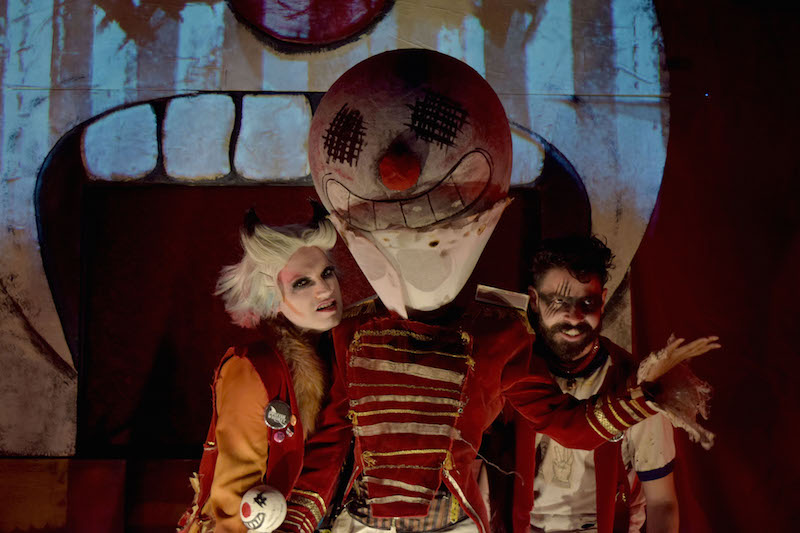 Fox (Amir Levi), Fire Eater (Keiana Richàrd) and Cat (Tyler Bremer) Photo: Chelsea SuttonFor Cawelti, his fascination with puppets began in childhood, when he was just three years old. His parents told him he could pick out a toy at an Orange County flea market. He chose an old marionette and though it wasn't in the best shape, it quickly became his favorite plaything. He soon began making his own puppets and staging his own shows.
"Puppetry is an amazing art form," Cawelti said. "It's not done very much, and part of the reason is that it's very inefficient [when it comes to] the length of time that goes into the character and how much time and energy it takes to rehearse and make sure that the puppet is being manipulated properly with intention and heart."
For instance, Wood Boy could have been played by a person in a costume and makeup and that, perhaps, would have been easier. Instead, the Wood Boy puppet took multiple artists months to make. This puppet is also the fifth one they've made for just this character, dating back to its prototype and an earlier version of the show staged at Bootleg Theater in 2015.
The stringless Wood Boy puppet takes three puppeteers, dressed all in black and visible to the audience, to move his limbs and head. Wood Boy also has limited facial expressions, so all of his emotions must come through the puppeteers' subtle movements and via actor/puppeteer Rudy Martinez, who voices Wood Boy. Martinez changes his tone and inflection to convey the character's growth, even though the puppet continues to appear, for the most part, the same. Yet for Cawelti, these challenges are actually advantages.
"In some ways, puppets are reflections of our own humanity," Cawelti said. "Something happens when you watch a puppet go through an experience. We're able to view it in a way that is both more objective and also more connected, because when you watch a puppet on stage, you're choosing, as an audience member, to believe that the puppet is real. By the act of that choice, you are believing in it possibly more than you would a [human] actor doing the same thing."
To direct the character, Cawelti specifically directs the puppet. He might say, 'Wood Boy, that was great, but we need you to get up faster' or 'Wood Boy, there needs to be a greater sense of weight at this particular moment.' Then, the puppeteers and Cawelti can collaboratively figure out how to make that happen. The end result is a character audiences can empathize with and one who easily plays off human actors.
"One of my favorite things about this play is going in with audience members and hearing them laugh at the beginning of the play, and then at the end everyone is crying because you're feeling this thing we've kind of tricked you into believing," he said. "That is not only the magic of puppetry, but the power of theater."
Wood Boy Dog Fish runs through June 24 at the Garry Marshall Theater, located at 4252 Riverside Drive in Burbank. Tickets are $45 to $65.