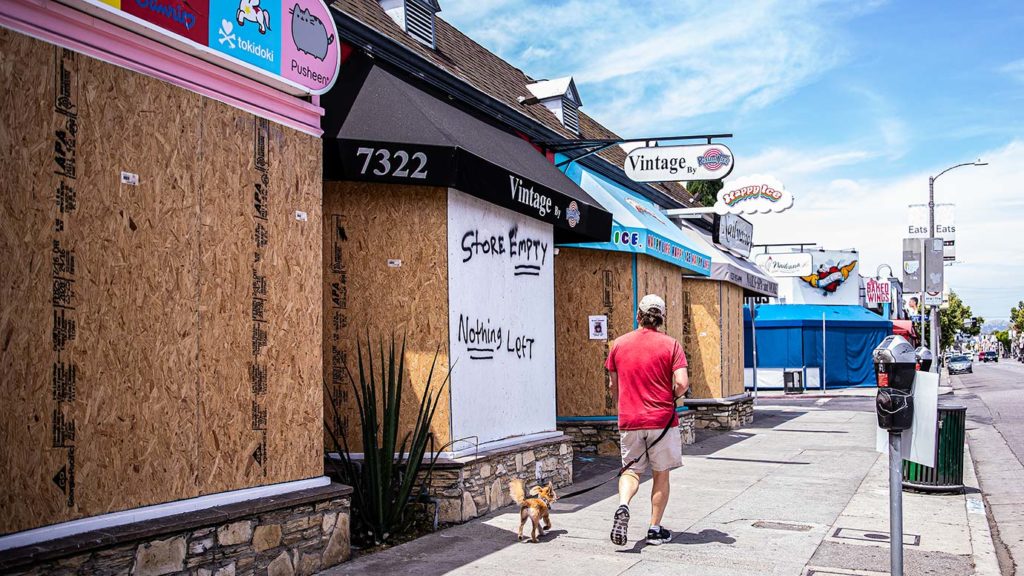 Save Melrose is a fundraising event for four Melrose shops that were damaged during the civil unrest in late May. Guests can browse local stores and enjoy live art and performances while raising money for repairs.
Headline Records is spearheading Save Melrose with support from Rebel Rebel Hollywood and the mysterious costumed band Some Cult. The event takes place Saturday, August 1 and Sunday, August 2 from noon to 5 p.m. on Melrose Avenue between Curson and Genesee avenues.
The businesses that need help include Pearl's Nail Salon, Tony K, Dr. Martens, and Reloaded. While other businesses in the area also sustained damage, these particular businesses saw considerable fire damage and loss of inventory. All four businesses are within less than a half-mile stretch of each other. According to the L.A. Times, a gasoline-filled bottle lit up the Dr. Martens store and Reloaded caught fire soon after. Tony K owner Tony Kokozin, who's operated his shoe store for over 30 years, told Spectrum News 1 that he lost about $450,000 in merchandise to fire.
During Save Melrose, several Melrose shops will be open for browsing either inside or via sidewalk displays. Some are running specials while others will donate a portion of proceeds to the Save Melrose trust.
Artists—including Axis, Laney Chantal, Life After Death, Corrie Mattie, and Kar Part—will paint live along Melrose. The art will be auctioned off with all proceeds benefitting the four businesses. Meanwhile, characters from Some Cult will offer impromptu performances and socially distant mini-parades, according to Some Cult's Melody aka The Black Nymph.
Save Melrose is also looking for volunteers. The Melrose BID Association has already donated disposable masks and hand sanitizer, but event organizers are looking for volunteers to oversee the sanitization stations posted at each intersection. They also need help setting up and breaking down infrastructure and making sure guests maintain social distancing. Volunteers and businesses interested in sponsoring the event can learn more here.