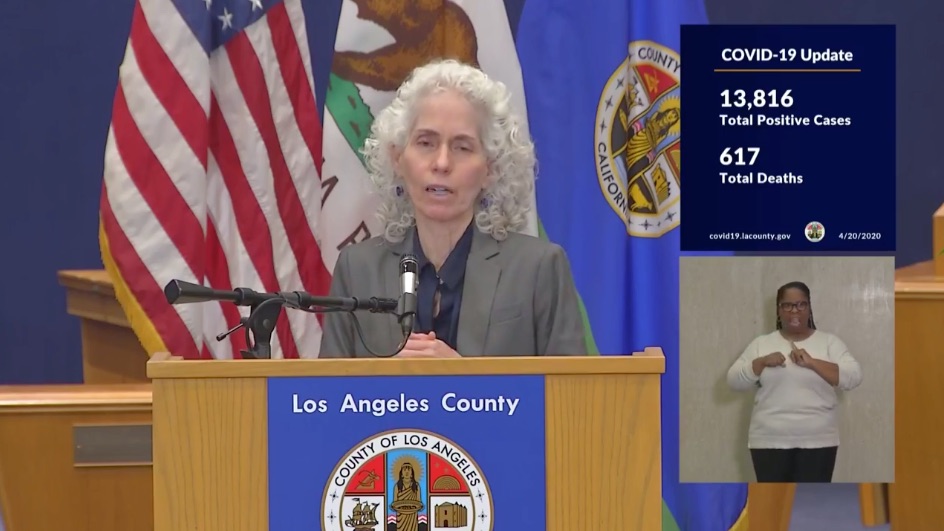 Cases of COVID-19 in Los Angeles County could be far more widespread than previously believed, according to the preliminary findings from a new serology study on community prevalence.
The study, performed by Los Angeles Public Health in partnership with the University of Southern California and the LRW Group, tested 863 L.A. County adults between April 10-14 using serology testing supplied by Premier Biotech, a Minneapolis-based drug testing diagnostics provider. The test shows whether an individual has ever been positive for COVID-19 and developed antibodies to the virus.

The study now estimates 4.1% of the county's adult population has antibody to the COVID-19 virus. After adjusting for statistical margin of error, that implies the range of antibody prevalence is between 2.8%-5.6% for the county's adult population. That means between 221,000 and 442,000 adults have been infected. To put that in context, that's 28 to 55 times higher than the 7,994 confirmed cases the county reported at the time.
"This gives us a better understanding of how much of our population has, at some point in time, been positive, been infected with the COVID-19 virus, regardless of whether they were ever tested, or they even ever had any symptoms," Los Angeles Public Health Director Dr. Barbara Ferrer said during today's briefing.
If there's good news from today, it's that the mortality rate of the virus could be much lower than previously believed. Dr. Neeraj Sood of USC's Price School of Public Policy was also present for today's press conference. Dr. Sood highlighted the importance of using serology testing to monitor community spread, how it gives us a more accurate picture of total infections, and what that tells us about true mortality rates.
"It says mortality rates estimated based on confirmed cases are going to be much higher than mortality rates estimated based on the number of infections, or the estimated number of infections," Sood said.
Let's break that down. If you take today's updated death total of 617 and divide that by the total number of confirmed cases (13,816), you get a mortality rate of 4.4%. But if you use the number of infections based on the range from the serology study, the mortality rate drops to between 0.14% and 0.27%.
"You could say maybe the good news is the fatality rate is lower than what we thought it would be," Dr. Sood said. "But the fatality rate is not the only number we should focus on. That is not the only number that determines the burden of disease."
With only 4% of the population showing infection, that leaves the vast majority of residents still vulnerable to the virus. And any potential spike in infections could stress hospital resources.
Ferrer emphasized that being positive for COVID-19 antibodies does not mean an individual is immune or safe from reinfection risks. More study is required on both fronts. For now, caution is the watchword for the day.
"It does for me reinforce the need for everyone to stay home. To observe all of our physical distancing requirements because there are many, many people throughout the county who are positive for COVID-19 who may not be showing any symptoms," Ferrer said.
Among other preliminary data provided by the study, the difference in infection among genders was striking. The estimated prevalence was 6% among men and just 2% among women. Additionally, the study found 7% of black residents, 6% of white residents, 4.2% of Asian residents, and 2.5% of Latinx residents tested positive.
Dr. Ferrer urged caution in making firm conclusions about racial and gender prevalence, given the preliminary nature of the findings. These aspects both need follow-up to see how accurate they may or may not be. Sampling among county residents will continue in the coming months.
---
April 21: This article previously stated estimated mortality rates based on serology testing at a range of 0.014% and 0.027%. It has been updated to reflect the correct calculation. We apologize for and regret the error.