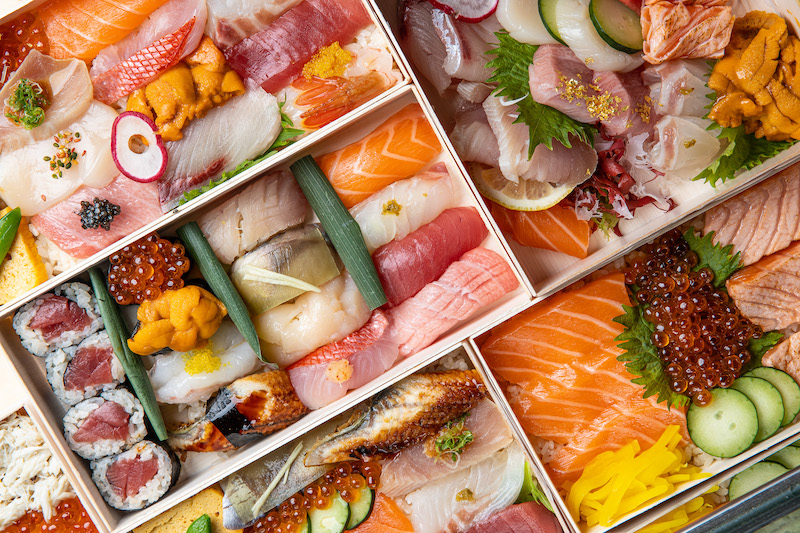 A new sushi spot lets you grab premium sushi and sake right from a takeout window in a very familiar spot on Sunset Blvd. in Silver Lake.
Sunset Sushi comes from chefs Kazuhiro Yamada and Yoshi Matsumoto and is a sister restaurant to Highland Park's Ichijiku. Yamada was an opening chef at Ichijiku, while Matsumoto has previously worked at Chaya Venice and Mrs. Fish, the sushi restaurant and art gallery located beneath Perch in DTLA. 
Sunset Sushi takes over the space formerly occupied by Bar Angeles, the gastropub that controversially cut a door into the Elliott Smith "Figure 8" wall. Bar Angeles closed after a relatively short run, turning into Chef Charles Olalia's popular Ma'am Sir, which shut down permanently due to the pandemic this past August. 
So, will the third time be the charm? The incredibly fresh selection of high-quality fish can't hurt. Some top choices include the boxes: they've got kaisen chirashi and kaisen don boxes, beautifully packaged with slices of fish and scoops of roe atop sushi rice, and omakase boxes that start at $30 for seven pieces of nigiri and one roll. 
It's also easy to tack on extra rolls, including favorites like spicy tuna and salmon, or veggie options. Rolls are thick with generous portions of fish. Special rolls include the House Futomaki, which consists of tuna, yellowtail, eel, tamale, and cucumber. Add bottles of sake, canned highballs, and beer for a full night in. 
Ordering is entirely online, with pickup from a small window out front so you never have to go inside—at least until restaurants are able to fully open. 

Obviously, it's a tough time to open a restaurant as takeout and delivery are typically not enough to sustain operating costs. Several favorite spots have shuttered permanently or temporarily, while others, like Musso & Frank, have turned to GoFundMes to stay afloat. If you're able to financially support new and favorite spots, now is a great time to do so. So, sushi?

Sunset Sushi is located at 4430 W. Sunset Blvd. in Silver Lake. Hours are Tues.-Sat., 5-9 p.m.