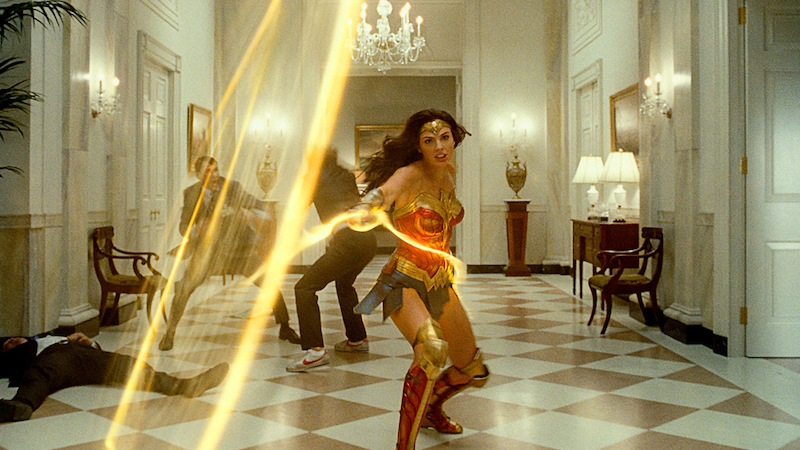 We used to tell you about all the things you could go out and do in Los Angeles on a daily, weekly, and monthly basis. Then, the coronavirus changed life for all of us, in a thousand small and massive ways. Until the pandemic is behind us, we'll post events that adhere to Public Health's current protocols—including plenty of at-home and online events—every Monday and Friday morning. We hope they keep you busy, make you laugh, teach you something, or help you feel less alone.
This week, we've got drive-in cinema, audio theater, a wall of wishes, holiday takeout specials, virtual tours, and more. Have something you want to submit for next week? Hit us up: [email protected].
Out-of-the-House Events
Find fun holiday events for the whole family, including drive-thrus, online events, and socially distant gardens in our holiday roundup here.
On Dec. 25, Cinelounge Drive-in in Hollywood presents Wonder Woman 1984. Enjoy this brand new film from Patty Jenkins from the comfort of your vehicle, and maybe with a bag or two of Cinelounge's flavored popcorn. Tickets are $25/person and must be purchased, along with any refreshments, online in advance.
Glendale Arts invites the public to add their wishes for 2021 to the Alex Theatre Wishing Wall, a new installation on the historic Alex Theatre's gates in downtown Glendale. The project is inspired by Yoko Ono's Wishing Tree project and encourages participants to share their hopes for the future. You can grab a wish tag in-person or submit your wish online, where staff will write and hang it for you. The Wishing Wall will be on view at the theater through Jan. 8 before moving around Glendale for the next year.
On Dec. 23 at 6:30 p.m., Mission Tiki Drive-in in Montclair hosts a double feature of Christmas horror with Silent Night Deadly Night (1984) and Black Christmas (1974). Tickets start at $17.
Grand Park's new public art installation, "Ground Our Present, Dot Our Future," is available to enjoy now through Jan. 25. It consists of 74 quotes, crowdsourced from Angelenos over the past year, that line park walkways. The artwork "reinvents the current floor distancing decal culture by putting the emphasis back on how Angelenos can be socially connected—by gaining knowledge and understanding about the diverse experiences in Los Angeles County from the perspectives of those who live them." It's free to enjoy any time. Just take a walk in the park.
L'Antica Pizzeria da Michele Hollywood's new dining experience takes place in your car! Park in the private parking lot adjacent to the restaurant and enjoy TV, films, and iconic Italian football games projected when the sun goes down. Diners can order from the full menu when they get there or in advance online or by phone. Staff will deliver food directly to your car. Space is limited. Reservations through phone or email are highly recommended.
Pickup & Delivery (Holiday Edition)
Chef Mario Christerna of recently-opened Brooklyn Ave. Pizza Co. in Boyle Heights is reimagining a traditional holiday dish in the form of a pizza. The Chile en Nogada pizza ($13) is a white pie with creamy mozzarella, ricotta, roasted poblanos, and pomegranate seeds. Available now through Christmas.
Chef Travis Strickland's Brentwood steakhouse Baltaire is offering holiday prime rib dinners and wine packages for carryout.
Genghis Cohen on Fairfax will offer takeout and delivery pre-orders for Christmas Eve and Christmas Day, featuring its entire menu of Chinese dishes, plus several holiday specials including multi-course meals, cocktails, and more. Order online.
Tallula's in Santa Monica is offering six tamales for $28, available in organic chicken guajillo or frijol negro made with black bean purée, poblano, and queso. Call (310) 526-0027 by Monday, Dec. 21 at 5 p.m. for pickup on Wednesday, Dec. 23 from 4-9 p.m.
Celestino Ristorante in Pasadena is preparing Christmas Eve dinner for takeout and delivery. Highlights include mushroom soufflé, duck-filled ravioli, osso buco, and homemade family-style lasagna.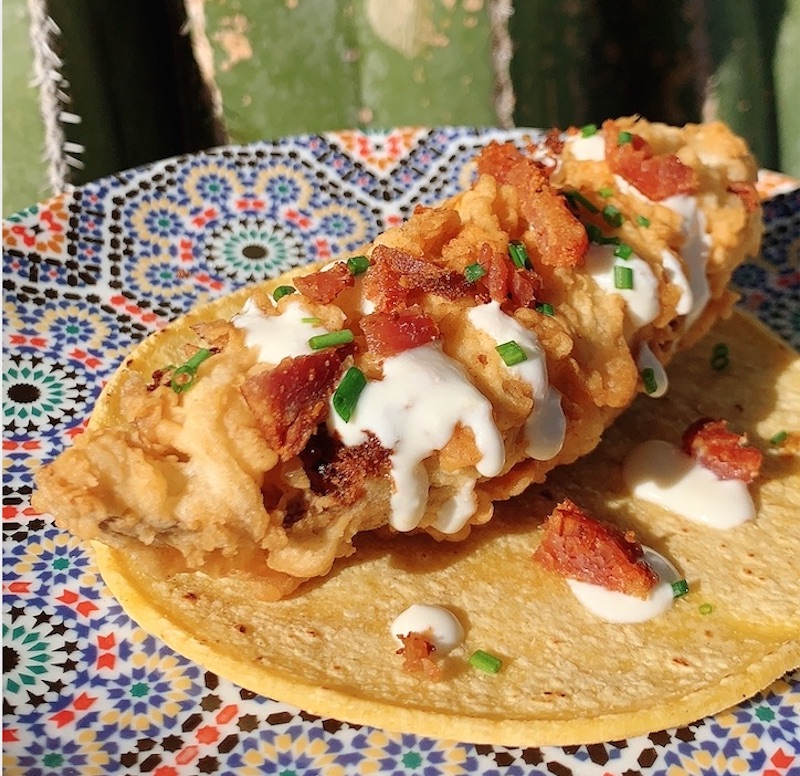 Through Dec. 24, Tacos Tu Madre's West Hollywood location is offering several holiday dishes, including smoked ham tacos, twice-baked potato tacos (an elevated alternative for those missing Taco Bell's potato tacos), mulled wine, boozy Mexican hot chocolate, gingerbread cocktails, and strawberry nachos. Order online for pickup and local delivery.
The Front Yard's holiday dinner for four is available for scheduled pickup in NoHo on Dec. 24 from 3-7 p.m. or on Dec. 25 from noon to 6 p.m. It's $165 for biscuits, beet and fig salad, butternut squash soup, filet medallions, roasted turkey and gravy, mashed sweet potatoes, Brussels sprouts, stuffing, and cheesecake and pecan tarts for dessert. Call (818) 255-7285 to reserve.
Diageo Spirits and Pacifica Hotels host Margarita Quarantina, a virtual cocktail class, on Dec. 22 at 9 p.m. Guests can pick up cocktail kits containing everything they need to make their own tequila and mezcal cocktails beforehand on Dec. 21 or 22 at SALT Restaurant and Bar in Marina Del Rey between 11 a.m. to 6 p.m. Each cocktail is paired with bites. Tickets are $75.
Roguelike Tavern in Burbank hasn't been able to actually open, given the pandemic. However, they are currently soft-open for takeout food, cocktails, beer, wine, and spirits. Starting Dec. 22, they're offering a puzzle box experience that comes with two meals, a flight of quality spirits, and a mystery for you to solve. Order online here.
Jane Q in Hollywood has a Very Merry Q takeout menu that includes Peking duck, braised lamb, hearty sides, DIY mulled wine kits, cookie plates, and more. The menu is only available on Dec. 23 & 24 from 3-9 p.m. Order delivery through Postmates, GrubHub, or Doordash or call (213) 279-3534 to order pickup.
The Little Tokyo Community Council (LTCC) is relaunching Community Feeding Community (CFC) to provide free meals to those whose jobs were impacted by COVID-19 closures while also supporting small businesses in Little Tokyo. Meals are distributed every Saturday from 2-4 p.m. at 327 East Second Street. The menu rotates weekly and advanced reservations are required for pickup. Reserve a meal online at littletokyola.org/cfc. You can also use that link to donate a meal.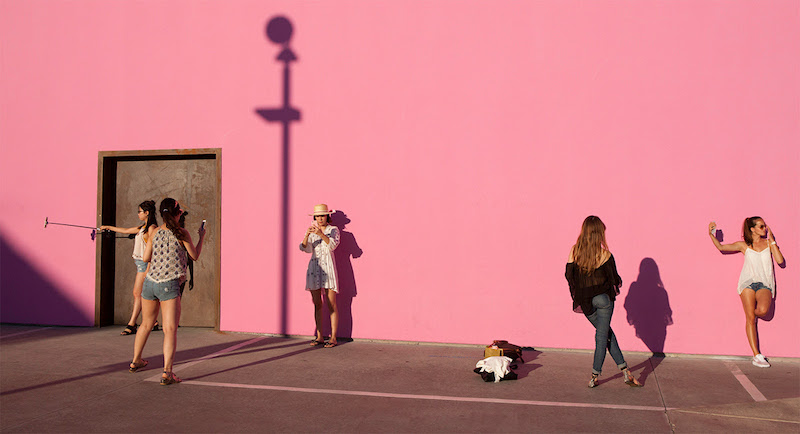 At-Home & Online Events
See "A Time of Questioning," a group exhibition curated by arts writer Shana Nys Dambrot, online. Artists include Alexa Druyanoff, L. Aviva Diamond, Carl Shubs, Jeannine Chanin Penn, Julie Ascher, Justin Prough, Kevin Mischler, Leslie Barton, Sharon Koppelman, and Snezana Saraswati Petrovic.
Los Angeles Conservancy presents Vintage L.A. Christmas: A Live Virtual Tour on Dec. 23 with a look through the holidays of decades past, including Altadena's Christmas Tree Lane and iconic vintage department store displays.
Darkfield Radio is an immersive audio journey performed live. With headphones on, the sound is unbelievably real. "Eternal," for example, is a chilling horror tale that sounds like something sinister is crawling into bed with you. Check them out here.
Pasadena PlayhouseLive presents an inside look at the development of a new musical starring Megan Mullally, Nick Offerman, Adam Devine, and Laura Bell Bundy. Iceboy! is about a 10,000-year-old Neanderthal who is thawed out in New York and adopted by a Broadway star only to become an acting sensation himself. Activate your free PlayhouseLive account to watch.
Take a pre-recorded Architectural Legacy Tour from Pasadena Heritage. Each tour offers a peek at architectural gems including craftsman bungalows, The Freeman House, and buildings along South Grand Avenue. Tickets start at $15 for non-members. Available now through Jan. 3.
On Dec. 22 at 11 a.m., author Ettie Zilber will discuss her memoir about her mother, A Holocaust Memoir of Love & Resilience: Mama's Survival from Lithuania to America. The lecture is presented by Holocaust Museum LA for a suggested donation of $10.
From The Wallis comes Estrella Scrooge, a musical theater retelling of A Christmas Carol that blends theater, film, and animation. It stars Betsy Wolfe as Estrella Scrooge, a descendent of Ebenezer. Per a release: "Estrella is a "modern-day Wall Street tycoon with a penchant for foreclosing. A hotelier in her hometown of Pickwick, Ohio has defaulted on his mortgage and Estella fancies the idea of lowering the boom personally. Arriving at Harthouse on Christmas Eve, Estella discovers that the defaulting party is her childhood friend Pip Nickleby (Duncan). A good and generous soul, Pip has transformed the property into a refuge for the sick, dispossessed and homeless. A freak snowstorm forces Estella to take refuge. That night, just as it happened to her ancestor Ebenezer, she is haunted by three visitations…and oh, what uninvited houseguests they are!" Available on-demand Dec. 21-Jan. 3. Tickets start at $29.99 per household.
Join KCET Cinema Series host Pete Hammond for a virtual screening of sci-fi film The Midnight Sky followed by a Q&A with star, director and producer George Clooney on Dec. 23 at 7 p.m.
Name a baby condor! The L.A. Zoo's condor conservation program recently hatched a baby chick currently known as LA127. The Zoo is currently accepting donations for the California Condor Recovery Program (CCRP) through Jan. 7. Any amount will grant you to the opportunity to cast a vote for one of four names. Appear on the Zoo's website starting at donations of $5, with other benefits at higher levels.
The Israel Film Festival is ongoing through Dec. 27, featuring several nights of Israeli cinema that you can watch from your home. Tickets are $12 for a single film, with deals on bundles of screenings. If you want to watch every film and Q&A, an all-access pass is available for $130.
Rogue Artists Ensemble's "Storage Run" is an immersive holiday show where you can choose what happens. Part One kicks off on Dec. 18 at 7 p.m., while Part Two and Three post on Dec. 25 and Jan. 1, respectively. All three parts will remain online through Jan. 31. Synopsis: "With just a few weeks remaining until the holidays, Mike becomes trapped and alone in a tangled web of Rogue storage — or so it seems. Boot up and plug into a story of computer age connection and holiday whimsy, and help Mike on a quest to send a message to the world. Will you help? Y/N? Your choices build a singular and unlikely friendship and unlock a "holiday-tastic" adventure, all from the safety of your computer." Tickets are pay-what-you-can with a suggested price of $20.
From Zombie Joe's Underground Theater comes a spooky 22-minute personal visit from The Ghost of Jacob Marley, the first of many spirits Scrooge sees in A Christmas Carol. Zombie Joe himself will play Jacob Marley as he Zooms you to make sure your change your ways or whatever it is Marley is up to these days. From Dec. 16-30, you can book your personal ghost consultation for $25 at ZOMBIEJOES.COM.
The 53rd Annual Holiday Look-In Home Tour presented by the Women's Committee of the Pasadena Symphony is online this year. The tour "showcases the architecture and gardens of four magnificent Pasadena homes decorated for the holidays in festive floral regalia." The event is narrated by Pasadena Symphony music director, David Lockington with music from the Pasadena Symphony Youth Orchestras. Available Dec. 5-31. Free with registration here, though donations to the Pasadena Symphony Youth Orchestras and the Pasadena Symphony will be graciously accepted.