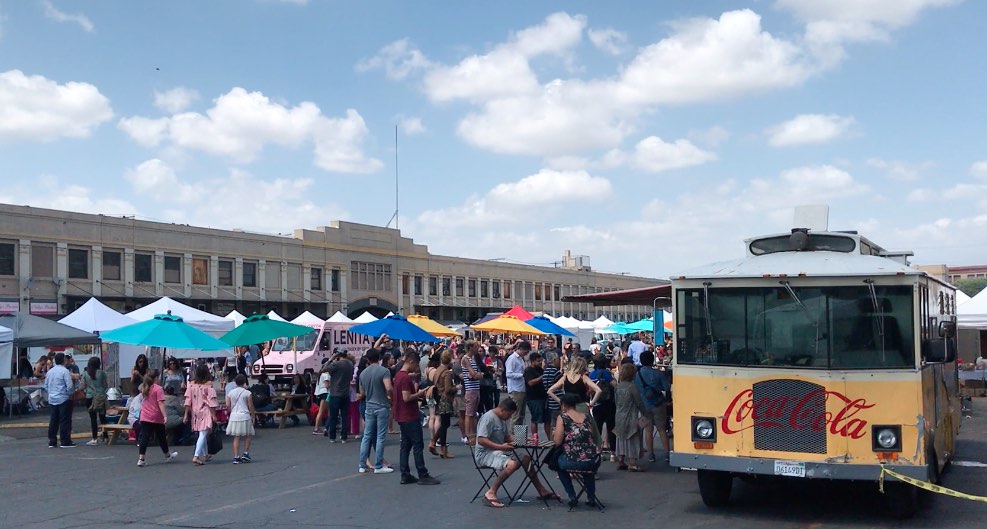 Outdoor foodie market Smorgasburg LA debuts its 2020 lineup this Sunday. After a three-week holiday hiatus the market returns bigger than ever with over 90 food and shopping vendors popping up every Sunday at ROW DTLA, starting Jan. 12.
I've always been a sucker for market settings where I can sample foods that span a wide spectrum of flavors, and on this point the 2020 Smorg roster looks like it'll fit the bill. Below I'll call out to a few new additions and what they have to offer for the new year.
Burmese Please – The pop up previously held a two month residency at Smorgasburg last summer to huge success. Now they'll return as a full time vendor. Run by Jessie Nicely a co-founder of Compound Butter an art magazine inspired by food, Burmese Please features a menu of Burmese specialties like tea leaf salad, roti and mohinga. –> More information
Chinese Laundry – One of the original vendors of Smorgasburg during its Los Angeles launch, Chinese Laundry returns to the market offering roasted duck and live hand pulled Biang Biang Mian. Chef Leo Lamprides has made a name for himself by live hand pulling noodles on the streets of Highland Park during their popular Live Noodz pop-up. –> More information
Dante's Fried Chicken – Once started as an underground delivery service in Brooklyn during 2004, Dante's has since become TV famous and now Smorgasburg will be the only place you can munch on their famous fried chicken tenders plus vegan friendly "tastes like chicken tofu nuggets" and biscuits made fresh out of the fryer. –> More information
Los Cochinitos – A specialist in traditional Michoacan style carnitas makes its debut at Smorgasburg. The carnitas are slowly cooked in its own pork lard for four hours. On the menu you'll find pork butt, pork skin, stomach, ear, tripe, heart, tongue, kidney, snout and more. All parts will be available in tacos or in a torta ahogada covered in tomato sauce with a side of homemade spicy salsa. –> More information
Mano Po – From the team who brought us grilled Maine lobster pop-up Lobsterdamus, Mano Po is a Filipino concept inspired by flavors of the founders home country the Philippines. On the menu are two items; the Manila BBQ Chicken, mesquite grilled and incapsulated with sweet, salty, and citrus flavors served with java rice and pickled papaya; and Chicken Inasal, a coconut vinegar marinated chicken grilled over mesquite charcoal and served with garlic rice and pickled papaya. –> More information
Paratta – This halal South Asian street food concept specializes in their namesake, the paratta. The flaky buttery wrap of halal meat and vegetable takes cues from the flavors of both India and Pakistan. Though initially started as a food truck, this will be the first time Paratta gets a booth at Smorgasburg. –> More information
---
Smorgasburg LA runs weekly at ROW DTLA, 777 Alameda St. from 10 a.m. to 4 p.m. There is are no fees to attend the market. On Sundays the ROW DTLA parking garage offers one-hour free parking (no validation required), and two hours for $2. See all the parking rates here.